The existence of only one European publicly owned large digital company (SAP) and two private ones (Spotify and Delivery Hero) is depressing evidence that Europe lags in the digital economy.
According to a 2016 study, only 15 percent of digital platform companies worth over a billion dollars were born European, compared to 46 percent in the United States and 35 percent in Asia. If Europe wants its firms to succeed in the global digital economy, especially against large American and Chinese competitors, European competition authorities need to modernize their thinking and recognize that scale—even in the form of a monopoly—is usually not only pro-consumer but is a requirement for success in the digital economy.
European digital startups cannot scale quickly enough to compete against fast-growing U.S. and Asian firms because of Europe's fragmented markets. But the EU is also failing in the digital economy because its competition regulators use an antiquated view of competition, with three main problems.
First, authorities continue to use a structural approach to analyzing competition, focusing on the size of companies and the number of competitors in a market. But this is the wrong approach when it comes to digital and data-driven markets. Many digital markets tend toward concentration, but one that is usually pro-innovation and pro-consumer (after all, many remain free to consumers). In the digital economy, the ability of many firms to best serve consumers depends on their ability to scale, and the most competitive businesses are those that can harness network effects. For example, travelers use Airbnb because homeowners are using the platform, and vice versa. In the digital economy, the dominance of some major firms is an inevitable outcome of competition—neither travelers nor homeowners would benefit from splitting Airbnb into smaller companies, even though there would be more competition. In many markets, platforms do not harm competition, but rather encourage it by reducing the costs of entry on markets that were not previously data-driven. Moreover, these companies rely on data, and far from a monopolistic resource data is widely available, cheap to collect, can be processed by many companies, and loses value rapidly. Antitrust policy should also take innovation effects into account. EU competition authorities acknowledge them in theory but tend to rarely assess them in practice, while these could justify mergers between data-driven companies to accelerate the development of technologies that are critical in the digital economy—such as artificial intelligence (AI). As such, EU competition authorities should focus much less on structure, and more on conduct, especially on practices likely to distort the competitive process such as predatory prices or exclusivity clauses.
Second, the size of EU companies should reflect that the size of markets has become global. This is particularly true given the systemic competition between Europe's open and liberal market and China's state-backed economy, where the government forces firms to merge to gain needed scale, and then lavishes generous subsidies on them to go out and crush foreign competitors. Believing that Europe can effectively compete without scale is wishful thinking and denies EU history. Some of Europe's most successful commercial companies such as Airbus could not have been created under current competition rules. Commissioner Vestager's recent decision to block the Siemens-Alstom merger deal to compete against Chinese high speed rail goliath CRRC, ignoring the calls of France and Germany, suggests that EU policymakers would rather focus on short-term consumer welfare than longer term EU economic welfare, because without scale, the EU's share of the global high-speed rail market will continue to shrink. China's Made in China 2025 plan, which targets most advanced industries for global dominance means that strong and large high-tech European champions would be a critical asset to credibly compete against China.
Third, European regulators continue to use competition policy to pursue objectives unrelated to competition. Germany's competition authority recently asserted that Facebook's data practices are abusive because of its market dominance and prohibited Facebook from combining and using user data from different sources. This decision sets a precedent that could further limit the ability for digital platforms to share data—which they need, in order to scale and compete. Such choices may inspire EU policymakers to use competition policy to interfere in other areas for purposes other than competition. But deploying competition policy as an economic "Swiss army knife," such as to address consumer data protection, would create overlapping and duplicative rules and introduce further constraints, complexity, and confusion for regulators, businesses, and consumers. This would further hold back innovation and Europe's growth in the digital economy.
Plans to transform the EU competition policy framework will be part of the Juncker Commission's legacy to the next Commission, and will be clarified in April with the release of a report by three appointed experts. But many already expect that EU competition authorities will follow up with ideas to push through with premature, overly prescriptive regulations, and sector-specific rules—which, ironically contradicting the core objectives of competition policy, would stifle innovation in Europe and the growth of its digital economy. The challenges facing the EU are significant across a host of fronts, and effectively responding to them requires fresh thinking. As a new Parliament and Commission take office later this year, there is no better place to start this process than with a new approach to competition policy, grounded not in the 20th century continental industrial economy but in the 21st century global innovation economy.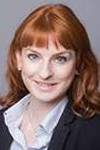 Eline Chivot,
Senior Policy Analyst,
Center for Data Innovation,
Information Technology and Innovation Foundation (ITIF)
Eline Chivot is a senior policy analyst at ITIF's Center for Data Innovation. Based in Brussels, Eline focuses on European technology policy issues and on how policymakers can promote digital innovation in the EU. Prior to joining the Center for Data Innovation, Eline Chivot worked for several years in the Netherlands as policy analyst in a leading think tank, where her work included research projects on defense, security and economic policy issues. More recently, Eline worked at one of Brussels' largest trade associations and managed its relations with representatives of the digital tech industry in Europe and beyond. Eline received Masters degrees including from Sciences Po in France, in political science, economics, strategic management, and business administration.