On April 21, 2020, the Antimonopoly Office of the Slovak Republic (the AMO) opened an investigation into an alleged abuse of a dominant position in the energy and media production and distribution sectors.
The AMO stated in a press release that the investigation relates to a possible infringement in the form of exclusive dealing conditions for energy and media customers in an industrial park. The undertaking under investigation is suspected of imposing trading conditions requiring its energy and media customers to acquire all of their requirements from it, preventing those customers from producing certain energy or media on their own or acquiring energy or media from third parties.
This probe is the latest in a number of abuse of dominance investigations by the AMO in recent years. In 2019, the AMO found that Cargo Slovakia refused to sell/lease electric locomotives to competing private carriers and refused to provide refueling services for motor locomotives to those same private carriers (more information here). In 2018, the AMO fined the undertaking responsible for managing the Bratislava airport for abusing its dominant position by introducing a fee for VIP services in the general aviation terminal payable by all passengers, including those not using these VIP services (more information here). The new investigation is the first in the energy and media sectors in over five years.
The AMO's new investigation confirms that the current pandemic is not deterring the AMO from launching new cases, whether or not related to the pandemic, although the authority is presumably stretched during the present lock-down measures affecting much of Europe, including Slovakia.
It is worth noting that the AMO was a signatory to the March 23 joint statement of the European Competition Network (ECN), which acknowledged that the current situation may require companies to cooperate to ensure the supply and fair distribution of scarce products, including a statement that the ECN will not actively intervene against necessary and temporary measures put in place to avoid supply shortages. At the same time, the ECN also stressed that its members will not hesitate to take action against companies taking advantage of the current situation by cartelizing or abusing dominant positions. Interestingly, the AMO referenced excessive pricing in its press release about the new exclusive-dealing investigation.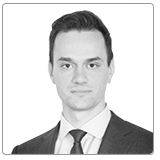 Matej Ovecka, Associate at Norton Rose Fulbright LLP, Brussels office
Matej Ovecka is an antitrust and competition lawyer based in Brussels. Matej's practice covers all aspects of EU competition law, including merger control, state aid and antitrust. Matej has particular experience in notifying mergers and joint ventures to the European Commission.

Prior to joining us, Matej gained experience in an international law firm in Brussels, in the European Commission within the Directorate-General for Competition and in the European Court of Justice, within the offices of the First Advocate General.

A Slovak native speaker, Matej is fluent in English and Czech.