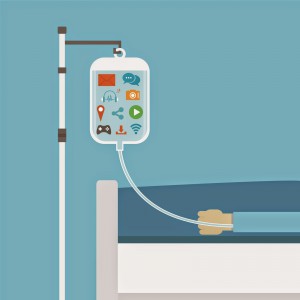 In the Internet age, it's not surprising that 72 percent of Internet users have looked online for health information within the past year. With the evolution of WebMD and other medical sites, patients frequently turn to the web not just for a quick symptom check or medication review, but also to find support communities for their chronic illnesses.
When my husband was first diagnosed with Crohn's disease, I went online not only to find information about the illness, but also to find others who could tell me about their experiences living with an inflammatory bowel disease (IBD). To this day, I am still heavily involved in the online IBD patient community, an active member of four Facebook groups, frequent participant in Twitter chats, and reader of numerous patient blogs. I am not alone in my e-health participation.
According to a survey from the Pew Internet & American Life Project, Health Online 2013,
"One in four adults (24%) says that they turned to others [online] who have the same health condition during their last bout with illness…One in four Internet users (26%) have read or watched someone else's experience about health or medical issues in the last 12 months. And 16% of Internet users have gone online to find others who might share the same health concerns [as them] in the last year." This type of Internet consumption is even more common among those with a chronic illness. According to the Pew Research Center's Peer-to-peer Health Care survey, "One in four internet users living with high blood pressure, diabetes, heart conditions, lung conditions, cancer, or some other chronic ailment (23%) say they have gone online to find others with similar health concerns."For patients living with chronic illnesses, we have a love-hate relationship with pharmaceutical companies. We love them for manufacturing life-saving medications but we also hate them for the price tags assigned to those drugs. Regardless of ones opinion about big pharma, according to an Accenture survey, "38% of patients want social media interactions with pharmaceutical companies."
To improve lines of communication and relationships with its customers, there is a major opportunity for pharmaceuticals to join the online conversation beyond maintaining business profiles on social network sites.
One example of a pharmaceutical company successfully doing this is Janssen Biotech, the manufacturer of Remicade (infliximab), the lifesaving anti-tumor necrosis factor medication used to treat Crohn's disease and ulcerative colitis. Last year, Janssen Biotech launched the IBD Social Circle- a group comprised of several IBD activists, gastroenterologists, and pharma representatives in order to reach out to the Crohn's disease and ulcerative colitis community and open the lines of communication between the different IBD stakeholders. The IBD Social Circle holds webcasts to discuss issues related to these debilitating autoimmune diseases as well as meets at major digestive disease conferences, including Digestive Diseases Week and Advances in IBD.
Another example of a pharma company accomplishing this is AbbVie. The maker of another IBD medication, Humira (adalimubab), AbbVie maintains a separate website focused on providing general information about inflammatory bowel diseases. In addition to offering disease facts and expert advice, the website also runs The Crohn's & Colitis Advocate Program, connecting patients with advocates who support and help to empower patients to make informed decisions about their care.
This type of patient engagement using social networking exists outside of the IBD community as well. UCB operates a Facebook page, Parkinson's More Than Motion, geared at interacting with and empowering patients and caregivers affected by Parkinson's disease. Merck runs a Facebook page and website, Merck for Mothers, geared at improving maternal health and mortality rates globally. Genentech operates a Facebook page and website, CF Living, dedicated to supporting people of all ages living with cystic fibrosis.
With 117 million Americans having one or more chronic illnesses, the need for pharmaceutical companies to communicate with its patients online is great. However, the number of companies that actually maintain active, engaging social network accounts that don't immediately tell you to buy their drugs is small. If more pharmaceutical companies do not begin to interact with patients online, they will be missing out on a great opportunity to improve customer relations, increase business, and advance their brand.
About the author: Rebecca Kaplan is a communications consultant, freelance writer, and blogger. You can read more about her life loving someone with Crohn's disease on her blog, on Huffington Post, or follow her on Twitter. (This article was originally published on February 2, 2015)