What's Pinterest?
There's been a torrent of media interest in a new social network called Pinterest lately.
In fact, it's being billed as the hottest social media trend of 2011-2012. The explosion of traffic to the start-up's site in less than one year (from 40,000 to over 3.2 million monthly unique visitors) is perhaps an explanation of the fascination and enthusiastic declaration of  it being "the Web's next best new Thing," combined of course, with the over $37 million in funding it's received.
For those of you not familiar to the site, it works as a pinboard or scrapbook, where users can create boards and pin links, photos, or videos and then share them with friends. Users can also follow other members and re-pin their content as well. The site is currently invite-only but users can also browse boards without signing up.
Currently, 70% of Pinterest's users are female and the site is getting a lot of interest from marketers and brands who want to engage consumers by promoting a lifestyle concept or get them to discover their products through a social medium. So it makes sense that as of now, the content being curated and shared leans very heavily toward fashion, home decor, food, and travel.
But what seems crystal clear to me is the site's potential to inspire and share beyond these categories and market segments. It can be used for play but it also holds potential for being fertile ground for innovation. The site is extremely visual and I can see it catering to creatives and dreamers in much the same vein as Behance, Tumblr and Vimeo do.
How?
Dreaming 4.0
Pinterest brings to mind to my bedroom walls where as a teenager I taped up photos, posters and collages of magazine cut-outs to remind me, inspire me and nurture my spirit. It is a good habit that I've never kicked. I know many artists and creatives who maintain dream or vision boards and sometimes carry quotes, pictures or inspirational items with them at all times. Web users regularly do this via bookmarking or sharing content.
From moleskin to iPad, cork bulletin board to sleek portfolio, the concept of organizing and storing your ideas, dreams and desires remains the same. Where are you currently storing your ideas?
Why not bring this dream-catcher process inside your company or use it to connect with your followers?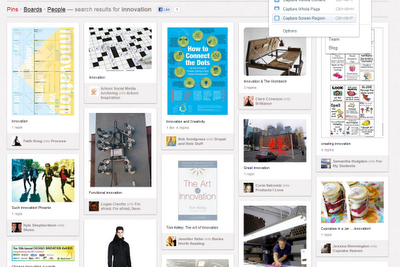 "Innovation" Pins on Pinterest
Inspire your team internally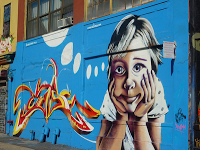 Imagine an online pinboard dedicated to inspiring and connecting your team and other employees, allowing them to cultivate a vision and ideas together, fueling the fires of creativity and set the tone. By pinning items and tagging each other, they are collaborating and brainstorming ideas in a fun creative way that creates a strong, unified interest in your company's success.
Bring the innovation conversation online by pinning that new design, Superbowl commercial, song, gadget demo or street art that everyone needs to see. All hands on deck - Innovation warriors, come out to play!
Promote company culture externally


Pinboards can also be used to introduce and share your company's vision, mission and culture outwardly. Brands and figures like Whole Foods and Martha Stewart are already sharing via Pinterest. In this new marketing era of transparency, openness and connection, this avenue offers another way to delight your consumers by bringing them inside your corporation and showing them what you do literally and what you value.
Any social media marketer will tell you that consumers buy when they feel connected to a brand - that it reflects their shared values and aspirations and makes the consumer feel good about themselves.
Are you a creative? Are you a visionary? Are you a techie? A foodie? Connect with your peers and the people in that space, cultivate a following and then bring it back full circle.
Imagine being offered the opportunity to have a look at Guillermo Del Toro's, Walt Disney's, Anne Rice's or Steve Job's vision board, wouldn't you jump at the chance?
Have a company blog? Embed the Pinterest icon and invite readers to follow you.

Test, learn, gather insights
Pinterest may be used as a ideas bank internally but what about as a focus group? When you have a new idea or development in progress, you want to gauge interest and use failure as a learning experience. Pinterest's users share what inspires them on a very personal level.
Offer users the ability to pin your products or ideas or blog posts. Not only is it a great social marketing tool but you can use it to gather insights about your consumer base, your internal team or another audience.
What inspires them? What do they crave? What do they have in common? What are they saying about it?
Pin that new idea/concept/design and track how people react to it before actualization.
Take it to the people
You might ask people to pin photos or videos of themselves using your product, which may be used to reward your loyal customers by featuring them or for testimonials. Pass them the pin.
Take the marshmallow candy Peeps for example, it has such a devout fan culture that if you Google or Youtube it, you will find consumers doing way more than just eating them for Easter.
Untitled from 8/7 Central on Vimeo.
You might be surprised to see online fans videotaping Peep explosions in their microwaves or using them for artistic expressions in delightful out of left field forms such as Peep sushi creations.  Brands with similar devout fan culture, like Duct Tape or Lego, could easily reap the benefits of a user-generated pinboard.
You might run a contest asking users to submit ideas for a new product or just collect data about how they use the product to develop and innovate further.
The Myspace generation created a new wave of self-portraiturist, amateur photographers, using their mirrors and cameras to take candid shots of themselves and then posting them online that set the camera industry on a whole new design path.
Who knows what you might discover via Pinterest about your own concept and its use.
[Updated to add one more below]
From the Mixed Up Files of...


Libraries, museums and other institutions have practiced the noble art of information science and preservation for hundreds of years. Without much praise, social mediums such as Twitter, Foursquare, Flickr, Blogger, Instagram, Youtube and Facebook have done much of the same thing except that few people view them through that digital archives lens. That was...until Facebook owned it.


There's been a lot of fuss in the last several months about Facebook's major Timeline design overhaul. Call it what you will... curation, storage, archives, historical documentation, etc., There is a global collaboratory movement happening, preserving history (public or personal) has become a social phenomena.
Why not create an open, searchable, networked, digital channel that preserves your ideas, vision and creative passions for the future? Can you see the value of such a resource?
As inspiration for this post, I ran a search for "Zurich" on Pinterest since that is where the FEI team is headed next for Front End of Innovation EMEA. The results made me 'ooh and ah' but also validated my thoughts here:
Just look at those cool offices at Google Headquarters in Zurich!
Take caution though, Pinterest (n)etiquette restricts self-promotion so follow the rules and become a true part of the community before you begin sharing your own work. You don't want to be That Guy just talking about yourself all the time.
Lastly, remember to have fun. Play, explore and share - AND dream!
I have a few invites that I'd be happy to share with Front End of Innovation readers, please post your email address in the comments or contact me directly to request.
Feel free to connect with me at Pinterest too. A special thank you to Chris Brogan, whose own Google Plus post about Pinterest and its uses inspired me to write this - Inspiration is everywhere, don't forget to pay it forward.
For further exploration into social media uses within the  innovation process, you might be interested in attending our full-day "SOCIAL MEDIA SUMMIT: THE INTERSECTION OF CUSTOMER AND WEB 2.0" at the 6th annual Front End of Innovation EMEA in Zurich.
FEI Blog readers receive a 15% off discount on the standard and onsite rate by using code FEIEMEA12BLOG to register.
Valerie M. Russo is a Senior Social Media Strategist at IIR USA with a technology, anthropology, marketing and publishing business acumen.  She will be attending the 6th annual Front End of Innovation EMEA in Zurich, Switzerland on February 27-29, 2012, and covering the event live via Twitter and the FEI Blog. She is a published poet and also maintains a literary blog. She may be reached at vrusso@iirusa.com. Follow her @Literanista.