Over the course of four days on 24 – 27 August 2020, Antibody Engineering & Therapeutics Europe Virtual, run by Informa Connect in conjunction with The Antibody Society, featured a range of industry leading keynotes, live panel discussions and hot topic roundtables, over 50 on-demand sessions and 20 online posters.
In the post-event report we have gathered together some of the highlights from the week, including summaries of the keynotes and hottest discussions, The Antibody Society student/post doc poster competition winners, and full on-demand recordings of selected sessions.
Whether you joined us for the event and are looking for a summary of the week, or else want to see what you missed out on, this is a great summary of the week and will hopefully whet your appetite for Antibody Engineering & Therapeutics US Virtual on December 14-16, 2020.
View the interactive report by clicking on image below (or here), or download a PDF version using the 'Download Now' link at the top of the page.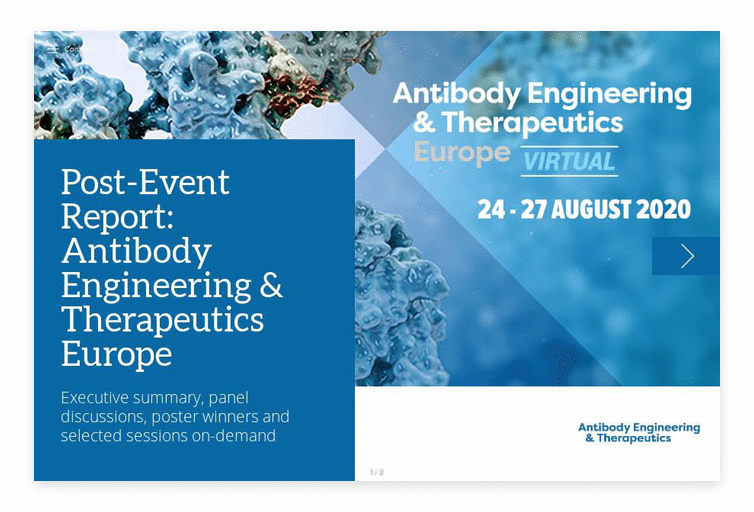 Contents
Key Themes of the Week: An executive summary of the four key themes addressed in the keynotes across the week, including COVID-19, cancer treatments, nanobodies and cytotoxic T cells.
Hot Topic Discussion: COVID-19 Antibodies: One of the most popular sessions of the week was a hot topic discussion around COVID-19 antibodies. Here we explore some of the key themes that came from the panel.
Panel Discussion: Antibody Discovery and Developability: Six industry leaders including Dr John McCafferty and Dr Andrew Bradbury discussed antibody discovery and developability as well as engineering aspects of COVID-19 antibodies.
The Antibody Society Student/Post Doc Poster Competition Award Winners: Read the posters and watch presentations from the two winners, on reagentless fluorescence immunosensors and multiple paratope states that can differ in VH-VL domain orientations.
Selected Sessions On-Demand: Watch four full recordings of sessions from across the week from Twist, BioCytogen, AbCellera and Berkeley Lights.
View the interactive report here, or download a PDF version using the 'Download Now' link at the top of the page.