Leading up to the 2011 Private Brand Movement event, we're looking back at some of the Private Brand Pulse podcasts that we recorded in 2010.
In today's "Flashback Friday" enjoy an interview with Mary Rachide, DVP Private Brands of Family Dollar Stores.
Mary Rachide joined Family Dollar as the DVP, Private Brands in January, 2009, after working with the company as an independent consultant to articulate the company's high level Private Label vision and strategy. Previously, she was a consultant for McKinsey & Company, focused on the retail and consumer goods industries, and at Liz Claiborne, she was a Divisional Controller. Mary holds an MBA from Duke University and undergraduate degrees in Business and Political Science from the University of Richmond.
Mary presented, "Making it Real: The Early Days of Bringing a Private Brand Vision to Life" at the 2010 Private Brand Movement event.

You can listen to the 2010 podcast with Mary here, or read a transcript here.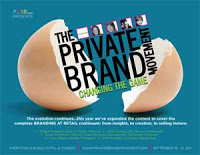 For more on the changing Private Label world, join us this September in Chicago for The Private Brand Movement. Download the brochure here and receive exclusive access to the 2010 executive summary when you fill out the download form.
Follow us on twitter for event updates @Private_brand