Private debt has emerged as a major component of the alternative assets landscape. Michaela Virtue, Conference Producer of SuperReturn International, shares her analyses on the private debt polls held at the event.
2019 – a bumper year for private debt?
At a recent poll during SuperReturn International in February 2019, 74% of delegates said they were intending to increase their allocations to private debt over the next 12 months.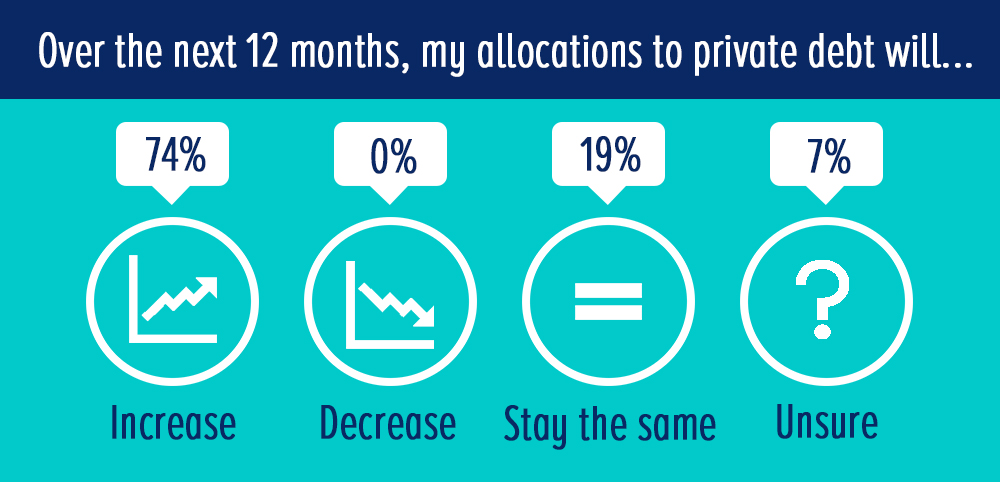 No-one voted to decrease. This shows that an overwhelming number of potential investors are very positive about the next 12 months, which suggests that there is still considerable growth in the asset class and a positive sentiment towards the centre.
Investors at SuperReturn International made it clear that they were happy with their private debt investments and felt that private debt met or exceeded their performance expectations in 2018.
Over the longer term, investors are expecting private debt to remain a core, and increasingly prevalent, part of their portfolios. The potential for even further growth is huge, because although the number of institutions actively investing in private debt has increased significantly it is still only around 30% of investors, according to Preqin.
The private debt asset class is also beginning to benefit from the growing pool of more than 1,600 fund managers, especially in North America and Europe. While firms continue to enter the market all the time, there are signs of capital concentration beginning to take effect in private debt. First-time fund managers secured just 6% of total capital raised by funds closed in 2018, down from 16% in 2014. It looks like investors have largely made their choices for allocations to funds and it will be increasingly difficult for new funds to start in the market.
Credit cycle on the turn?
At SuperReturn International there was a lot of talk about the next phase of the credit cycle and whether the following 12 months would see growing potential for a move into distressed. However, attendees still felt that direct lending would be their predominant private debt allocation asset class.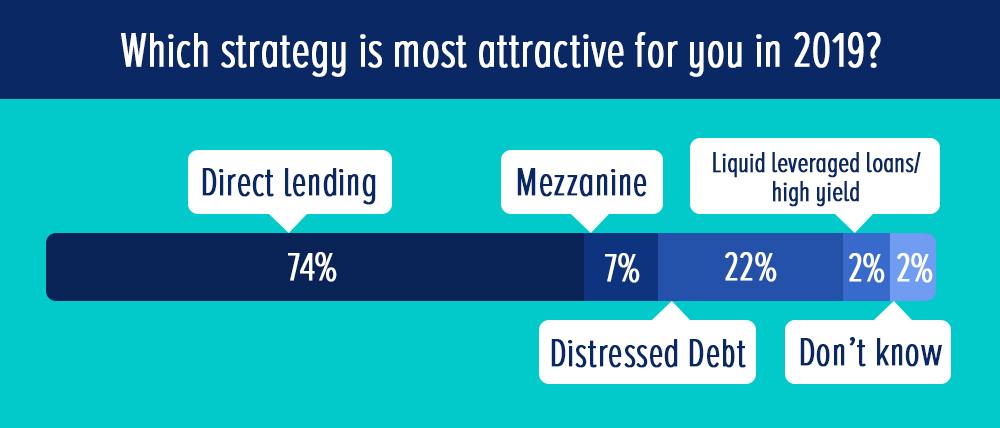 Direct lending vehicles still account for around half of both funds in market and targeted capital. The low prominence of distressed debt is somewhat unexpected as the industry awaits a market downturn within the next 24 months; why are so few distressed debt funds raising capital to take advantage of potential opportunities? Given that distressed debt and special situations strategies are often counter-cyclical, and that 45% of investors are targeting distressed debt investments, we may expect increased activity in the coming months and for the strategies to recover their positions.
How far away is the next Eurozone recession?
This was the key question that everyone was trying to answer. The poll results suggest that people are still bullish for at least the next 12 months.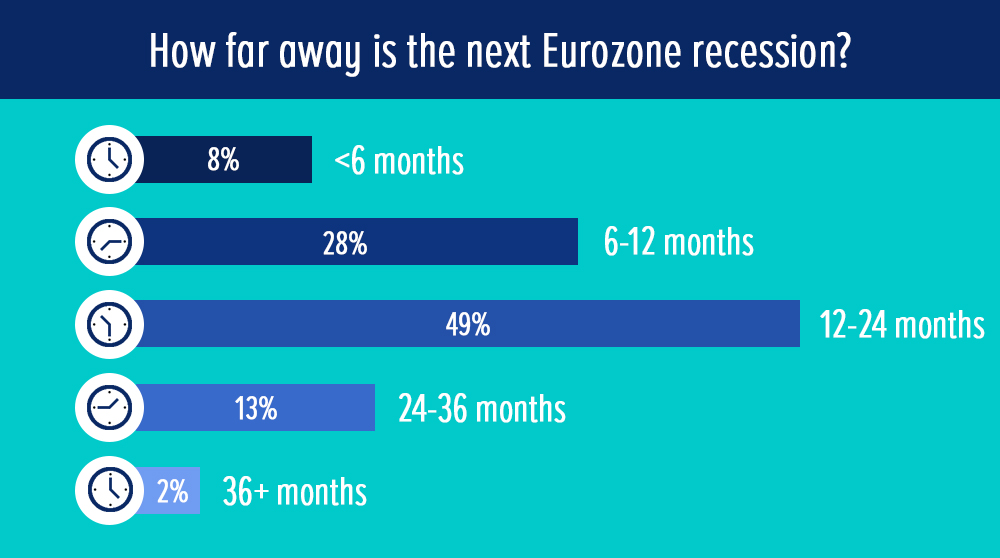 Private debt has delivered for investors in recent years, with superior returns, good liquidity and yield, as well as portfolio diversification. However, the rapidity of growth has created competition for deals. Some fund managers believed this competition would be a key challenge for return generation in 2019.
If the Federal Reserve clamp down on non-bank credit as a risk for financial stability, the asset class may not have such an easy run during the year to come. It will also have to overcome its cyclical fundraising nature. Recent capital totals have been driven by a small number of large funds, rather than widespread fundraising activity. However, the private equity deals market shows every sign of continuing its momentum in 2019, which will offer plentiful opportunities for direct lending funds over the next few months.
Clouds on the horizon
Investors at SuperReturn International made it clear that their biggest concern when seeking to allocate to private debt was a manager's lack of experience of handling troubled deals in a downturn, as the private debt asset class is yet to be tested in a stressed market, and firms have not yet had to take a direct role in managing distressed companies.
Is the private debt market ready for consolidation?
Many private equity managers were discussing whether there is now a private credit glut, as assets have nearly tripled in the past decade. Kewsong Lee, Co-CEO at the Carlyle Group predicted consolidation in the direct lending market as firms look for scale in the asset class.
With interest rates increasing and signs of a recession mounting, the market will inevitably get tougher. There will be winners and losers – but that's the natural evolution, as Michael Arougheti, CEO of Ares Management, commented at SuperReturn International.
The general consensus at SuperReturn International was that private debt will remain a prominent part of investors' portfolios worldwide, which will become more sophisticated and diverse over time. Watch this space.
---
Join us at SuperReturn Private Credit US and SuperReturn Private Credit Europe to network with like minded professionals and hear from the leading figures in the industry.
Looking to join us at a SuperReturn event? Head to our websites to find out more.