I couldn't let March (Women's History Month) end without a shout-out to the many women who influenced the sustainability movement and green building. Their  passion, actions, and words will take us into the future. 
We've all heard of Greta Thunberg, one of the youngest and most fearless climate change activists.
Let's not forget Rachel Carson, whose groundbreaking book Silent Spring became a bestseller in the 1960s. But even going further back in history, women have been speaking up and building awareness of how fragile Mother Earth is. 
And what about Christiana Figueres? Globally renowned as a tireless sustainability leader, she served as Executive Secretary of the United Nations Framework Convention on Climate Change (UNFCCC), assuming responsibility for the international negotiations. 
As we look forward to Greenbuild 2022, we realize how far women in environmentalism still have to go. Let's also pay homage to the everyday heroines who take steps to inspire, make a change, and lead this critical movement.
The Numbers Tell the Story
A recent study showed that women are leading the charge towards a more sustainable planet.
Close to 60 percent of senior executives at large companies' sustainability initiatives are women, according to a recent survey. 
The same study indicates that women consumers make buying decisions with environmental considerations in mind.
Here are some areas we need to focus on as we build more sustainable communities.
A mere 17 percent of licensed architects are women, according to the

AIA

. Although that's up significantly from 4 percent in 1988, our gender is currently under-represented in the design stages of sustainable development.

Only

10.9 percent of construction employees

are women. 

Women hold only just

32 percent

of renewable energy roles. 
Let's work to change that and look at the positives and the huge opportunity that lies before us. 
Women are beginning to speak up and play a significant role in the future of sustainable development.
Keep this momentum going. As we push towards our sustainability goals, let's all build a community that is truly diverse and inclusive.
What Can You Do?
Encourage women to pursue careers in architecture, construction, and community development.
Provide mentorship programs and teach your children at an early age about sustainable living, diversity and inclusion, and social justice. 
Look within your own organization to ensure that your team represents the market you're serving. 
And be sure to join us throughout the year for a variety of programs that educate, inspire, and celebrate people of all backgrounds.
Denise Rosplock, VP of Sustainability Delivery for Informa North America, stresses the role of education and mentorship in preparing girls for the wide range of  jobs of the future. She asserts:
"We're living in an era of incomparable business transformation.  While science remains at the heart of that journey – and percent of women in climate-related STEM is growing – the demand for sustainability thought leadership in marketing, finance, procurement is also growing.  Today's sustainability professional is defined more broadly and that's good news for women.  A small investment in climate education opens the door to a wide variety of high demand sustainability roles."
That view is consistent with our vision for Greenbuild 2022, which broadens the definition of "building" to include the transformation and sustainability  of communities, cultures, and communications.
Let's all hope we live in a world one day where Women's History Month will simply be a reminder of how far we've come!
__________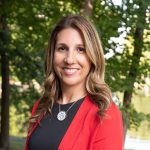 Sherida Sessa
Brand Director / Greenbuild