Software as Medical Device (SaMD) and Artificial Intelligence are the future of MedTech, yet they both bring their own set of regulatory challenges. We asked six industry experts for their views on the regultory challenges and impact SaMD and AI will have on the medical device landscape - read their full responses in the interactive eBook below (or click here):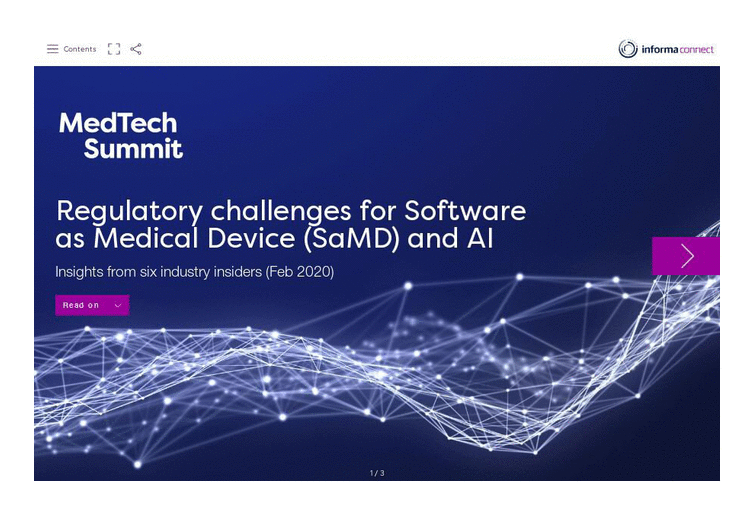 The questions we asked included:.
What are the biggest regulatory challenges for SaMD at the moment?
What impact will software and AI have on the regulatory landscape for medical devices?
What are the common mistakes companies are making with regulating their SaMD?
Are regulatory bodies ready to regulate SaMD and AI? If not, why not?
How will SaMD and AI impact patients? Is this considered enough during reimbursement?
The industry insiders we spoke are:
Mona Dean, Senior Consultant In Vitro Diagnostics & Quality, Precision for Medicine
Jo-Ann Gonzales, Director In Vitro Diagnostics & Quality, Precision for Medicine
Petra Hoogendoorn, Researcher, National eHealth Living Lab, and startup founder
Nele Ooms, QA Manager, UgenTec
Johan Ordish, Senior Policy Analyst (Law and Regulation), PHG Foundation
Tobias Schreiegg, Director Regulatory Affairs, Siemens Healthineers