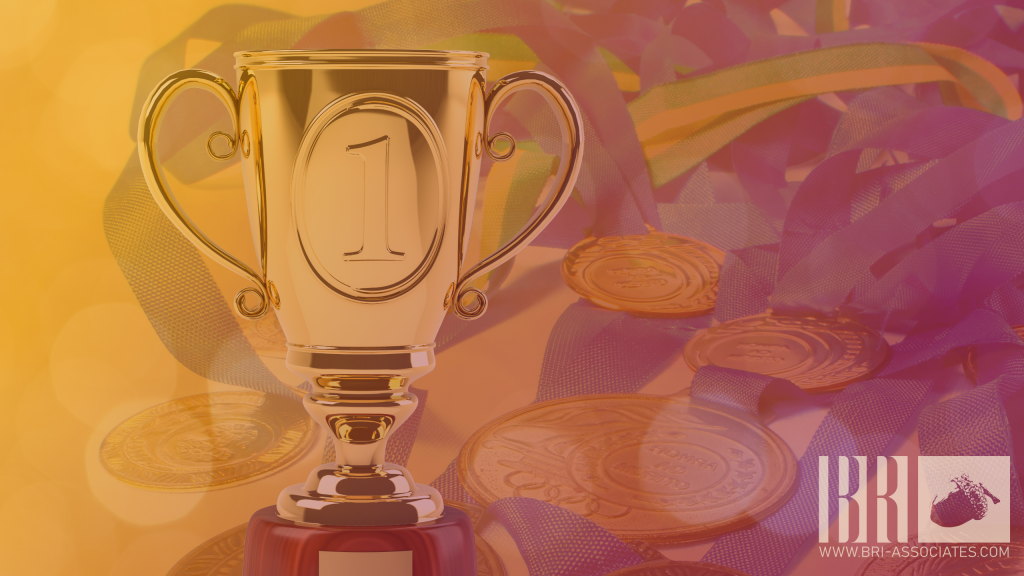 An important, but often overlooked, aspect of managing innovation efforts is how success and failure are defined and how they are recognized and rewarded. Successful innovation requires dedicated employees willing to take risks, approach challenges differently and from new perspectives, and experiment. The nature of new business and innovation work is materially different from that of operating and optimizing an established business. Innovation work is inherently more uncertain and riskier than traditional operational activities and failure and success are defined differently. Failure to recognize these differences and integrate them into your recognition and reward systems will not only undermine the success of your new business and innovation efforts but could even backfire and have a negative impact on your core business morale if your innovation efforts are perceived as hypocritical (advocating risk taking, but effectively penalizing risk takers with undesired outcomes). The importance of this simple aspect of innovation can't be overstated. We see this issue come up over and over as a top concern for would-be innovation leaders within large companies. However; once you recognize the differences between exploratory business endeavors and established business operations, making the right adjustments in rewards and recognition is not difficult.
Differences in Exploration vs. Exploitation Efforts
Before you can define success and failure for innovation work, you must first understand how innovation or "exploration" oriented work is different from your established business "exploitation" oriented work. They are fundamentally different endeavors. Exploitation work is oriented around the preservation and growth of established business success and momentum. It assumes a high degree of certainty in comparison to exploration-oriented work and risks are more defined by the magnitude of the bet vs. the number or magnitude of the uncertainties. Exploration work on the other hand focuses on efficient discovery and learning to find a fruitful path with incremental, confidence building steps. A brief comparison of the respective attributes of each type of work is summarized in the table below.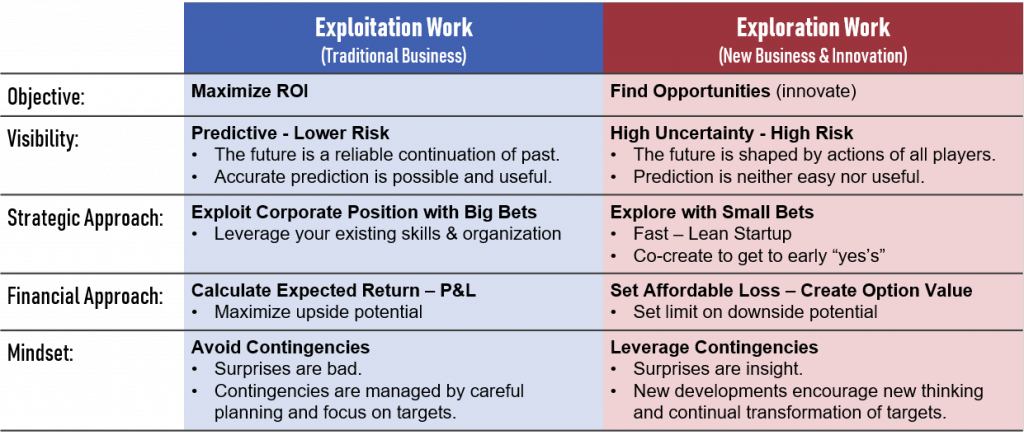 Defining Success Criteria for Exploration Efforts
Now that you understand these differences, you can then start to define and tailor success criteria for your own exploration-oriented work and roles. For example, given the significant uncertainty in exploratory work, it's very important to recognize what aspects of execution are within the control of the innovation team and which are not. It may be more important to focus recognition and rewards on how well the teams make good decisions, how quickly they learn and adapt to new insights, how effectively they utilize resources, versus just achieving the "desired outcomes". With new business and innovation work, discovering that a hypothesis is wrong quickly and cheaply can be almost as important as finding a business "success". Avoiding the downside of the cumulative, continued or overinvestment in a bad idea, and the associated opportunity costs, can be just as impactful to the bottom line. Keep these considerations in mind when developing or adjusting recognition and reward systems for new business and innovation-oriented work and make sure to consider from the individual employee, project, and innovation organization levels.
Institutionalizing and Embedding in Culture
Once you've defined the success criteria appropriate for exploratory new business and innovation work, it should be institutionalized in a way that is visible to the whole organization and can eventually become part of the company culture. This does not have to mean overhauling your entire recognition and compensation system. It can be effectively done with small, but visible changes. First, be sure to make the new business and innovation success criteria clear to all and explain why and how they are different than the core business (highlighting that both are still aligned to a common focus on continuous improvement and results). You should include innovation recognition in the same forums & channels as traditional business recognition such as monthly or quarterly company or department meetings, internal communications channels, etc. If you have a dedicated innovation group or project teams, make sure that employee performance evaluation criteria for those roles appropriately reflect the differences in the nature of their work and success criteria vs. the same or similar functional roles within the traditional core business.
One success method we've seen multiple companies implement is a formal celebration and sharing of "good" no-go decisions. These as small celebrations that highlight and capture the learning and insights gained for the benefit of all. They could highlight how little resources and time were required (relative to the hypothesized potential or option value) to get to the no-go decision. They recognize that the team will now be freed up to work on emerging opportunities. Activities like this help a project team feel positive about making the right call rather than re-enforcing a "success at any cost" mentality, which can be detrimental and expensive for exploration-oriented work.
By recognizing the differences in new business and innovation work from that of core business operation and execution and adjusting your reward and recognition systems to reflect the appropriate behaviors and success criteria for each, you can help your entire organization be more adept at both types of work. These efforts can help dispel the notion that exploration is undisciplined across the whole organization and reinforce the behaviors you want to see in your organization's "exploration" oriented work.