~ by Aaron Keller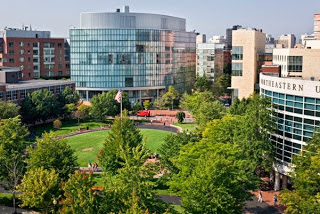 Tracy from Northeastern University here in Boston gives us a view inside the culture of innovation and entrepreneurship inside the institution. This is an essential issue and the crowd in this room is a clear indicator of interest. The more corporations work with institutions, the better chance we have to grow the broader economy and give more people opportunities. 
Tracy starts with some advice she got coming out of the corporate world, "slow down, the faster you move the more you look like a threat." Which sounds like a cheetah moving into a pack of gazelles. Institutions do move slower, but they are moving in case you were wondering. What makes universities interested in you, as a corporation? 
University motivations. 
1. Senior leaders are measured by "dollars in" inside institutions. 
2. Faculty measured by research dollars in, publications, dollars going out on research.
3. Largest source of dollars in is typically the government.
4. Gov't doesn't fund market demanded innovation, but rather looks at mission driven funding.
5. University patents contain "political" patents which may not really be valuable
6. Have to protect non-profit status, which keeps the corporation physically outside the lab
7. Technology transfer offices don't pay for performance, but this is changing.  
8. Under pressure to rethink their revenue models, so the relationship can be different from the past.
9. Universities love good press, offering visibility is valuable for other relationships.
10. The university lexicon is now including the language of industry.
After this top ten list, she walked us through other guidance on how to navigate the hallowed halls of an education institution. One of her most important points was that 
"Incentives shape behaviors" and the economics of behavior modification. More education institutions are talking about moving at the speed of business, but this is made real when they agree to incentives. 
You can always tell the quality of a speaker by the questions after a speech and Tracy had plenty of questions and great answers. 
Tracy Dodenhoff
Founding Director
Center for Research Innovation
Northeastern University. 
Follow her on twitter