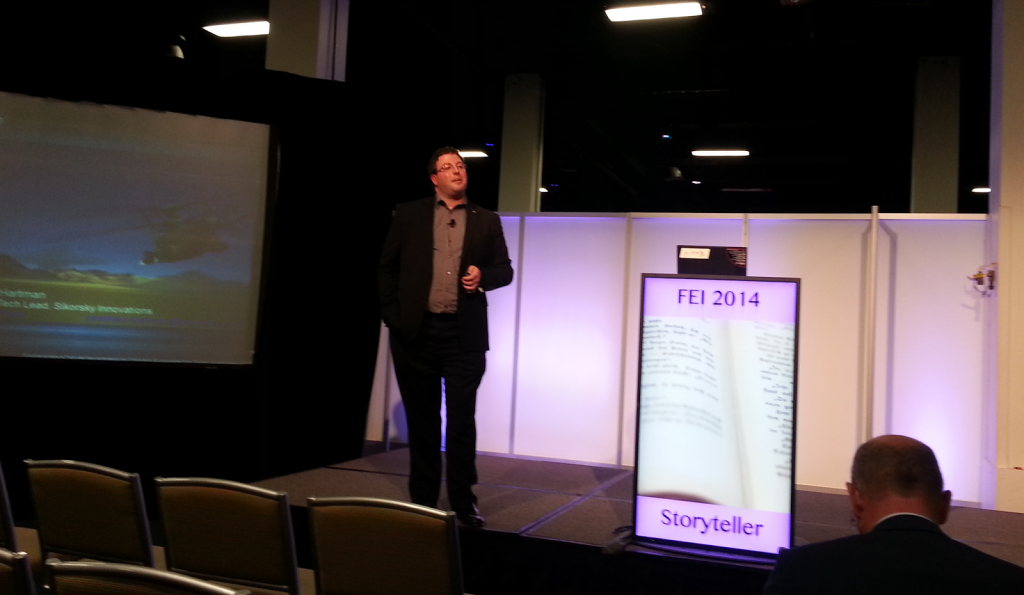 Jonathan Hartman, Disruptive Technologies Lead from Sikorsky Innovations, took the stage at the 2014 Front End of Innovation Conference to talk about his company's Innovation DNA and how it is accelerating the future with its Entrepreneurial Challenge. His talk coincided with the launch of the latest 'Entrepreneurial Challenge' as well as a press release announcing the winners of the 4th Entrepreneurial Challenge and an exciting announcement about the growing success of EvoLux Transportation, Inc., a start-up company who won the 2nd Entrepreneurial Challenge.
You may know Sikorsky, the company that makes the BLACK HAWK helicopter and other military and commercial helicopters. What you may not know is that Sikorsky, founded by entrepreneur Igor Sikorsky, has had to reinvent itself in major ways at least twice due to major disruptions'World War II for example'where it almost went out of business. You may also not be aware that Sikorsky is part of United Technologies Corporation, a group of successful high-tech aerospace and building systems, products and services, with brands that include Otis and Carrier.  
Sikorsky Innovations is a network of employees within Sikorsky that was formed to discover innovative technology solutions to the toughest problems in vertical flight. Their approach involves collaborations with government technology agencies, academic institutions, other United Technologies businesses, and most recently, entrepreneurs.
In early 2012, Sikorsky launched the first 'Entrepreneurial Challenge,' calling upon small technology startups to pitch their winning concepts. The winners of that first entrepreneurial challenge were awarded office space in the nearby Stamford Innovation Center, access to technology experts within Sikorsky as well as introductions to channel partners, universities and other experts. In addition, they were connected to mentorship and expertise to help them grow their own business. Most importantly, the entrepreneurial challenge winners did not have to sign over their intellectual property in order to participate.
Since then, Sikorsky Innovations has run 3 additional competitions, honing its approach each time and increasing both the quality and quantity of submissions. Jonathan Hartman, who runs the entrepreneurial challenges, did an 'Innovation Tour' last fall across the US. Jonathan went to 10 cities known for entrepreneurial energy and visited incubators and places where start-ups congregate. He sponsored food. He talked directly to entrepreneurs. He answered questions. As a result, there was a three-fold increase in submissions. Sikorsky also broadened its definition of an 'entrepreneur.'  'At first,' said Hartman, 'we restricted entrants to companies with 1-10 people. We have since expanded our definition of what constitutes an entrepreneur. They could be working in a company with 100 people, or even a team within a larger company.'
How to attract the best talent to the competition? According to Hartman, it is all about debunking myths. "How does a company that has a reputation as a stodgy, New England manufacturing company reach out and touch very agile, flexible, innovative people'? asked Hartman, rhetorically. The first myth to be debunked is that Sikorsky is stodgy. Sikorsky is not stodgy. It has innovation in its DNA and always has. 
The second myth to debunk:  An entrepreneur with no aviation experience cannot work with Sikorsky. As Hartman says, 'while we are searching for experts in our field ' we are searching for technology experts in other fields who have an aviation application and they don't know it. Our search is about finding those folks and telling them 'we have aviation experts at Sikorsky ' you have domain experience that we don't have. Let's collaborate to create a win-win situation.'"
The Entrepreneurial Challenge questions are broad enough to permit entrepreneurs from various disciplines to submit. To date, Sikorsky Innovations has awarded 9 winners.The Entrepreneurial Challenge continues to evolve. Sikorsky explicitly wants self-sustaining partners who will champion their ideas and who want to work with Sikorsky. A singularly good idea has to be championed by them. The award package is tailored to the entrepreneur's development stage and capabilities. 
The latest entrepreneurial challenge is called SPARK WHAT'S NEXT', and entrepreneurs are invited to submit ideas until October 3, 2014.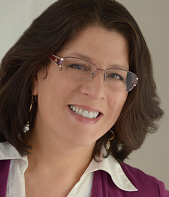 Ivy Eisenberg is founder of Our IdeaWorks, an Innovation and Lean Customer Research' consultancy that helps companies connect to customers and other stakeholders to discover business opportunities, accelerate growth, and build and deliver successful products and services.  Ivy has more than 25 years of experience in the Front End of Innovation, user interaction design, and software product and project management. She has worked in healthcare, financial services, B2B, consumer goods, and telecommunications sectors.  Ivy is also an award-winning humor writer and storyteller, with an MBA in Marketing, Entrepreneurship and Innovation from NYU's Stern School of Business.