Deep within the iTunes store, well past SnapChat and Candy Crush, lies a series of apps with the potential to do more than just make a picture message disappear.  In the year 2014, we have apps that can instantaneously take our heart rate, tell us where the nearest case of the flu is and help us contribute to cancer research in our sleep.  Technology in mobile health(care) has turned the corner and claims that mobile is the future of the healthcare industry appear to be dead on.
Here are five healthcare apps you may want to check out on your phone after your next selfie:
1.  Mango Health- A "fun" spin on managing medication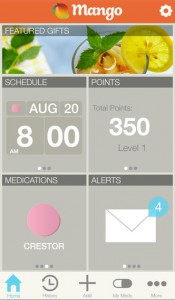 intake, Mango Health rewards users for doing so in a responsible way.  The app allows users to input a schedule for taking medications and supplements as well as set reminders for doing so.  Users earn points for taking medications safely and on schedule which can be redeemed for a variety of gifts.  It's more than just a tool to keep you on track with prescriptions.  Mango checks for dangerous drug interactions and keeps a record of when you've taken medications.
2. PokitDok- Pokitdok serves as an open and transparent healthcare marketplace.  The "Priceline for healthcare" allows consumers to search by location or condition and even name their own price.  Doctors provide quotes which can be reviewed and compared against one another.  Once you've found a doctor, PokitDok provides a transparent set of information on the practice and pricing for comparable procedures.
3. Propeller Health- Propeller turns an asthma inhaler into a piece or wearable tech.  The app provides real time information to asthma patients by syncing to a sensor that sits on top of an inhaler.  Data such as date, time and location is then relayed back to your phone through Bluetooth where it's tracked over time.  This information is analyzed to give personalized feedback in order to help the patient understand triggers and can also push alerts if symptoms worsen.
4. Power Sleep- The new "Power Sleep" app for Android makes it possible for you to contribute to a good cause as you sleep.  The app uses technology that utilizes the unused computing power of your phone only when you don't need it.  Once an alarm is set, your phone receives a data packet that is processed and then returned to SIMAP—A collaborative project between the University of Vienna and the Technical University of Munich.  The project is specifically focused on the decoding of protein sequences and how that applies to cancer research.
5. Instant Heart Rate- The camera on your phone can now be used for more than just taking great Instagrams.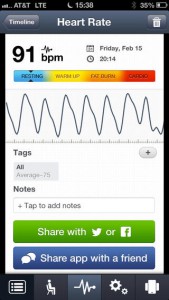 By placing your finger over the lens, Instant Heart Rate gauges your pulse in real time.  The app also provides data storage so you can track and graph your heart rate over time (and even share it on social if you're so inclined).  With over 35 million downloads, we may be looking at an answer to expensive heart rate monitors.
6. Sickweather- Add your health to the list of things that can be crowdsourced through social media.  Sickweather has found a way to leverage Facebook and Twitter data and turn it into a heat map of illnesses.  The app scans social media for reports of sickness, maps them out and then pushes alerts to your phone if you cross into a "high risk" area.  With over 20 different illnesses programmed in, you can keep tabs on a certain bug in the area or an entire category of ailments.
You may not personally have a need to incentivize your medication schedule or track inhaler usage but there's a message that can be drawn here.  Patients want data and they want it provided in real time—something that can't be ignored as a marketer.  When it comes to someone's health, people don't have the patience to wait for information.  These apps provide that instantaneous info and serve it in a way that the user is able to leverage.  This has generally become an expectation of today's consumer and consumers of healthcare and pharmaceuticals are no different.
Any apps to add to the list?  I'd love to hear them.
Contributed by Mike Madarasz- @MikeMadarasz
(This post was originally published on March 26, 2014)