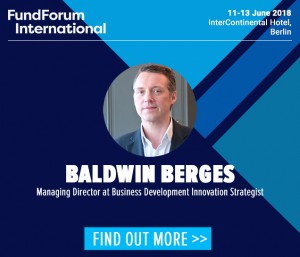 "There are thousands of fund managers who manage even more funds. The market is fragmented, but the flows aren't. It turns out that this industry is not a level playing field!" Baldwin Berges, Managing Director at Business Development Innovation Strategist discusses how the investment management industry could clarify their messages and come leaps and bounds. 
Why are the large fund managers only getting bigger and bigger while so many talented boutiques are struggling to get ahead?
I guess there's much "you'll never get fired for buying IBM" thinking going on in the funds industry as investor flows default to low margin mega brands, not only because everybody else is going there, but I also believe that this is happening because most asset managers still haven't figured out how to position themselves!
Over the 20 years that I've been in fund management, I have become convinced that there is a chronic marketing problem in the industry.
Ask any outsider to take a look at the sector and you will probably hear them say something like this: "Why is everyone trying so hard to look exactly like like their competitors?"
If it's hard to tell managers apart from insiders, imagine what it must be like for those who are outside of our industry! This matters because, after all, that's where all the fees come from.
It's even come to the point that professional fund investors have had to develop sophisticated tools and techniques to see through the haze of conformity to find the true essence of a fund manager.
They are doing this because they are trying to answer that one question indie the head of every investor: "Why exactly should I listen to this manager?"
If you are a fund manager, it probably also means that you are dealing with fund selectors all the time. You'll find them everywhere, private investors increasingly rely on their expertise.
They see themselves as guardians of their customers...
They are often more qualified, technical and cynical than the people they meet...
They usually have broad experience in fund management, often as ex-marketeers or ex-fund managers themselves...
They are time pressured and jaded by compliance and the huge number of funds available.
Most of the fund managers look the same to them...
They say the same things...
Their presentations all have the same slides...
They perceive manager websites to be all the same with all their pictures of buildings, paragraphs, and bios…
They believe that funds are bought, not sold...
They do not expect you to talk to them about what they want to talk about...
They assume you won't tell them everything...
They believe their own performance analysis to be better than yours...
They want to understand your fund much beyond your standard marketing messages…
So, what would really help fund selectors do their job?
What they want to know is what really makes you stand out from the rest of the crowd?
The good news is that this is much easier than you may think it is.
Actually, I'd like to show you how you can position yourself so your message becomes hard to ignore.
At the FundForum International 2018 in Berlin, I will be running a series of free master classes about how to position your product so it stands out and connects with gatekeepers, how to pitch your proposition so it sticks, and how to stay top of mind during long sales cycles.
Make sure not to miss these sessions!