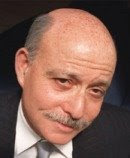 Now that the Front End of Innovation Europe Event is rapidly approaching, we want to take some time over the next couple of weeks to profile the keynote speakers. Today, we would like to begin by introducing to you Jeremy Rifkin.
Jeremy Rifkin is president of the Foundation on Economic Trends and the author of seventeen best-selling books on the impact of scientific and technological changes on the economy, the workforce, society, and the environment. His most recent books include
The Hydrogen Economy, The European Dream, The End of Work, The Age of Access, and The Biotech Century. Jeremy Rifkin serves as an advisor to the European Union on issues related to the economy, climate change, energy security, and sustainable development. Mr. Rifkin currently serves as an advisor to the European Commission, the European Parliament, and several EU heads of state, including President Jose Rodriguez Zapatero of Spain and Prime Minister Romano Prodi of Italy.
Mr. Rifkin's Sustainable Development Team advises governments and global corporations on the latest in cutting-edge technologies and best practices designed to address the twin challenges of climate change and energy security.
Jeremy Rifkin recently stated at a climate change awards ceremony at the European parliament that 'we don't grasp the enormity of what's happening to the climate in this planet.' Watch the YouTube clip below to see him speak in Brussels.
Don't miss Jeremy Rifkin's keynote speech, Leading the way to the Third Industrial Revolution and a New Distributed Social Vision for the World in the 21st Century, at the FEI Europe event in Monaco on January 26th through 28th. On Monday we will profile FEI keynote Jan Kriekels, founder of UCHRONIA.