KNect365 Life Sciences recently conducted one of the biggest surveys of its kind, revealing an overview of the state of the cell and gene therapy industries. The final report based on 165 responses offers unique insights around the opportunities and challenges in 2018.
Respondents were spread between biotechs (28%), academia (18%), consultancies (12%), service providers (9%), pharma (8%), CDMOs (8%) and CROs (3%), and largely split between Europe (48%) and North America (39%).
Here we delve into the data to explore the disease areas and products most being focused on currently, how far through the pipeline these products are and how respondents see the industry changing in the next two years.
Download the full Cell and Gene Therapies 2018 - State Of The Industry Report here.
Current areas of focus
Unsurprisingly, oncology is by far the biggest disease focus area, with 62% of respondents' companies working on it, with rare diseases (29%), autoimmune disorders (24%) and cardiovascular (24%) following. This is matched by 50% of respondents revealing that there are CAR-T products in their company's pipeline – way out ahead of TCRs (18%) and dendtritic products (17%).
Dan Stanton, editor of BioProcess Insider, explains in the report introduction: 'When Novartis's Kymriah (tisagenlecleucel) received the regulatory thumbs up in August 2017, FDA Commissioner Scott Gottlieb described regenerative medicines as being "no longer the stuff of science fiction." The approval of Gilead/Kite's Yescarta (axicabtagene ciloleucel) weeks later helped cement the safety and commercial potential of CAR-T therapies.
50% of respondents to the survey said chimeric antigen receptor (CAR) T cell therapies are a key pipeline focus. Such firms are likely to be buoyed by the recent spate of approvals in the CAR-T space and will be closely watching the uptake and progress of the two approved therapies as they continue developing their own products.'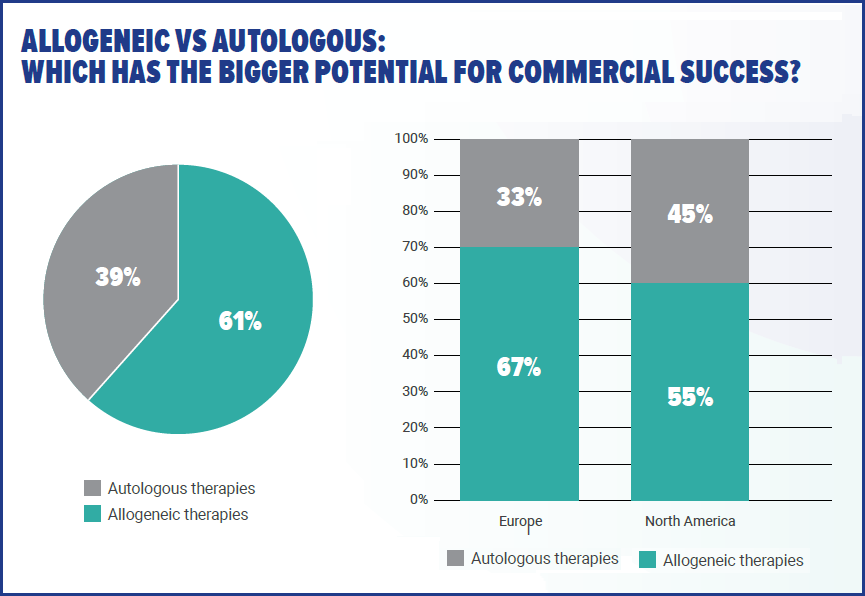 On the results above of the debate over the potential of autologous versus allogeneic therapies, Stanton writes: "It is no surprise 61% of respondents believe allogeneic – or 'off-the-shelf' – therapies have the bigger potential for commercial success, compared to the 39% who said autologous products will be more lucrative.
With allogeneic cells, the potential patient population will be naturally larger than with personalized therapies. At the same time the ability to manufacture large batches is more in keeping with standard biotherapeutic processes.
Therefore, the cost of goods will be lower and profits theoretically higher. This sits in line with the survey, where 87% of respondents said monitoring the cost of goods is either 'very important' or 'extremely important.'"
It is interesting to note that there is a significant difference between respondents in Europe – 67% of whom rated allogeneic as the therapies with bigger potential, versus those in North America who are more split between allogeneic and autologous (55% vs 45%). Perhaps a result of differences between regulators?
Taking cell and gene therapies to market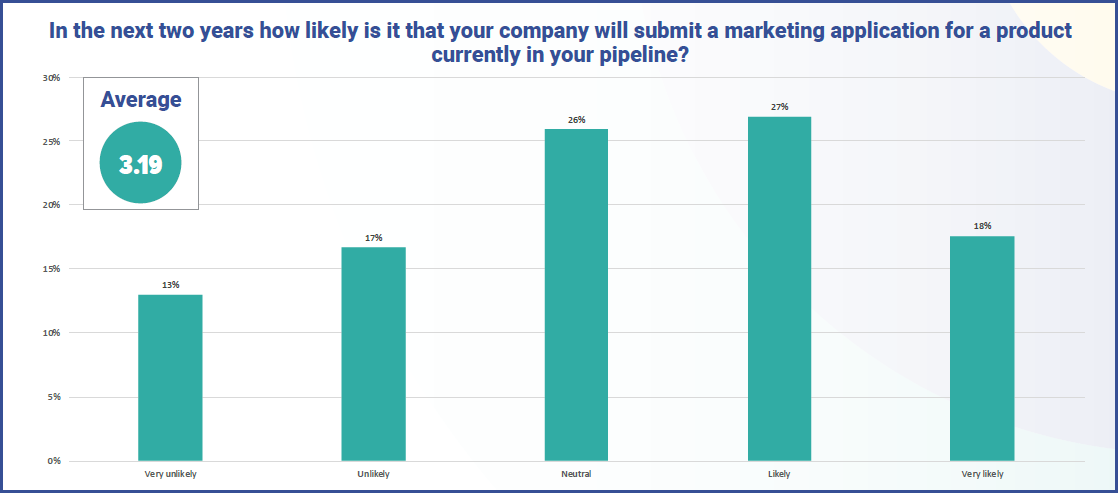 Slightly concerningly, the majority (55%) of respondents revealed that their company currently has no cell or gene therapies in clinical trials, with a steady drop off from Phase I (36%) to Phase IV with just 8%.
Despite this, there is an optimism in the industry, with 45% believing that in the next two years it is 'likely' or 'very likely' that their company will submit a marketing application for a cell or gene therapy product currently in their pipeline, versus 30% who believe it 'unlikely' or 'very unlikely'. The comparison between the US and Europe shows there is slightly more optimism in the latter, with an average of 3.22 (1 being 'very unlikely' and 5 being 'very likely') against 3.09 in the US.
Future technological advances
A major reason for such optimism is surely the speed of technological change across a range of areas in the industry. This is shown in the split of responses when asked where the next major technological advance will be. Automation/closed systems (27%), cell and gene engineering (27%) and manufacturing technologies (25%) were all seen as areas ripe for advancement, with analytics (9%), delivery to patient (8%) and supply chain (3%) lagging behind.
Of all the questions in the survey with open boxes for respondents to elaborate on answers, it was this one that prompted the biggest response. Automation and CRISPR were two technological advances that came up repeatedly, though there was a broad range of answers, including:
'Absolute need to do head to head comparative clinical trials with ATMP cell production with various cells with available closed system and other technologies to validate uniqueness, superiority of any of the technologies for effective production to make a difference in the field and to the patients.'
'Analytics for viral production and better disease models.'
'As more companies reach approval the need for innovative manufacturing (closed, automated and PAT) increases.'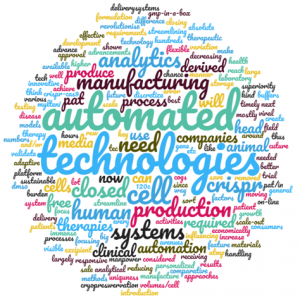 'Automated Adaptive manufacture through the use of PAT technologies in closed automated processes.'
'CRISPR will revolutionise therapeutic development.'
'Delivery, as well as health results, are what create the sale and thus the next big tech advance (or largely visible by media and consumers).'
'Delivery systems.'
'GMP-in-a-box.'
'Handling of large volumes/cell numbers required for clinical use.'
'It has to be to achieve any sort of sustainable scale.'
'Laboratory automation and CRISPR-Cas9 are the key factors influencing future advancements in cell and gene therapies.'
'The analytical burden required for these kind of therapies is immense. Streamlining every feature of this process will save hundreds of hours of manpower to focus on other avenues of the manufacturing process.'
'The more human error that can be removed from systems, the higher chance a patient has of receiving their personalized therapy in a timely manner.'