Twenty years ago, the Internet promised to change everything. While doctors were starting to get online, set up email and websites, and join forums such as doctors.net.uk, pharmaceutical companies started to think about their own digital presence. Some companies set up their first website, a new channel for corporate communication. However, the traditional model of customer engagement - pharmaceutical representatives hoping to find a window in a doctor's schedule for a few minutes of face-to-face time - was largely unchanged.
A whole decade later, and some pharmaceutical companies were starting to ask questions about the digital behaviours of their customers. Social media in healthcare was becoming a hot topic, and Twitter, the short-form public social media platform, had been in existence for a year, having launched in 2006. Early adopters among healthcare professionals started using Twitter to share ideas with their peers, and by 2008 a chain reaction had begun as thousands of doctors started to integrate public social media into their professional lives, learning from peers and sources all over the world.
Meanwhile, the pharmaceutical sales representative model continued, enhanced by new tools like e-detail aids that replaced paper product detail aids with digital content, and customer relationship management (CRM) tools to track physician engagement activities.
Today, the digital age has transformed customer behaviours. In a talk I gave to 150 doctors recently, I asked how many were actively using social media professionally; at least 80% indicted that they were doing so. Some senior doctors post on social media 10, 20 or 30 times during an average day. Collaboration with peers around the world has become a normal part of their professional lives.
Know your digital customer
Philip Gardiner, a Rheumatologist in Northern Ireland, says that when he started using Twitter some years ago, it helped him to connect with peers using hashtags like #rheumedu. "I found that I could engage and learn from colleagues across the world", he says. "If you are a busy clinician who lives over 75 miles from most of your regional colleagues you do appreciate being able to chat to people with similar interests."
Twitter has also been put to good use by Richard Brady, a Colorectal Surgeon practising in Salford, who launched hashtag #colorectalsurgery in 2016 to connect with other specialists. Within just a few months, the conversation among professionals had included 2,000 individuals in more than 50 countries. "Social media allows me as a practitioner to learn about innovations instantly… no matter where they occur on the planet", he says.
In the Type 1 Diabetes therapy area, healthcare professionals in the UK alone published more than 50,000 posts on public social media discussing the disease during 2016. A study by CREATION of healthcare professional needs in Type 1 Diabetes, carried out in collaboration with doctors by studying their online conversations using CREATION PinpointⓇ, revealed how healthcare professionals are collaborating on disease awareness, patient support and learning about new treatments.
After seeing the study, Partha Kar, Consultant Diabetes & Endocrinology, Portsmouth Hospitals NHS Trust, commented "CREATION's report shows what can be achieved when healthcare professionals use social media: they share ideas and learn from each other, and they get to understand what's important to patients, too".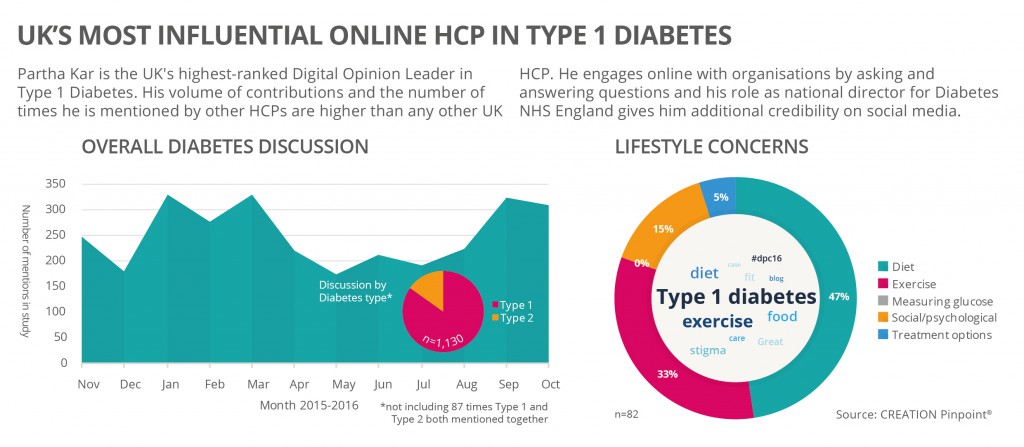 Endocrinologist Partha Kar is the UK's most influential online healthcare professional in Type 1 Diabetes, according to research. Source: CREATION Pinpoint®
Leveraging digital customer behaviours
Understanding customer behaviours in the digital age is essential for effective pharma brand planning in 2017. You might ask, for example, 'if healthcare professionals are learning through online engagement, where do they go for information'?
Research on social media behaviours shows that when healthcare professionals discuss disease and treatments they reference mainstream news stories as well as medical content, and post comments in reaction to what they read. They also develop their own assets and resources, with many healthcare professionals posting ideas and experiences on their own blogs.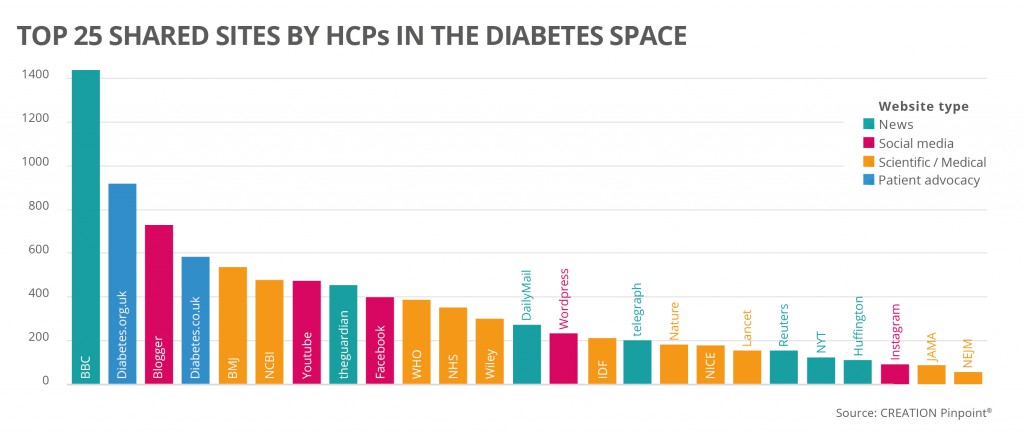 When healthcare professionals talk about Type 1 Diabetes, they reference mainstream media as well as physician blogs, and medical sources. Source: CREATION Pinpoint®
Studying healthcare professionals' digital behaviours around a particular therapy area, indication or class of products will shed light on their unmet needs, ideas, and how those ideas develop. Learning how they are using social media channels, what stimulates online conversation, who the key influencers are - and why - can inform both online and offline strategic planning.
While launching a new drug into a competitive class in Europe, one company discovered that doctors had specific questions about its product's efficacy, because key brand messages on this point were not getting through. This inspired a review of its digital plans based on observed customer behaviours, to engage doctors with materials and messaged targeted at their identified needs.
By learning from the conversations of pharmacists, another company discovered that the language it was planning to use in messaging was likely to alienate customers. So it refined its language to resonate with the key conversation drivers of its customers.
Yet another pharmaceutical company learned of a training need among nurses by studying their online conversations. So after geolocating the conversations to identify regions with the greatest need, the company rolled out practical training courses which went on to inspire nurses to share their new learnings with the rest of the online community.
Strategic planning in the digital age is not necessarily restricted to developing a digital strategy. Learning from your customers' digital behaviours can help direct you in planning for congress, developing messaging, providing medical education, or even improving the effectiveness of your medical sales force.
Setting digital customer goals
Learning from the digital behaviours of your customers will improve your strategic planning, and also provide tools to measure and improve your success. So make sure your insights-led planning allows for refinements as you discover how the needs of healthcare professionals are evolving in response to your campaigns and changes in the market.
To set your digital goals, you first need to know where you are now. Consider what you could measure now by listening to your customers. Ask yourself: what are healthcare professionals' expressed needs? What do you want to change? What could you do about it? What part can you play to support your customers based on what they need?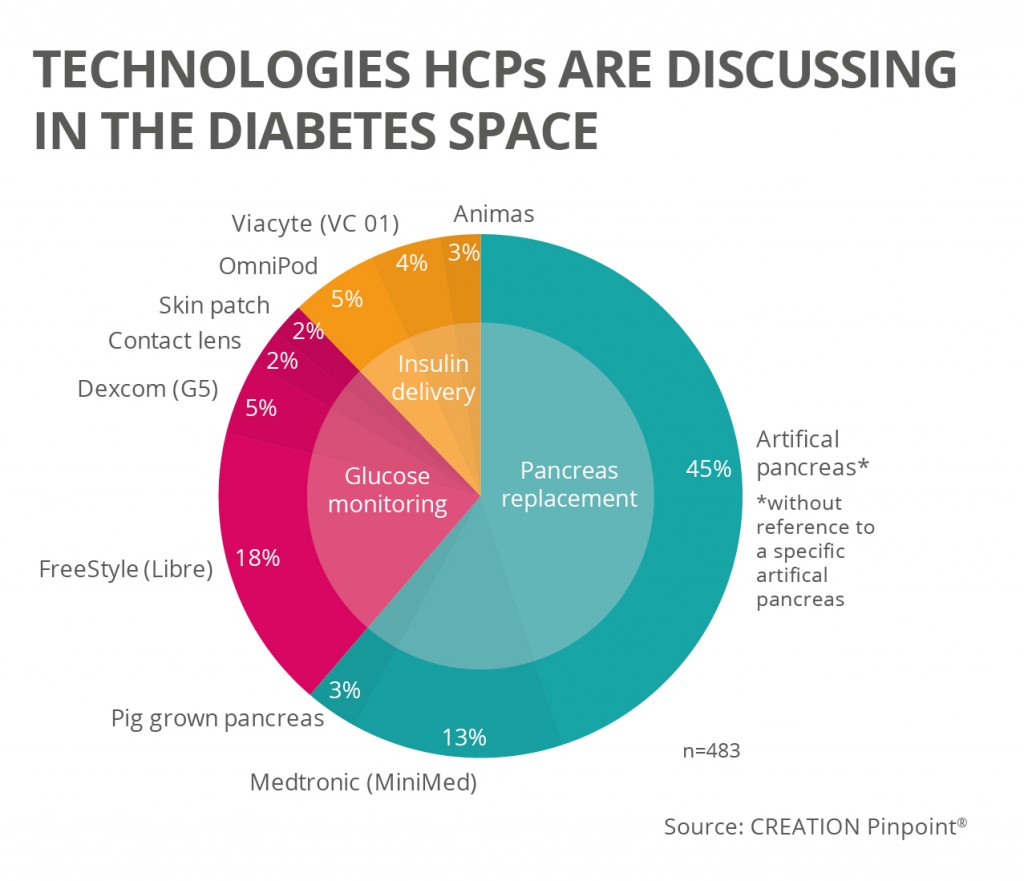 Analysis of healthcare professional conversation about diabetes devices shows level of interest in artificial pancreas. Source: CREATION Pinpoint®
Then decide what you will track in your customers' behaviour or conversations. If your plan includes a goal to change perceptions about a product, then track how this changes. If your goal is to raise awareness of a disease, measure what changes in how the disease is discussed.
Finally, be careful not to be misled by simple headlines in your customer tracking. Measures such as share-of-voice in your customers' online conversation, for example, will not provide useful insight without deeper analysis. One pharmaceutical company found that it had the largest share of voice in a product class, only to discover that the cause of all the healthcare professional conversation was fear about patient safety and scepticism about clinical trial data.
Take action
To sum up, take three actions to make your strategic plan a success in the digital age:
1. Know your digital customer: social media is transforming the lives of healthcare professionals.
2. Plan your strategy for the digital age: recognise how your customers share, learn and spend their time on social media.
3. Measure, learn and refine: learn quickly from healthcare professionals' online conversations so you can respond in time to make a difference.
In the digital age, you cannot afford not to learn from your customer.
About the author:
In the 1990s, Daniel Ghinn was building technology to analyse hospital pharmacy data for a company that would later become part of IMS Health (now IQVIA). Three years later, Daniel founded CREATION, the insights-led strategy planning agency for the digital age. He has led the team at CREATION for almost two decades, advising the world's largest healthcare companies and organisations. In 2013, he led the launch of CREATION PinpointⓇ, the company's proprietary platform that tracks the online conversations of more than 1.4million healthcare professionals worldwide to provide unique insights for pharma strategic planning.
Daniel's books include "101 Ways to Transform Your Pharma Brand Strategy" and "Pathways to Engagement for Healthcare". He can be reached at daniel@creation.co and tweets at @creationdaniel
This post was originally commissioned for PMLiVE in April 2017