When organizations lack a value-based process to support strategic
portfolio management decisions, they risk treating project/portfolio evaluation
as an analytic exercise rather than as a collective conversation around value
creation, supported by analytics. Because there is no inclusive process, they
may not involve key stakeholders, resulting in lukewarm support for implementing
decisions. Even worse, results may be used to blame, punish, or otherwise hold
people accountable for performance when they have had little or no involvement
in the decision-making process.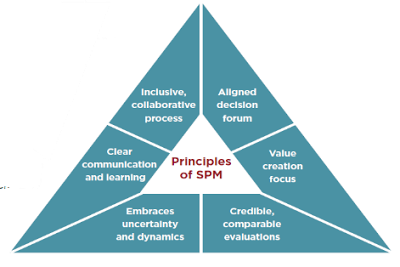 In their best-selling book The Smart Organization: Creating
Value through Strategic R&D, SmartOrg co-founders David and Jim Matheson
address the topic of 'open information flow, 'which directly relates to clear
communication and learning. In a 'smart company,' they assert that 'Virtually
all information is available to whomever wants it. Information is used in
surprising ways to create value. The flow of information crosses functional
boundaries. In such an organization, people feel safe in sharing what they know
and feel obliged to contribute to information-sharing systems. They are excited
about teaching and learning.'
The decision-making process in smart organizations is dynamic,
following the principles of agile development, wherein the information that
informs decisions is routinely updated to provide feedback to adjust decisions
about further investment and changes in direction based on improved knowledge.
When a strategic portfolio management process is in place, results
are used specifically to improve the project and develop a level playing field
to support effective portfolio evaluation and management. Uncertainties are
tracked and updated based on new evidence, and decisions are updated appropriately.
Information is gathered as needed to fill information gaps.
This is the last in a
series of blogs on The Six Principles of Strategic Portfolio Management.
Subsequent blogs will address each of the six principles in detail. For further
information about SPM processes and decision-support software, visit www.smartorg.com or contact info@smartorg.com