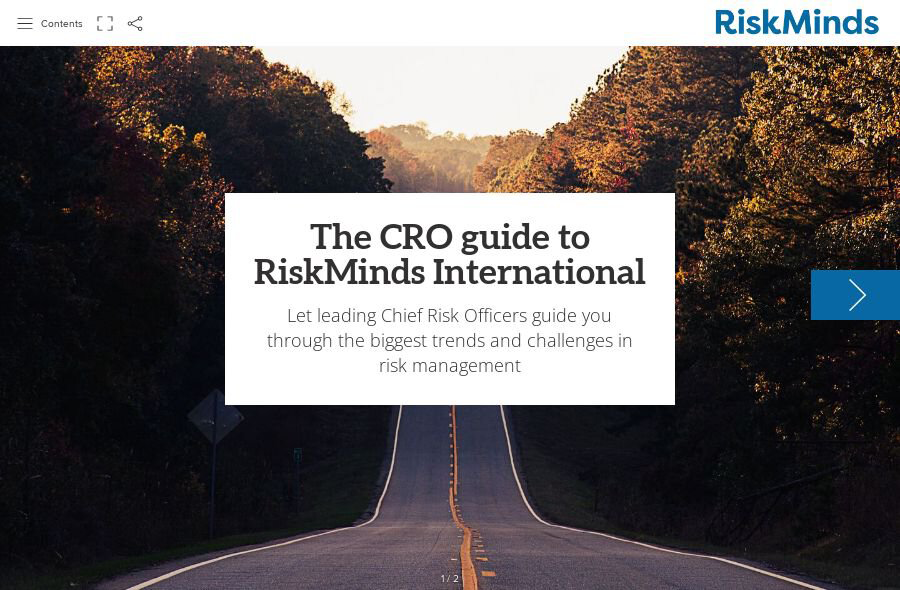 RiskMinds International 2022 is getting nearer, and in a year marked by unprecedented volatility and turmoil, risk management remains as relevant as ever.

Ahead of the biggest risk management event of the year, we have asked CRO's about challenges and concerns, so you can find out what's keeping them awake at night. You can also explore our CRO guide, in which Michiel Haasbroek and Carolina Thomaz takes you through the programme for RiskMinds International 2022 and points out sessions and speakers you can't miss. Eleanor Halsey, Head of RiskMinds, explores the top five concerns of risk managers at the moment and Thabile Nyaba gives her take on challenges and opportunities in current risk leadership.

Flip through the pages and get insights from:

Federico Galizia, Chief Risk Officer, Inter-American Development Bank (IDB)

Sajid Iqbal, Deputy CRO, Habib Bank AG Zurich

Carolina Thomaz, Chief Risk Officer, Sygnum Bank AG

Michiel Haasbroek, Chief Risk Officer, Banque Internationale à Luxembourg (Suisse) SA

Monika Bączyńska, Director, Head of Financial Resources Management, mBank

Thabile Nyaba, Chief Risk Officer, Old Mutual Insurance

Sven Ludwig, Regional Director, PRMIA

Maurizio Garro, Exclusive video from RiskMinds Edge with Maurizio Garro, Senior Lead, IBOR Transition Programme, Lloyds Banking Group

Eleanor Halsey, Head of RiskMinds and Producer of RiskMinds International 2022

And more...

Log in or sign up below to read the full eMagazine (maybe you will even find a 10 % voucher for the event ticket).