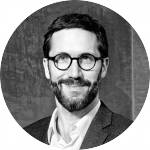 Chris Bartz is CEO & Co-Founder of Elinvar. Driven by the goal to reshape finance for the better, he is an advocate for the benefits of digitalization and a strong ecosystem for fintech and digital banking. Ahead of speaking at FundForum International about the future of FinTech in asset management, we get a quick glimpse into why Elinvar believe partnerships are key to getting it right and how they've made it work for them.
What are the main challenges asset managers are facing right now, and how can FinTech help?
Many asset managers are seeing digitalization as a serious, yet promising challenge for their businesses. Most of them are well aware of the long-term benefits of adopting new technologies, but the technological and organizational know-how to do so differs significantly from their established core competencies. By partnering up with financial technology experts like Elinvar, asset managers can ensure their competitiveness and innovation today and in the long run. In doing this, successful partnerships build on the three long-term trends we see today:
First, the regulation of the financial markets will further increase – on national as well as European level. Just this year MiFID II came into effect – and it won't be the end of the road. But regulation also opens up opportunities, e.g. the stronger harmonization of the single European market for financial services is a huge opportunity for asset & wealth managers which position themselves for growth.
Second, we have to focus on the asset manager's customers: the investors. Their expectations regarding a state of the art user journey are shaped by Apple, Amazon & Co. Asset & Wealth Managers have to fulfill the same standards regarding transparency, availability and customer service based on superior data analytics.
This leads to third trend: Data is key. Companies will need to significantly increase their knowledge on the organizational level. It is not sufficient anymore if an advisor understands the needs of his customers. This knowledge – in an even more profound quality – needs to be accessible throughout the complete organization – consistently, in real-time and compliant to data privacy, security and all other regulatory requirements.
These trends lead to additional requirements for financial technology providers as well. In addition to the technology competence it is necessary to understand the asset and wealth manager's business – the combination of technology and financial expertise is key to successful partnerships. The optimal digital platform leverages the established core competencies of every asset manager, the personal experience and expertise, and also the relationship to customers. Technology alone will not be a game changer.
How have the main technology infrastructure demands changed for asset and wealth managers?
90% of all the data available in the internet has been created within one year. For example, more than 46,740 pictures are posted on Instagram and over 4 million videos are being watched each minute of the day. With every innovation, the pace with which we are adopting new technology is speeding up. To keep up with this speed and the changing – and growing – demands of customers, a flexible, constantly adapting infrastructure is crucial.
Especially in asset and wealth management, it is important to know the investor's needs, ideally even to anticipate them in advance, but definitely to absolutely fulfil them. We are talking about some of the most demanding customers possible. Therefore, it is necessary to implement the same approaches leading technology companies have, to ensure a state of the art user experience.
As the "new normal" we should expect technology infrastructures to be completely exchanged every 5-7 years – and ensure partnerships and business models are sustainable considering this precondition.

What should asset and wealth managers definitely keep in mind when pursuing a partnership with a fintech?
The two most important topics from my perspective are a clear set of strategic goals and the openness for cultural change.
Digitalization in itself is never the goal but always a means to an end. Therefore, the clear definition of strategic goals is key for the successful digitalization. It has proven valuable to start with the established core competencies and build the strategy from there to ensure the maximum benefit from a partnership.
In addition to the hard facts like numbers and technical features, I would like to emphasize the cultural change which goes along with digitalization. To ensure constant learning and adaption, developers and product teams established agile processes with clear ownerships enabling quick decision making and fast progress. It might be very rewarding to align the decision-making processes with these actual production cycles – which means nothing less than entering a partnership with each other, rather than just being customer & provider.
As a summary I can say that we are achieving the best results with asset and wealth managers who pursue long-term goals and therefore value partnerships focused on shared sustainable, long-term success.
What great examples do you see from businesses or other industries that have got it right?
Netflix in my eyes is a great example – not only because they use a similar micro services structure like we do at Elinvar. Netflix started as an online video store. It simply brought the rental system online. But what made them successful was their ability to rethink how people consume video content. Hence, they used technology in a very smart way to change the way people watch their favorite movies and series. With Netflix, linear TV was over. As was the question of location. With Netflix, you don't need to finish an episode on your TV, instead you can continue on your tablet or smartphone any time and place you like. They started by simply making content available online, they carefully analyzed their users' behavior and with the generated data systematically improved the user experience, going even one step further by producing exactly what their users want to watch. Eventually, they have revolutionized a whole industry in only a few years.
What that example clearly shows is, what you can actually make happen, what you can achieve as a company, when you have a clear vision and focus on your customer. The way you deliver your product, what it looks like, which features it has – it all starts with the customer. This is something that all companies need to internalize, the only way to have an excellent product is by creating customer value.
You have said "you can buy technology, you can buy people, but you can't buy culture - that's where you have to build your USP!" – what are your top tips to building a successful culture?
First of all, there isn't anything like 'the one' corporate culture that works for every company and every employee. As an employer, you develop your unique culture and everything else is derived from it. Therefore, you should proactively choose the kind of company culture you would like to have and work every day to create and foster it. At Elinvar we understand ourselves as a high-performing team with diversity and ownership as core values. This means, that we foster a positive work environment where everyone is welcome with their specific expertise and professional background, and that inspires personal as well as professional growth.
One aspect of building a culture I would like to highlight is getting rid of the traditional definition of HR responsibilities. Hiring and developing people is one of the foremost management responsibilities – as is shaping a culture which fits the strategy of the company.