The latest on emerging risks, the state of the economy, and the regulatory landscape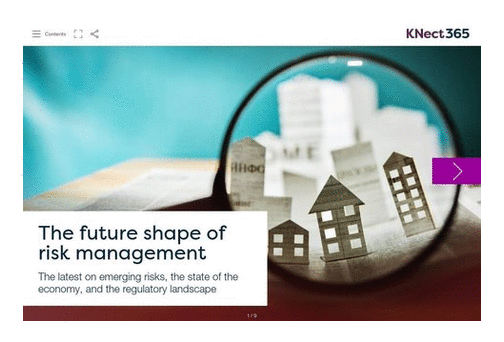 Click to read The future shape of risk management - RiskMinds Q3 2019 eMagazine
The future has never been more uncertain. Our path forward is obscured by various forces that we don't fully understand yet. Risk managers are facing brand new risks that will certainly shake up the status quo. Geopolitics, technology, climate change, and regulations are at the forefront of every risk manager's concerns. Although these new risks can be summarised in a simple list - like we just did -, the enormity of each will certainly break traditions. Risk management needs new tools, new skills, new ideas... But most of all, risk management needs to innovate! It's time to explore what the path forward will look like, and we hope to provide useful insights in this eMagazine so you can shape future of risk management.
Contents:
Top risks that keep CROs up at night
More CROs open up about their biggest concerns
Pushing forward: assessing risk in an evolving ESG data context
Julie Sherratt, Head of Investment Risk, TD Asset Management
Where are we in the credit cycle?
Edward Altman, Max L. Heine Professor of Finance, Emeritus, NYU Stern School of Business
FRTB: a holistic review of the new market risk paradigm
Hany Farag, Senior Director, Head of Methodology and Analytics, Capital Markets Risk Management, CIBC
The risk in rocket science: what financial risk managers can learn from NASA
Interview with Jeevan Perera, Senior Engineer, NASA
The technologically enhanced era of cyber risks
Featuring Brian Byagaba, Senior Manager Information Security, Commercial Bank International