It feels like the risk management industry is on the brink of something huge. New regulations have come into effect, requiring new practices and a whole new mindset among risk managers. Regulatory bodies' grip on banks have been tight over the years, but the regulatory agenda is slowing down. Meanwhile, technological, socioeconomical, and geopolitical events continue to disrupt this industry, meaning that risk managers need to divide their attention to tackle several challenges all at the same time. Looking ahead to RiskMinds International, our producer Vincent Beard collated 2019's top 10 fears as told by the risk management sector.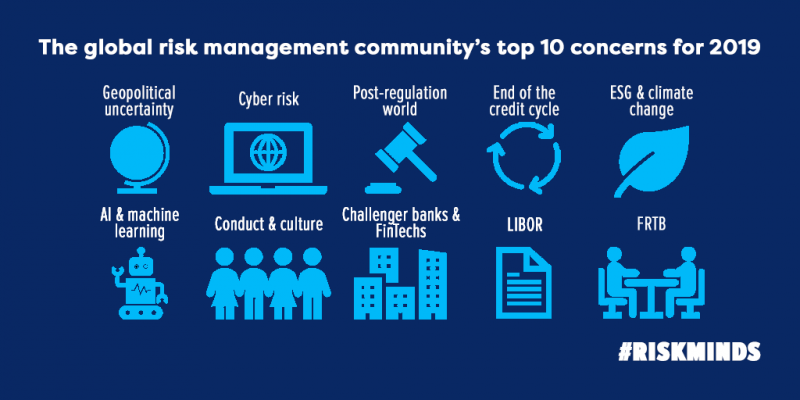 Geo-political uncertainty
Over the last 50 years the world has moved towards a globalised economy. But with the potential fallout from Brexit and its delay, alongside trade wars between the US and China, it looks like we may be heading towards a slowbalisation. PwC's Paolo Petrone and Ajay Raina noted that global systemic financial institutions are especially vulnerable to geopolitical events. "In 2016, US banks observed an increase in defaults of shale producers after Saudi Arabia increased oil output in 2015. Similarly, 2017 ended in record re-insurance losses due to a series of major hurricanes and earthquakes globally", they demonstrated. On top of that, as nationalism and populism continues to grow, how is this going to affect the financial markets and what does it mean for them?
Cyber risk
A topic that grows in prominence with each passing year. As hackers are becoming more sophisticated, how are banks trying to stay ahead of the curve? Are banks able to shift their mindset and start thinking like criminals to combat the rising threat of cyber by understanding their own vulnerabilities? You can never claim to be 100% secure – but what can you do to be as secure as possible?
Living in a post regulation world
Since 2008, regulators and banks have been working tirelessly to implement new regulations and improve capital. But as the regulation agenda slowly moves to the background with many regulations already in place, or in implementation, what can banks do to shift their focus with the aim to become profitable and sustainable? Getting back to business as usual is a key challenge for all banks in 2019.
End of the credit cycle
How imminent is this? What will be the trigger? What are banks doing to prepare for this, especially with interest rates remaining at historically low levels? These are all questions currently on the minds of risk officers as they prepare for their first downturn since 2008. With more regulations and capital at their disposal, will banks be able to cope?
ESG & climate change
A topic that has been on the rise for a number of years, particularly with the increased pressure from society on governments and corporations to do more. Climate change is a problem for society. So how can banks help society? What more can we do? Will climate change eventually manifest itself into a reputational risk for banks, and what are the effects of giving out long term loans to companies that risk a lower credit rating in the future? Roselyne Renel, Global Head of Enterprise Risk Management, Standard Chartered Bank, summarised the panel she led at last year's RiskMinds International: "The overarching theme emerging from the discussion was that none of us know all the answers yet, but it is a globally important topic that warrants an all-hands-on-deck approach to finding the answers. As the event concluded, I could not help but feel a sense of pride as a representative of Standard Chartered Bank (SCB) leading this initiative. The sense of pride was immediately followed by a simple question which we are encouraged to ask at SCB – how do I put words into action?"
AI & Machine Learning
Another topic that has been on the rise for the past few years but has more interest than ever for 2019. With new case studies launched each week in a range of different risk taxonomies, where can artificial intelligence and machine learning be of most benefit?
Conduct and culture
We're looking to examine the ways organisations and people can influence culture from the top down, especially in Tier 1 banks with numerous offices in multiple locations and continents. How achievable is it to ensure that the message you want to send across is understood by senior management, and more importantly, followed through? How can you measure it and incentivise colleagues correctly and ethically? "Financial rewards should be a good motivator. And they are, but research shows that there might be a limit to their effectiveness when it comes to personal wellbeing", Alicja Nocon, Risk Management Actuary, Munich Re UK, wrote on this topic. "This is particularly relevant within the millennial generation (born between 1980 and 1999) who seem to value a good work-life balance beyond financial success."
Relationships between global banks, challenger banks and Fintech's
What do customers want? has been a fundamental question that banks have been trying to understand. But with the rise of challenger banks and Fintech's, how are they shaping the future of banking?
LIBOR
How real is the concern within the industry of what a post-LIBOR world will look like? Will there be a significant cliff edge and if so, how can we mitigate this? Will all contracts need to be rewritten?
FRTB
A framework that has been in the making for numerous years, how are banks going to react once it is implemented and what will be the effect on trading desks? Will some decrease, whilst others are shut down completely? Will there be discrepancies between different bodies regarding their implementation and timelines and are the timelines even realistic? As regulators and banks alike edge towards the finish line, it will be fascinating to see how the final rules pan out.