This year, GAD Asia is heading to India, the world's third-largest aviation market in terms of passenger throughput, behind the US and China. India's move towards a more liberalised aviation market and the nation's strengthening economic fundamentals have helped it become one of the fastest-growing markets with its air passenger traffic rising rapidly in a relatively short time. In this article, APAO India gives an overview of this market and its expected growth in the mid- to long-term.
India's domestic aviation market is the third largest and the fastest growing market in the world in terms of the number of domestic tickets sold. India is expected to become the world's largest domestic civil aviation market in the next 12 to 15 years.
Air cargo market in India is also projected to be amongst the top ten international air cargo market by 2025.
India's GDP growth in 2018 was robust at 7.4%.
The value of air transport to India
The air transport sector makes a significant contribution to the Indian economy.
An analysis by Oxford Economics shows that the air transport industry in India is estimated to have contributed (directly and indirectly) an $8.9 billion gross value to GDP in India. Spending by foreign tourists contributed a further $21.2 billion gross value to GDP. The total contribution by India's air transport sector is $30bn to GDP and provided 7.5m jobs.
Direct contribution includes airlines, airport operators, airport on-site enterprises such as F&B and retail outlets, aircraft manufacturers and air navigation service providers.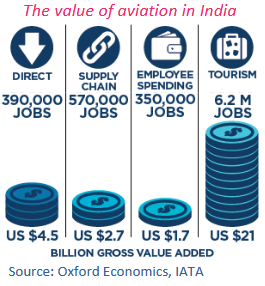 Source: IATA's report on India's Air Transport Sector, August 2018
Traffic
Passenger traffic
Total passenger throughput traffic grew at 11.6% to 344.69 million in FY 2018-19 as compared to 308.75 million in FY 2017-18. Domestic passenger traffic grew YoY by 13.1% to reach 275.21 million in FY19. International passenger grew YoY by 10.43% to reach 69.48 million in FY19.
Strong fundamentals have contributed to the growth – although traffic has been over-stimulated by low fares. By 2020, passenger throughput traffic at Indian airports is expected to increase to 421 million.
Freight traffic
Total air cargo at all Indian airports during 2017-18 and 2018-19 witnessed a growth of 12.7% and 6.0%, respectively with 3.56 million metric tonnes cargo traffic in FY 2019. International air cargo traffic increased by 2.6% to 2.2 million MT in FY'19 whereas domestic cargo traffic increased by 12.1% to 1.36 million MT.
International cargo contributes circa 60% to India's total cargo industry with approximately double the growth rate as compared to domestic cargo business.
Over 2018-23, the international and domestic air freight is projected to grow at a CAGR of 8% and 8.5% respectively with an overall growth of 8.2%. Considering this trend to continue till 2027, projected international and domestic air cargo will be 3.6 million MT and 2.1 million MT respectively resulting in total air cargo traffic of 6.8 million MT. By 2032 freight traffic is expected to cross 11.4 million tonnes.
Air Traffic Movement (ATM) Traffic
India's domestic and international aircraft movements grew 14.1% y-o-y and 3.4% y-o-y to 2.15 million and 0.45 million during 2018-19, respectively. Aircraft movement grew from 1.31 million in FY07 to 2.61 million during FY19.
Indian Airlines
Indian carriers are expected to post a loss of USD 1.65-1.90 billion in FY2019. Yield pressure led by rapid capacity expansion and a spike in crude oil price remain key concerns for profitability.
Low-cost carriers (LCC) have increased their dominant market share to 64% of all domestic seats in 2017.
Airports
The Airports Authority of India (AAI) manages 136 airports / civil enclaves but only 90 of them are operational at present. Out of operational airports, 5 international airports are operated under public-private partnerships.
AAI has an annual terminal capacity of 155 million passengers, which it intends to increase it to 300 million by 2026-27. It also aims to add 290 aircraft parking bays to the existing 714 spots. AAI forecast a demand of approx. 636 million passengers by 2026-27.
The AAI aims to bring around 250 airports under operation across the country by 2020. AAI has developed and upgraded over 23 metro airports in the last 5 years.

This article is part of a series detailing the Indian Civil Aviation Sector. Stay in the loop – create a KNect365 account.