By: Jamie Singer
The bicycle has a near perfect design. 
Interestingly this hasn't always been the
case though.  Although progress has been
slow, the bikes we recognise today found their origin in the early 15th Century
- the designs we know today are far from what the original pioneers were
riding.  Fortunately, construction has
been streamlined and the weight reduced in order to meet the functional demands
of modern athletes.
 The first revolution was to ditch the
ridiculously large front wheel and equally ridiculous small back wheel.  Since then the technological evolution of the
bicycle has been more notable for its sluggishness rather than a stellar
trajectory of advancement.
Indeed, the loudest voices debating
technological advancements were often Cycling Luddites saying 'No'.  No to new frame materials, no to new braking
systems, no to new ways to change gears. 
The drive train has stubbornly remained cogs and chains, gears persist
with mechanical cables.
But there have been pioneers. 
In 1989 Greg LeMonds bolt on aero-bars
revolutionised time trialling, designed by former US national ski team coach -
Boone Lennon, they allowed LeMond to adopt a wind cheating aerodynamic position
that famously snatched the Tour de France from
Laurent Fignon
by an 8 second
hairs breadth.
Chris Boardman's Mike Burrows designed, Formula
1 inspired, Lotus engineered, wind tunnel perfected, carbon fibre monocoque
frame that carried Boardman to Olympic Gold in 1992 (before British Cycling systematically
hoovered up Olympic track gold for fun) was banned by the UCI.  In 1993 Hour Record legend Graeme Obree's
'Old Faithful' with its 'Superman' riding position was so revolutionary that
the UCI promptly banned it too.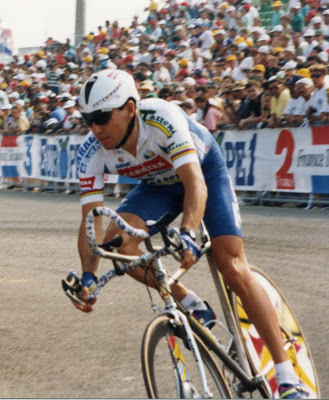 We remember them because they are
relatively isolated innovations, often initially laughed at then outlawed
before (becoming the future that we all must have).  All of them have one thing in common, they
are innovations imagined by outsiders to cycling.  None more so than the early Mountain Bike
pioneers of Marin County, California in the late 1970s and early 1980s.
Whilst road bike technology and innovation
has been held back by UCI regulations and the purists, the same can't be said
of mountain biking which being true to its revolutionary origins never stands
still.  Suspension, disc brakes, wheel
size, even handlebar width are experimented and innovated. 
Ironically from the young upstart much of
the current innovation in road cycling is mountain bike inspired.  What is driving this growing tidal wave of change?  What's changed?  In the UK, Wiggins, Pendleton, Hoy have made Lycra
acceptable and inspired a nationwide leisure pursuit that whilst cheaper than a
mid-life crisis sports car, has created a lucrative market that is fuelling
technological advancement.
Since 1996, the UCI's post Lugano Charter
has heavily influenced and arguably restricted bike frame design, the open
double triangle rule that sounded the death knell for the monocoque frame; but
more profitable cycling manufacturers means a subtle shift in the balance of
power.  It's no  coincidence that the UCI has decided (or been
pressurized into) dropping its infamous 3:1 rule.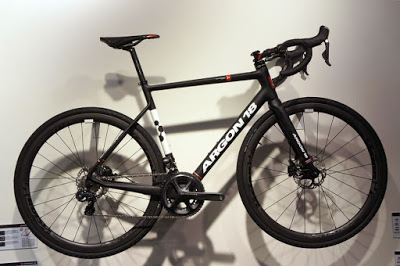 We're on the cusp of exciting times, as
engineers 'forget the UCI' and push the boundaries of materials, geometries and
CAD we can expect to see more bikes like the scintillating Cerv'lo P5X or the
crazy Diamondback Andean, with its superbike style fairings and aerofoils, just
more radical. 
That's just on the outside.  Whilst bikes have been slow to evolve, the bolt-ons
like bike computers, power meters and apps have raced ahead.  The next generation of bikes will incorporate
these technologies within their wind cheating graphene frames.  Stop Press: Bikes like the SpeedX Unicorn and
the Argon 18 Smart Bike already are.
Image
credits: