The 2007 Consumer Electronics Show should have belonged to Nokia. The company rolled out its new internet-ready N series of phones and tablets, ranging from advanced clamshell phones (including the flagship N76) to a new "Internet tablet" called the N800 that could connect to the internet via a WiFi card or through a Bluetooth connection with an internet-enabled phone.
The new devices were a leap forward for Nokia, which at the time was responsible for more than 50% of all mobile phone profits, but faced plenty of competition from Motorola, which had gained market share with its undeniably cool RAZR phones but had stagnated since. Nokia had seen the future of internet-enabled mobility, and was ready to pounce.
Unfortunately, the meager buzz Nokia generated at CES was quickly drowned out by news from a new player in the market. On January 9, 2007, Steve Jobs introduced the world to the iPhone. Even though Apple did not attend the CES, nearly every press mention of Nokia's new devices also mentioned Apple's new touch screen wonder.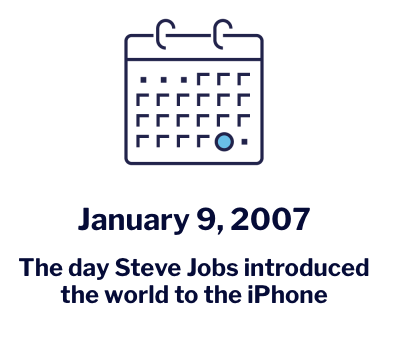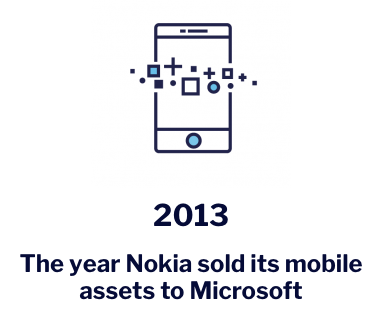 Source: The Biggest News At CES 2007 Was From A Company That Didn't Even Have A Booth, CRN
Within a few years, Apple and Android had crushed Nokia. In 2013, the manufacturer sold its handset business to Microsoft. One year earlier, Motorola was acquired by Google.
So what happened? How did the world's leading mobile device maker crumble so quickly at the hands of a disruptive new player?
The short answer is that Nokia failed because it could not adapt quickly enough. The company pivoted strategy to follow Apple's lead, but could not execute fast enough to recover. The hidden reason behind Nokia's failure to close the strategy-to-execution gap? Senior leaders at the organization were simply not incentivized to create an agile operating model.
What Is an Agile Operating Model?
An agile operating model is how a business runs itself to drive continuous innovation — all with the aim of delivering value to customers and other stakeholders. Borrowing from Agile development concepts, an agile operating model is one in which an organization can quickly execute on decisions with rapid iterations of increasingly granular, deliverable-based work that ties back to strategic objectives. The most agile organizations treat their strategy as evergreen and continuously evolve how they execute.
For example, Dell Technologies has abandoned long-term planning in favor of a continuous process in which senior leaders create a shared strategy agenda and commit the resources required to close the execution gap for each initiative on the agenda in order of priority. This allows the organization to be more flexible and respond more quickly to changing business priorities.
A truly agile organization is one that is better protected against disruptive threats, because it is constantly working to disrupt its own models and processes. However, actually implementing an agile operating model requires a dramatic reconsideration of how work gets done. Recent research found that 84% of managers say they can trust their direct reports to deliver on promised work, but only 59% say they can rely on those in other departments. The result is dysfunctional behavior, including duplicated work and missed opportunities.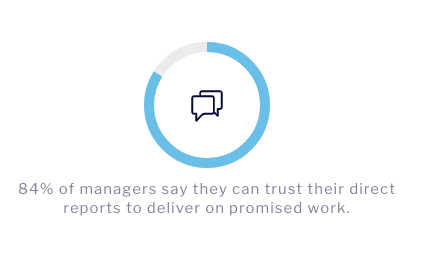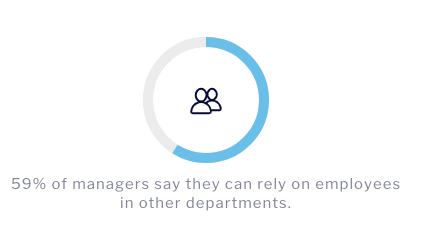 Source: Why Strategy Execution Unravels and What to Do About It, Harvard Business Review
In a truly agile operating model, important projects are no longer the domain of strict hierarchical teams, but rather by those with the appropriate skills, no matter where they sit in the organization. At Nokia, the product development process was dominated by hardware engineers, a handicap in the emerging smartphone industry where software is equally as important.
Recently, Shell embarked on an initiative to drive digital innovation and become a more customer-centric organization. The company realized it needed to launch several small experiments, but the structure of the organization prevented the organization's leaders from accessing the right skills within their own company. To surface the right talent, Shell began a reverse mentoring program in which junior-level employees helped senior leaders better understand digital innovation.
"What was really interesting was that these people came from all parts of the organization. Very few of them were working in what we would call digital roles. Most of them were pretty junior in the organization, and they were hidden," says Caroline Missen, Business Advisor to the Downstream Director at Shell.
The Innovator's Dilemma & the Tyranny of Bad Incentives
The innovator's dilemma — a concept first identified by Harvard Business School professor Clay Christensen — identified the counter-intuitive notion that organizations are often disrupted because they do everything right. For example, product teams are likely to focus development efforts on features requested by existing customers. Meanwhile, disruptive companies develop features for the next generation of customers.
Success at so-called incumbent organizations often leads to incentives for executives and managers that actively work against agile operating models. Past performance is often the top reason for hiring and promotion, but many companies neglect to evaluate a person's ability to work with people from other teams and departments — a critical element of successful execution. When asked what would happen to a manager who met his or her objectives but failed to coordinate with other departments, only 20% believed the behavior would be addressed promptly.
At Nokia, the innovator's dilemma manifested itself in the organization's product development process. Nokia had grown so large so fast that the pressure to meet short-term financial objectives drove most major decisions. The company's legacy of innovationtook a back seat to incremental improvements and massive investments in enterprise resource planning software to streamline existing product development and supply chain processes.
Recent research shows that organizations rely on changes to structure and process to address the strategy-to-execution gap primarily because those changes are measurable, and yet they almost always fail to deliver on strategic execution. This "tyranny of the tangible" undermines employee engagement and diverse contributions precisely when organizations say they need more of both.
The Agility Imperative
While Nokia's failure is an extreme example, innovative disruption happens every day. Since 2000, 52% of Fortune 500 companies have either gone out of business or been acquired.
Most companies fail to keep up with changing market forces not because they don't see it happening, but because they cannot react quickly enough. In most cases, innovation takes a back seat to profitability. Closing the gap between strategy and execution is critical to ensuring success in the long term, but most organizations are too burdened with legacy processes and bad management incentives to successfully drive continuous innovation.
An agile operating model offers a pathway for organizations to break free from legacy processes and rethink how they access the appropriate skills inside and outside of their organizations to meet changing customer and market expectations.
Interested in learning:Explore other agility imperatives companies must embrace to accelerate innovation.