We'd like to recommend a new book from New York Times
bestselling author Vijay Govindarajan, who is ranked as one of the world's
leading business thinkers. After 35 years of research and consulting, he has
written his most important book yet:
The
Three Box Solution: A Strategy For Leading Innovation
.
In this book, you'll learn how to meet the performance
requirements of the current business'one that is still thriving'while
dramatically reinventing it (two fundamentally different management challenges
that are hard to do simultaneously). You can get more details on the book from
the book
web site
or watch the
trailer
.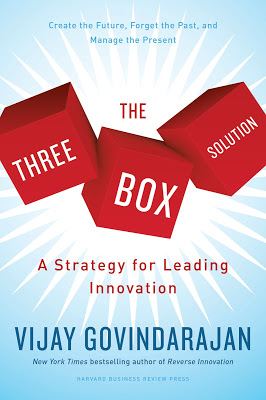 The book will be released on April 26. We suggest you

order it now
to ensure that the publisher prints enough units and send them
to Amazon. Please note that Amazon will bill you only after they ship the book.
Your pre order is like 'reserving' a copy, no financial commitment now.
If you send VG an email (
vg@dartmouth.edu
)
that you have pre-ordered the book, he'll send you these Bonus Gifts:
1. Video: A short video that summarizes the key messages of
the book.
2. Practical Toolkit: Contains tools and methodologies to
apply the Three Box Solution in your organization.
If you would like to help spread the word about the book on
social media, please use the hashtag #3BoxSolution and link to the
website
or a
retailer
as in this
suggested tweet
you can use or
adapt.
Also, don't miss
Vijay at the upcoming Front End of Innovation
Conference in Boston May 10-12 where he will be giving a keynote presentation on
the ideas from his new book. To learn more about FEI or to register, click
here: http://bit.ly/1U7ztwX