~ by Aaron Keller
This may seem odd, but as this writer ages, odd becomes as comfortable as an alma mater sweatshirt. So here we go. How do you use Twitter? Or do you at all? If you don't, you're missing out on one of the largest micro movements in social (yes, the oxymoron was intended). For instance, if you jumped on the television movement almost a century ago, but still to this day never upgraded to color. That's what you're missing.  For those of you who do tweet, any other comparisons? 
For as many people who use Twitter, there are nearly as many uses for it as a social platform. There are certainly the icky ones, like the rest of the Internet. But, we chose to use social for good because someday soon, being good will become popular again. So, my use for Twitter at events is aggregate note taking. 
Using Twitter as my preferred note taking device when consuming speaker content allows me to go back and remember the most important pieces of a speech with #hashtags. It also shows me others who identified a similar point or different quotes from the speaker. So, I'm essentially taking aggregate notes with the audience (with those who do tweet). And, as a writer, author and blogger for this event, taking copious notes is essential to writing informed, thoughtful blog posts. 
Now, there I was, in a breakout session, innocently awaiting the next speaker. Next I notice its a banker from a bank I'd never heard of and I'm sitting at the front so there's no socially acceptable escape. I'm stuck.
But, what happened in the next 45 minutes was something rather unusual. An innovator, who happened to work for a bank, took the stage and turned on a firehose. Some people apologize for firehose delivery of content, he didn't. Some people have filler and ramblings unworthy of the sound wave energy they travel upon, Mr. Swisher did not. The quality and delivery cadence of his content didn't leave time for 140 characters. The insights were there, just as the audience would look down to thumb a new thought into Twitter, another one came. 
He broke my Twitter thumbs. And, looking back on what the crowd supplied (one tweet), I know this wasn't just me. After a bit the audience just gave up trying to capture the sound waves in 1s and 0s. We just let the waves of content flow over the crowd. Which means, no notes. Lucky for all of us, he was supplying his presentation. 
Now, there are two teaspoons of content I pulled from the firehose delivery. The first is embodied in a summary of one of his slides: "Big companies don't beat small companies. Small companies don't beat big companies. Fast companies beat slow companies. The only truly sustainable competitive advantage is the speed at which a company learns." This is a fundamental life lesson. The second is the counter intuitive measurement methodology in one of his slides. Going against intuition is always intriguing, because it makes you wonder, is it you individually or is it a collective intuition. 
So, enjoy this small portion of the wisdom Phil shared with the audience at FEI15.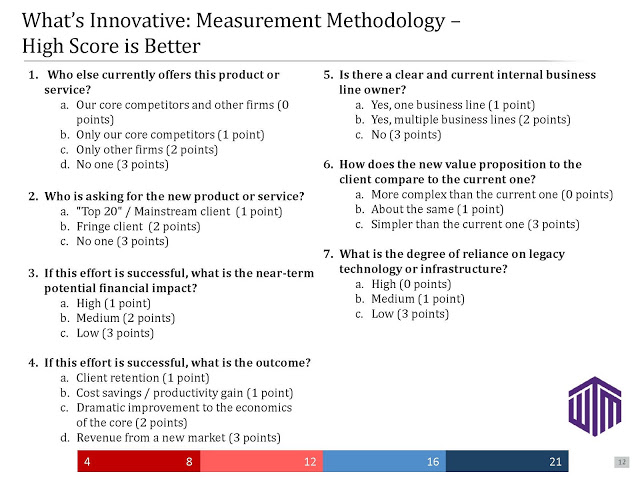 Phil Swisher
Trevian Wealth Management Venture
Twitter @p_swish
LinkedIN: http://www.linkedin.com/in/philswisher