C. Engdahl
The Big E of Big E Toys
Time magazine reporter Allie Townsend relatively recently unveiled her picks for the All-Time 100 Greatest Toys. Greatest in her mind doesn't necessarily mean innovative it seems. Rather the list simply reflects from her perspective the '100 most influential toys from 1923 to the present.' There's obviously a difference between innovative and influential. But none-the-less, the All-Time 100 Greatest Toys list is if nothing else a bit nostalgic and fun to review.
There are some elements of innovation in this list of 100: Pop-Up Books from the 1920's; View-Master from the 30's; Legos, Etch-A-Sketch, Rubik's Cube, and a few others. Even the Barbie doll was a bit innovative in its own right if only because Mattel figured out how to make a boat-load of money by essentially giving away the dolls and reaping plenty of profits on doll clothing and accessories.
If you really want to talk innovation in toys though, consider these gems:
Get Real Girl dolls
Trivial Pursuit board game
Microvision handheld game system (from Milton Bradley)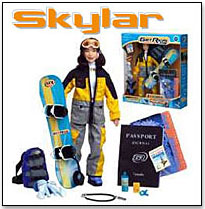 A slightly more interesting list of toys, albeit one with much overlap to that put together by Ms. Townsend, is the list of
Toy Hall Of Fame
inductees. This is a good group of toys. My favorites from the Toy Hall Of Fame are the Cardboard Box (inducted 2006) and the Stick (inducted 2008). (Cardboard Box and Stick are not brand names by the way. They are simply a cardboard box and a stick.)
Brilliant.  Absolutely Brilliant.
You gotta figure, there really is nothing more innovative than a child's imagination.