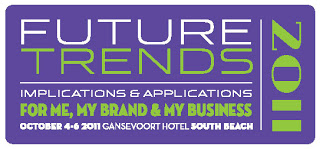 What is inspiration? Where does it come from? And most importantly, how do you take your personal inspiration and strategically apply it to your professional business decisions?
Dali developed a system to capture dreams. Hemingway wrote every morning (rain or shine, intoxicated or sober). Hunter Thompson re-wrote entire books.
What can you do? 
Attend Future Trends this October at the Gansevoort in Miami, as we bring together a community of trend spotters to inspire you- and help you translate inspiration into growth.
Future Trends 2011 will feature:
' Genevieve Berger, Chief Research & Development Officer, UNILEVER
' Kit Hughes, Art Director, PHILIPS CONSUMER LIFESTYLE
' Mauro Porcini, Head of Global Strategic Design, 3M
' Andrew Benett, Co-Author: CONSUMED: RETHINKING BUSINESS IN THE ERA OF MINDFUL SPENDING
' Jim Meier, Director, Foresight, Innovation Strategy & Growth Ventures, PEPSICO
' Faith Taylor, VP Sustainability and Innovation, WYNDHAM WORLDWIDE
' Scott TrowBridge, Vice President, Research and Development, WALT DISNEY IMAGINEERING
' James F. Newswanger, Senior Research Manager, Corporate Workplace Analytics, IBM
' Rick Holman, Manager Global Trends Network and Suzette Malek, Global Research Manager, Advanced Concepts and Societal Trends, GENERAL MOTORS
' Arthur Puff, Medical Director, UHG
' George Iannuzzi, Vice President Communications for the Color marketing Group, Market Development Manager Performance Materials, EMD CHEMICALS, MERCK
' Rajesh G. Mishra MD, PhD, Vice President Research & Development, GLAXOSMITHKLINE CONSUMER HEALTHCARE
' Jenn Westemeyer, Brand Design Director, KIMBERLY CLARK
' Samantha Skey, Chief Revenue Officer, RECYCLEBANK ' Katherine Plueger, Director Consumer Insights - Global Innovations, AVEDA
' Mary M. Rodgers, Director of Marketing Communications, CUISINART AND WARING
' Thomas W. Brailsford, Consumer Understanding & Insight Manager, HALLMARK CARDS
' Grant McCracken, Author, CHEIF CULTURE OFFICER
' Robert Batic, Director, Portfolio Strategy Analytics - Snacks, KRAFT FOODS
' Laura Cross, Partnership Programs Manager, INTERCONTINENTAL HOTELS GROUP
' Adrienne Allen, Creative and User Experience Lead, XBOX
' Rich Duncombe, Senior Strategist, HP
' Rob Huber, Vice President, Innovation, FAURECIA
' Dipanjan Chatterjee, Senior Trend Specialist, TARGET CORPORATION
' Traci F. Milholen, Senior Direction, Strategy & Market Research, WESTFIELD
' Cassandra H. Lin, 13 year old Co-Founder, JUNIOR WIN TEAM
' Janet Lyons, Founding Partner, & Sue Haxager, Managing Partner, NEW THINK, INC
' Kate Pawlicki, Founder, PULP INC, PULP LAB
' Josh Rubin, Founder, Editor in Chief, COOLHUNTING.COM
' Mikel Cirkus, Global Director, Conceptual Design, & Steven van der Kruit, Creative Director & Visionary, FIRMENICH PERFUMERY
Download the Future Trends brochure now for more details.
We could tell you ways to be inspired...or we could actually inspire you.
Register today and come find your inspiration at the Gansevoort in October,
The Future Trends Event Team