It's been 20 years since the full-blown startup phenomenon in Japan, starting back in the late 1990s when the Internet was penetrating Japan. Of course, there were lots of ups & downs along the way, and the Japanese startup ecosystem has matured through the days.
As I explained at the last article, Venture Capital : the story so far, there were three major things that had happened in the past 20 years: Serial Entrepreneurs & Angel Investors, Big checks & Unicorns, and Deep Tech and Scientific Startups.
In this follow up article, I would like to showcase more concrete examples and some snapshots that represent the present startup scene in Japan.
Setting the scene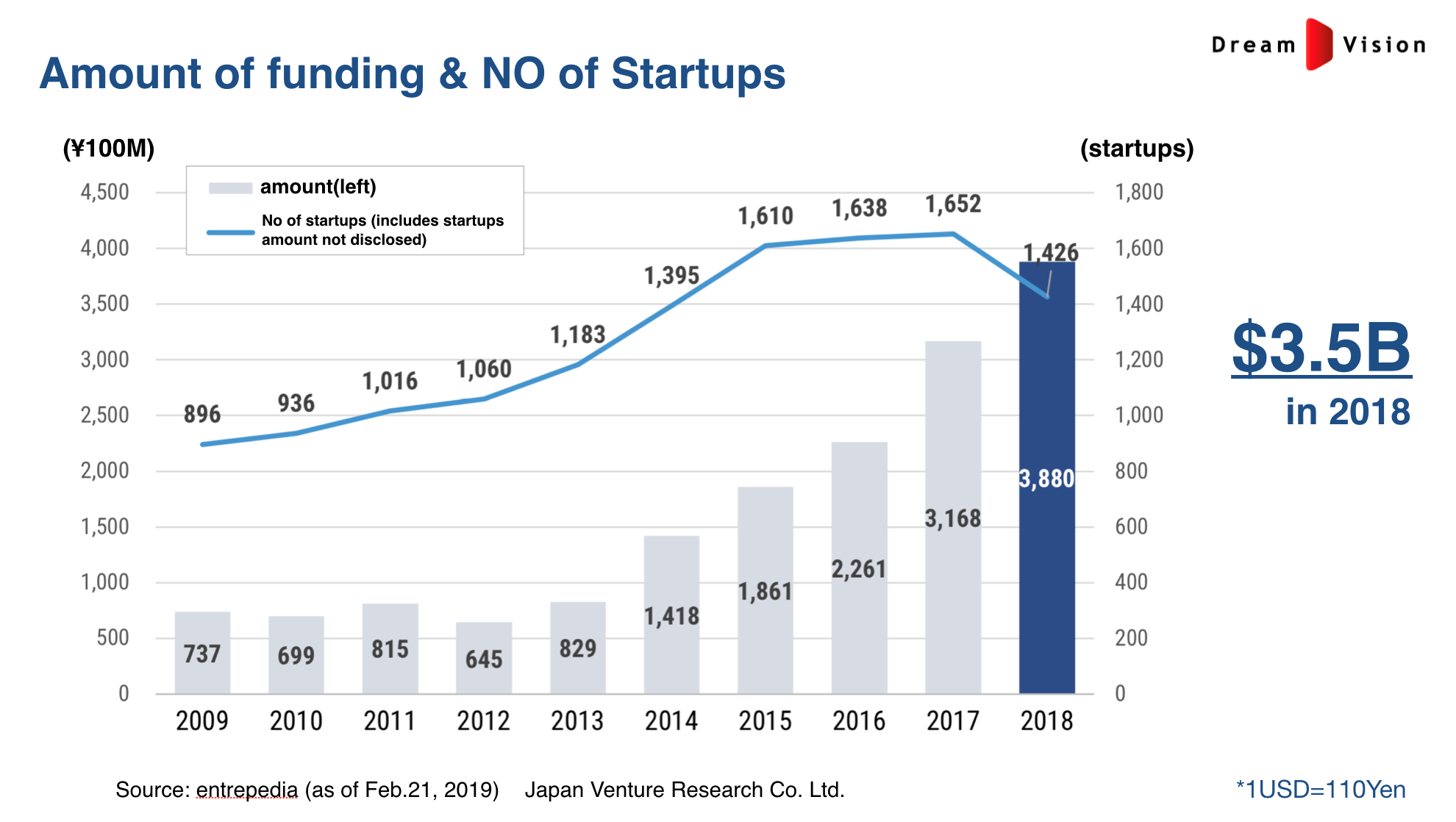 Before diving into the details, it is important to note that the amount of money invested in startups in 2018 has increased to almost 400B Japanese Yen, US$3.5B,based on the Japan Startup Finance Report published by entrepedia. No statistics about the amount of money invested in startups around the late 1990s could be found, but we know that the money invested in startups in 2012 was only 64.5B Japanese Yen ($586M).
From this figure, you can understand how the ecosystem has changed. Even though it is still very small when compared to the US, it has grown tremendously. As a reflection of this trend, among the startups that had raised money last year, 50% had succeeded to raise more than almost $1M, and the total average is about $3M.
When we look into the details, and not only the total amount, we can see that "BIG checks" have been invested recently. For example, Mercari, a startup running a flea market app, raised $160M before they went public in June 2018.
The latest example is Sansan, a startup which runs a business information database based on "business cards" raised $104M so far and has become a Unicorn (valued $1B). And there are a lot more startups with a similar story.
What these examples tell us is that if you are running a promising startup, you would not have trouble raising "double digit million dollars" anymore. Even triple digits.
Which sectors and regions are most attractive?
Five rounds out of the "ten biggest financing rounds" in 2018 are the ones by FinTech startups:
The biggest is Japan Taxi, a taxi call app that raised $119M.
The second biggest is FOLIO, an asset management startup that raised $63.5M.
The third one is freee, a SaaS startup that makes book keeping autonomous, that raised $59M.
However, there was the hacking and leaking of cryptocurrencies at Coincheck, one of the major Cryptocurrencies Exchange startups in Japan last year, where more than $500M was stolen. After the incident, Monex, an online trading company listed to Tokyo Stock Exchange, acquired Coincheck. This was then followed by more similar incidents, which drove the Ministry of Finance to redesign and tighten the regulations, which in turn resulted in the slow-down of the crypto market.
The other startups and sectors funded big money in 2018 are the startups in HealthcareTech and AI. I would say that FinTech, HealthcareTech, and A.I. are the three hottest sectors in Japan at present.
In terms of regions, 77.4% of the money invested last year went to businesses in Tokyo. Even though the governments and big companies in other big cities in Japan, such as Osaka and Fukuoka, have made efforts to foster startup ecosystem in their regions, Tokyo remains extremely attractive for investors, aided by the fact that Tokyo has already got a strong startup ecosystem in place. As a result, money tends to stick with Tokyo, and attempts to change the tide is very difficult unless the other cities manage to branch out and develop something new and unique that sets them apart from Tokyo.
The University of Tokyo and its Deep Tech Startups
The other statistic that reflects one of the big changes in the past 10 years is that the amount of the money raised by the startups originating from The University of Tokyo surpassed the amount by those from Keio University. Startups from University of Tokyo raised $202M, which is three times that of Keio University, who is currently positioned in second place and raised $67M.
The movement of Deep Tech startups in Japan is being led by the graduates from the University of Tokyo.
This is a significant development as Keio University has historically always been known as the university that produces the greatest number of entrepreneurs. Before the Internet bubble in the late 1990s, almost all of the graduates from the University of Tokyo preferred getting jobs at Government agencies, big banks, or big manufacturers, etc. to establishing their own startups. This amazing change implies that not only the startup ecosystem, but also how Japan as a country, is changing.
The statistics show that back in 2009, 42.2% of the startups that had originated from universities – and had managed to raise money themselves – were those that had been created by Keio University graduates, while only 6.7% was from the University of Tokyo graduates. However, in terms of the shares of money raised as startups that had originated from universities in 2018, the startups originating from the University of Tokyo was 29.1%, compared to 9.7% from Keio University. This tells us that the movement of Deep Tech startups in Japan is being led by the graduates from the University of Tokyo.
An example of this is WealthNavi, a FinTech startup that provides asset management through robotics technologies, founded by Kazuhisa Shibayama. He graduated from the University of Tokyo and got a job at the Ministry of Finance in Japan and the UK. He also studied at Harvard Law school and INSEAD and then worked as an attorney at law in New York City. However, he decided to quit such a brilliant career and founded his own startup to provide cutting edge financial technology for the working generation. The valuation of WealthNavi at present is $254M.
Also, as I introduced at the previous article, Yuki Shimahara established LPixel in 2014 with his colleagues from the laboratory in the University of Tokyo to focus on life science and image analysis. LPixel has just raised $27M last year from Fuji Film, Olympus, CYBERDYNE alongside other investors.
Open Innovation by big companies
The other difference compared to the Internet bubble days in the late 1990s is that today, lots of big companies are keen on "Open Innovation" and their venture arm as Corporate Venture Capital. Back in the late 1990s, most of big companies had kept their distance from startups.
The reason big companies have changed their attitudes is that they have eventually understood that they need to innovate themselves and restructure their business portfolio, otherwise they will be disrupted. In addition, they have also understood that to make this transition happen by themselves is extremely difficult. That's the reason why they are interested in working with startups.
For example, KDDI (Telecom), MUFG (Mitsubishi UFJ Financial Group), Tokyu Corporation (Railways business) are very aggressive about Open Innovation. This is supported by the fact that 50% of the money invested in startups in Japan in 2018 had been made by big companies. The challenge, however, is that there are not yet any significant outcomes by such Open Innovations at present.
The BIG challenge we are facing
Lastly, I would like to share with you a problem that I am very conscious of about the Japanese market.
Japan has a big market. It is the third biggest GDP in the world. The Tokyo metropolitan area has a population of 37 million, and Shinjuku station has 3.5 million passengers a day! However, we are a homogeneous country and are not used to different cultures. Japanese is only spoken by 120 million people (even including babies!) and as our population ages we are gradually losing people. Therefore, startups in Japan must become more globalised.
Japan has a lot of strong and unique startups, and a number of them have been established by graduates from big universities, as I have introduced earlier. I believe this trend will spread within the circles of highly educated young people and transpire as an injection of new energy and bring a more globalised view into the workplace. In turn, this means big companies will be forced to change and catch up, otherwise they will not be able to hire young talents.
In the near future, I believe some Japanese startups will establish themselves as new platforms in the new industries post GAFA age, enabling us to get on the international stage. This is the challenge we are all face with, and a project that I am personally working on to make Tokyo a global startup hub.
*All figures mentioned in the article are sourced from entrepedia.
Interested in finding out more about the Japanese market? SuperReturn Japan provides a gateway into Japanese private equity and venture capital that enables you to gain local knowledge, build new partnerships, and uncover lasting opportunities. Find out more >>