Virtual Reality came a long way from a mere idea up to an actual solution to many modern issues. Nowadays we know it as a computer-generated environment that is based on the sensory response, which creates a feeling of reality. It is approached via a headset or helmet and provides a unique experience to a user. Today it is one of the fast-growing innovative fields of technology, which makes it a great time to be a VR developerand producer.
The history of VR has several major turning points:
1838 – Charles Wheatstone was first to describe stereopsis. His study proved that each eye sees a separate picture and two of them are combined by the brain into one 3 dimensional picture.
1935 – Fictional idea of VR was described by Stanley Weinbaum in a novel.  The story showed goggles that allowed seeing another reality, feeling, and smelling it.
1956 – Morton Heilig invented Sensorama, the first VR machine that created a new cinema experience. It included 3D video, smell, and vibration.
1961 – First motion tracking HMD for military use.
1968 – First virtual reality HMD – The Sword of Damocles.
1975 - First interactive VR platform – VIDEOPLACE was presented at the Milwaukee Art Centre. Yet, there were no goggles or gloves; the environment was set in a dark room.
1985 – Creation of VLP Research Inc, the first company to sell VR goggles and gloves.
1991 – NASA uses VR to control robot rovers on Mars.
1994 – Sega released VR-1, motion simulated gaming machine.
1997 – It is used for overcoming PTSD amongst Vietnam veterans
2010 – Google introduced 3D mode for Street View
2014 – Facebook bought Oculus Rift for $2 billion.
2016 – Hundreds of companies start to develop VR products.
The main turning point for VR popularization happened when Facebook bought Oculus. The price gave the idea of how promising this technology is. Before that, it was mainly used for scientific and military purposes. The main focus is to make technology more affordable for end-users. The technology also needs to get more advanced in terms of sensory response and wireless use.

How VR has changed the World and What to Expect
Today VR technology is applicable in many fields. It is safe to say, that in the future it is going to change the way we learn and communicate.
First of all, it changes the conceptualization of space. It is especially useful in architecture and real estate industry. With VR architects will have more opportunities in the way they plan out space and visualize it.  This technology is going to change the way interior design works. It will be easy to move something or change the exposition in VR to see how the result will look. Another field that hugely benefits from this innovation is education. Today pilots and surgeons can already use it for learning their skills in a virtual environment.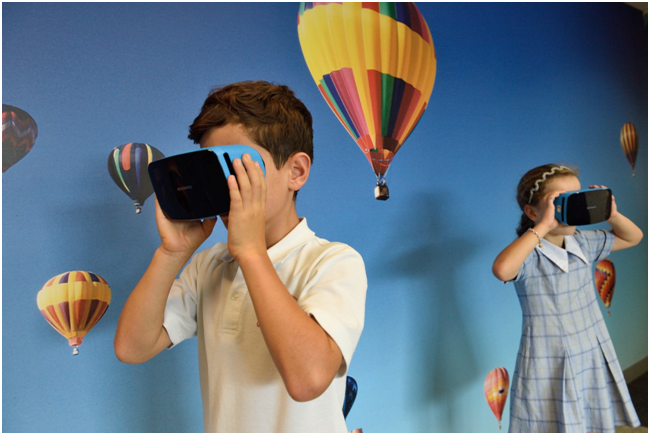 We can also expect the introduction of VR in marketing and commerce. It offers the opportunity to experience things in a new way, like a virtual tour or presentation. It has already changed the entertainment in terms of gaming. New games appear rapidly and offer amazing possibilities to players. There is also a prediction that VR technology can change the cinema and make it interactive and customized. In terms of science and military fields, it offers learning opportunities as well as the capability to remotely control machinery.
Famous VR Inventions
There are three main vectors for VR products today:
VR platforms – development of specific software and SDKs that enable other projects;
Custom Development – a realization of particular ideas and needs of companies and businesses based on existing technology;
Specific solutions for narrow industries – development or projects for real estate, education, sport, etc.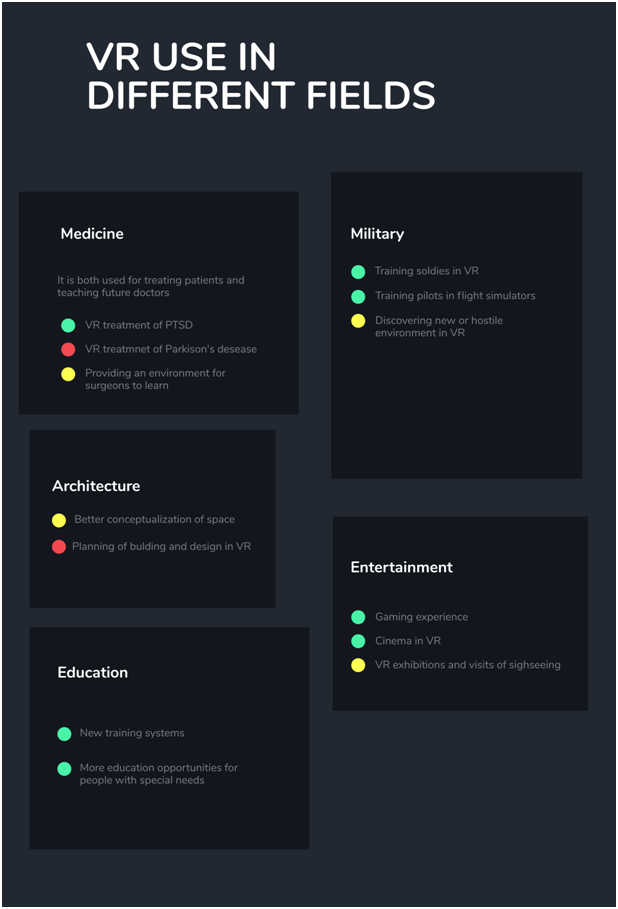 Here are three amazing innovations that are already developed.
VR Touch
This product is designed to work instead of hand controllers. VR Touch is helping to have a sensory reaction as if you are touching something with your fingers.
For now, the technology uses a motion sensor attached to the helmet to track the hand movements. The motor is attached to one finger to provide a feeling of touch. Also, several of them can be used for each finger to provide the full experience. It creates a feeling of pressure similar to the physical feeling of touch.
Shotgun
This is tracks the data of body-placed motion sensors to apply it to the VR environment. It offers an opportunity not only to play a game but to be physically present in it with the whole body. It can track up to three gamers at the same time now. It truly changes the online gaming and communication within. The main downside is that it requires wearing a specific suit for now. However, it is going to be advanced in the future.
Toia
This system helps to interact with the VR environment with a real-life sense of touch. It is especially great for medical education. There is a prototype that teaches dentists to make injections and provides a real sense of tension and resistance. For now, the system is quite expensive and big. Yet, it has a bright future with adjustments to make.
5 Skills of Successful VR Developer
Nowadays, there is a great demand for a specialist in this field. The requirements include problem -solving, creative thinking, and teamwork capabilities. The variety of projects, SDKs, and solutions make the VR/AR developer position pretty versatile. Yet, there are 5 common skills that a successful VR developer should have:
Software engineering. Mostly, C# and Javascript are required. It is better to know both as the various project need different solutions;
3D design and knowledge of specific tools. It is great to have experience in gaming development to become a VR game developer. Yet, it is not always necessary. The main 3D tools to know are Unity and Unreal;
SDK platform. This industry is separated by the platforms used for development. Today there are different SDKs for the Oculus Rift, Gear VR and PS4 VR, etc. It is impossible to know all of them, but one or two is enough to gear VR developer mode;
Video/Sound design, including background music and sound effects;
VR UI/UX – the community guidelines in this field are in development. It is necessary to keep in touch with the newest updates.
VR Developer's Salary Around the World
VR developer salary differs from country to country. Other affecting factors include the specific project, experience, and position. After all, the project might vary from small ones with a limited budget and up to millions of dollars. Yet, there are global tendencies to compare.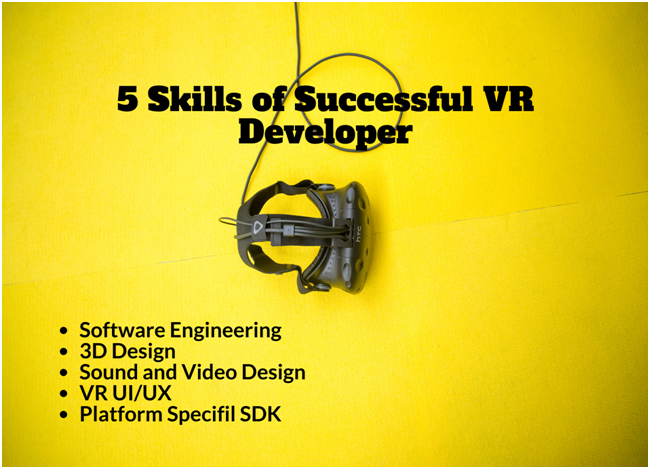 According to Payscale and Neuvoo, the difference in annual salaries by country as follows:
The USA - $104,000
The UK - $44,800
Germany $61,500
Canada - $49,300
Ukraine - $21,600
In the USA a middle VR developer can count on $70,000-80,000 per year. And senior developer gets about $130,000-180,000 annually. However, the difference is quite big even in the different regions of the same country. The hourly rate for US professionals is $50 per hour on average.
VR technology provides a huge range of opportunities in almost every sphere of modern life. That's why it is in constant growth and development. Not only has it changed the gaming industry, but it also going to revolutionize education, medicine, architecture, entertainment, and other fields.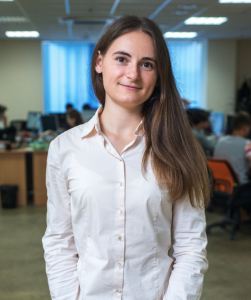 About the Author: Kateryna Boiko is a Marketing Director at Mobilunity, Provider of Dedicated Development Teams with 9 years of hands-on experience in digital marketing. Kateryna managed to work with diverse industries and markets and now is keen on sharing unique cases with the world and coach on topics relevant to Web Analytics and Search Engine Optimization.