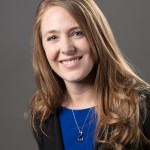 As part of Finovate's Women in Fintech series, we spoke to Anita Drentlaw, President of New Market Bank, a fourth generational banker, who is committed to keeping the bank within the family and serve her community. She is passionate about sharing how community banks are different and their importance in the industry, especially with the recent disbursement of PPP loans. Drentlaw continues to build on and add to the bank's family-like culture, developing leaders, and helping her team achieve strategic plans. She's also involved in her local chamber of commerce, mentorship organizations, and non-profits.
What got you interested in finance and banking, and what do you enjoy most in your role?
Banking has been a family business for five generations, and I'm proud to carry on our family traditions and legacies. I've found community banking to be a perfect fit with my personality, lifestyle, and values.
What I like most about the role is the variety; it all starts with how we're able to help and give back to the community. Community banking is about finding ways to work together to make something great. On any given day, I'm working with four generations of my family, including my daughter who worked with us over the summer. I've also enjoyed being able to create a culture that makes everyone feel like they're part of this family; they want to be here and are as proud of the New Market Bank as we are.
Are there family legacies you hope to pass onto future generations as it relates to the bank and its culture?
Each generation builds upon our family's culture to create something stronger. We have a great leadership development program focused on developing our team as well as the next generation of bankers. Our family is committed to staying a family-owned bank; our community has an appreciation for our commitment to staying a family-owned institution and giving back. That is a big part of our legacy.
I want to pass on the idea that not everything is black and white. I came from an accounting background where I believed everything always had to be perfect. But, my dad changed this for me. He told me to accept that 80% is sometimes good enough and sometimes there's gray in the world. This challenged me to think beyond my idea of perfection and do the same for others at our bank.
What is the difference between managing and leading? And, how does it impact the bank's culture?
In the leadership development program that we have attended, our instructor, Erik Therwanger of ThinkGREAT, always says, "manage the work, but lead the people." I think that statement is so true. We're a bank that likes to lead; we empower our team to be leaders and provide them with the tools necessary to be successful. Being a leader requires having a stake in the game. We want our team to feel like they're part of a larger vision and mission – one that they've helped create, have ownership in, and feel strongly about accomplishing. We're not in the business of managing our employees, but want them to feel like the bank is just as much a part of their family as it ours.
Why is it important to strike a balance between in-person and digital interactions these days?
There's a place for both in-person banking and digital interactions, and the pandemic has certainly proved this concept. The need to move to a largely digital environment, for our team as well as customers, was possible thanks to the modern technologies we've added from partners like Jack Henry.
Moving forward, we must be available to customers whenever, wherever and however we can be. While digital has expanded our customer touchpoints, it's not (and shouldn't be) the only way we communicate and build relationships. People bank at community banks like us for the relationship, we're the people who care – the ones at the football games, church events, restaurants. People might not think brick and mortar is important, yet branches aren't completely obsolete, and customers still visit them. We want to be there for our customers for things they'd prefer to do in-person, and those that they choose to do online. For us, it's about offering choices to our customers to meet their lifestyles and banking needs.
Why is advocating for women (and yourself) important in the industry?
As women in the fintech industry, we have a duty to inspire and show other women what success can be. Advocating for yourself means standing up for what you believe in and never settling for anything less than you deserve. It's about being brave enough to have the tough conversations and challenging the status quo. For younger women, it's about finding their voice and tapping into the wisdom needed to reach the next level. We're building the next generation of leaders in the industry, and that must include strong female leadership and influence.
Where do you think the future of fintech is heading over the next 12 months?
This past year has shown the importance of community. We were able to help 360 small businesses in the South Metro tap into the Paycheck Protection Program – many of which were not existing customers. These loans infused more than $25 million into small businesses and our communities.
Next, fintech can help community bankers continue to revive our economies with greater customer insights that allow us to be more consultative and develop even deeper relationships. I have a feeling we're going to see strong use cases launched to strengthen the relationships that consumers and businesses have with their bankers.