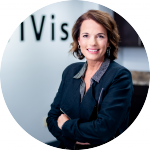 With International Womens' Day just around the corner, we continue our #WomeninFintech series and speak with Kim Snyder, CEO & Founder, KlariVis about her journey through fintech and advice to the next generation of women coming through.
Tell us about yourself, and your career path to your current role.
Snyder: Personally, I am a very family-oriented person and prior to the Pandemic we had started some new traditions, like "Sunday Brunch-day"; it truly is my favorite thing to do and I cannot wait until we are able to restart those activities!
My career path to KlariVis is probably not what you would expect.  I started my career with KPMG and then moved into an accounting/finance role for a small private liberal arts college. My next step was where the entrepreneurial bug hit me: I joined a local start-up company focused on creating new innovations in a variety of industries and it was here I saw what it was like to build something from scratch and it was invigorating, exciting and scary all at the same time. I then spent 10 years at a community bank, and it was my passion for this industry that fueled my drive to take the chance and start my own consulting business. During those course of 4+ years, I hired many previous team members to help me build a premier, boutique consulting firm focused on helping community banks solve the prevalent issues they are faced with in this rapidly changing industry.
The one challenge that resonated more than any other, though, is the data conundrum that exists in the banking industry.  Regardless of size, core system, talent level or management team experience, our clients were paralyzed with the mass volume of data generated by the various siloed processing systems and the bank's inability to access that data in an efficient manner, thus making it virtually useless to the institution. We knew that there had to be a better way and thus the idea of KlariVis was born. We spent about a year incubating our solution and our consulting clients became our focus group - by the end of that year, they were using phrases like "game-changer" related to our solution.  So, I started a second company in February 2019 and hired a technology firm to take our proof of concept and turn it into reality.  We launched KlariVis in January 2020 and the response was incredible from our prospect banks. We issued a press release last week – FVCBank has now invested in KlariVis due to the value and impact our platform is having on their bank.  I'm not sure what better testament there can be than for a client to say, I want to be more than a client, I want to invest in your success and become your long-term strategic partner.   
There seems to be a big push towards knowing your customer and providing a personalized and exceptional service in recent years – how should banks go about this?
Snyder: Community banks are known for their exceptional customer service - they typically have a very loyal customer base who value the personal touch.  The PPP program highlighted this very fact – it was the community banks who stepped up and were the heroes by helping the small businesses in their communities.
How do they take that exceptional customer service and turn it into a more personalized experience? I believe it all starts with treating data as an enterprise-wide asset – making sure it is in the hands of the relationship managers who interact with and serve bank customers every day.  The banking customer is communicating to its bank every day through transactions, whether they be transacted in person or digitally.
Unfortunately banks and credit unions are hampered by the numerous disparate systems that exist in the banking ecosystem, most of all which have critical data points about their customer base. As such, they have no choice but to leverage solution providers to enable them to aggregate this information, cut out the noise and focus on the high-value actionable data points that will allow them to offer that more personalized touch.
Allowing easy and efficient access to customer data at the front-line is paramount to improving and personalizing the customer experience.
Are there other trends you see driving innovation within banking/ fintech?
Snyder: Digital transformation is the primary focus for financial institutions of all sizes and I don't see that changing for quite some time.  We've been talking in the industry for years about this wave coming, and due to the Pandemic, it's here.  In a recent survey by the Digital Banking Report, the top three strategic priorities for 2021 were consistent for big and small institutions:  1) improve digital experience for consumers; 2) enhance data and analytic capabilities; and 3) reduce operating costs.
Fortunately for KlariVis, we hit 2 of the top 3 strategic priorities – enhancing data and analytic capabilities and reducing operating costs. Our solution accomplishes both and enables financial institutions to improve the overall customer experience.
What is important to you as a leader of a fintech? Does KlariVis have any initiatives that support diversity/ women in fintech?
Snyder: I strive to build a diverse and talented team. KlariVis was born out of an identified need in the banking industry but it was conceptualized through creativity and innovation.   Diversity provides our team with expanded creativity stemming from different perspectives based upon life and work experiences.  Absent of diversity of thought, skills and unique perspectives, our concept would not be what it is today.
My goal is to hire the best talent for the Company's open positions, but as a female leader, I am passionate about ensuring that opportunities for women continue to grow in fintech and would like to see the same trend at KlariVis.  Many tech industry roles are often filled by men.  At KlariVis we have three females at the C-Suite level and each of us is equally passionate about hiring, promoting, and compensating talented deserving women.  We would like to see more female applicants for technical positions particularly software engineers and have recently begun participation with a university's internship program which may yield diverse candidates for future open positions.
What advice would you give to women looking to begin a career in banking/fintech?
Snyder: For women looking to begin a career in banking, fintech or another field, it is critical to learn the industry. Evaluating positions typical to the industry and matching that with individual skills, likes and dislikes is key to finding a position that is a good match. Passion is critical particularly in the rapidly growing fintech arena.
In addition to pursing an applicable degree and identifying a mentor, take the time to listen and learn from that person who can provide a frame of reference that you would not have otherwise. There are many different aspects of banking and financial technology is moving quickly with new innovations. Banks are trying to keep up with the latest and greatest technology advancements as well as their competitors with the goal of enhancing the customer experience. I recommend that anyone with an interest in banking or fintech read everything they can to stay current with the industry.