Jodie M. Gunzberg, Managing Director, Head of US Equities, S&P Dow Jones Indices, discusses the global benefits of workplace inclusivity and the research that supports it. 
In the past year, S&P Global has been compiling data and producing research on the economic and market impact of women's participation in the workforce. According to S&P Global's CEO, Doug Peterson, "If we know what the data says, we can start working on ways to move the needle and create more opportunities for women."
Better for everyone: Participation of women and the potential for growth
To take one example, our research by Bovino and Gold in "The Key to Unlocking U.S. GDP Growth: Women" shows women have the potential to add 5%-10% to nominal GDP.
If U.S. women entered the workforce at a pace in line with a country like Norway, the economy would be $1.6 trillion larger than it is today. Several factors conspire to depress women's labor force participation in the United States.
Notably, the U.S. is the only country in the OECD that doesn't provide income support during maternity or parental leave by law. One possible solution may be something like a Congressional Budget Office (CBO) score that assesses the legislation based upon the projected economic impact on women's labor force participation.
In the article "Adding More Women To The U.S. Workforce Could Send Global Stock Markets Soaring", Gunzberg, Bovino and Gold demonstrate that if the U.S. female labor force participation rate matched Norway, a whopping $5.87 trillion could be added to global market capitalization in 10 years. For every 1% of GDP growth, the S&P 500 returns 3.4% on average annually.
In the U.S., the technology sector might be the biggest beneficiary of this extra jolt, given that it has the highest up-market capture ratio, at 5.6% per percentage point of GDP growth. An additional 0.2 points of growth could therefore add 1.1% in value to tech shares. At the other end of the spectrum, the sensitivity of utilities stocks to GDP growth is just 2.2-to-1, and so an extra 0.2 point of growth would add just 0.4% to shares in this sector.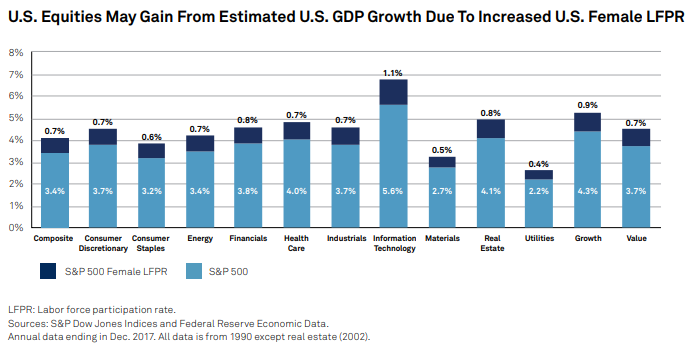 The global impact of workplace inclusivity
Around the world, each additional percentage point of U.S. GDP growth translates into increase equity value. This translated into a 4% jump in equities in Germany, 6.2% in China, and a whopping 9.3% in Korea—even more than the gains expected in the U.S. itself.
An increase in women's participation to that of other advanced countries would add an average of 0.2 percentage point annually to U.S. GDP in the coming decade—or a cumulative $455 billion in output above S&P Global's baseline forecast.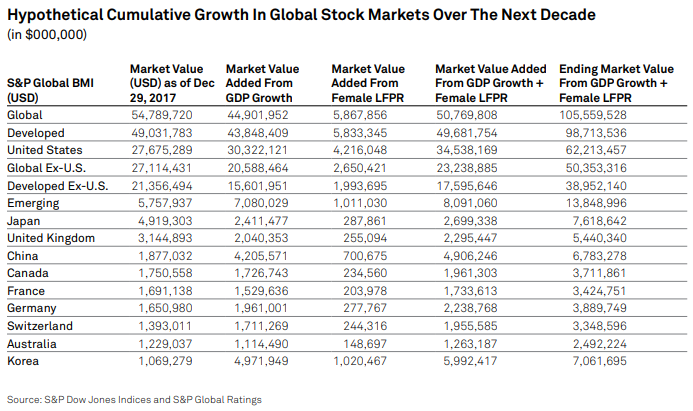 What is on the horizon for industry exploring workplace inclusivity further?
Many companies and organizations besides S&P Global have been researching the benefits of women's labor force participation. Some other important data shows:
1. If women matched men in the workforce, the GDP could go up 26% -Source: MCKINSEY & COMPANY.
2. If girls had better access to STEM, we could increase the percentage of U.S. women in STEM jobs from just 24% - Source: THE U.S. DEPARTMENT OF COMMERCE.
3. If we close the gender gap, the average U.S. woman could earn $400k more in her lifetime – Source: NATIONAL WOMEN'S LAW CENTER
According to Courtney Geduldig, Executive Vice President, Public Affairs at S&P Global, "Our data and insights make clear that gender equality is an engine for the global workforce and that greater inclusivity leads to healthier, stronger economies."
In a similar vein, insights beyond just statistics will be shared at the 6th Annual WE Breakfast panel discussion on Career Evolution in a Dynamic Marketplace at Inside ETFs in Hollywood, Florida, 10-13 February. The panel will cover career highlights, inflection points, rebranding, challenges and words of wisdom for less-experienced professionals seeking to navigate their careers.
In support of this effort, S&P Global has launched the #ChangePays campaign to illuminate the need to increase awareness of and advance discussion around the benefits of more inclusive workforces. As part of that campaign, S&P Global employees were encouraged to write letters to their younger selves about their experiences in a diverse workplace
To quote from one of these letters: "Bela Lugosi rejected the offer to play the part of Frankenstein since there were too few lines and it required very heavy makeup.
Boris Karloff, a far lesser known actor, took the role and eventually got top billing in features where the two actors appeared together.  There will be some key projects at the start of your role that seem tedious, so those senior to you will pass on them.  Volunteer for those, because they will expose you to new ideas and opportunities, enabling you to rapidly elevate your impact on the business."
Discover how you can join the #IMPOWERMOVEMENT and address change in the industry. 
For more information on vital statistics and links to the aforementioned research please visit:
https://www.spglobal.com/en/perspectives/change-pays
https://www.spglobal.com/en/research-insights/featured/the-key-to-unlocking-u-s-gdp-growth-women
https://www.spglobal.com/en/research-insights/featured/adding-more-women-to-the-u-s-workforce-could-send-global-stock-markets-soaring
http://www.indexologyblog.com/
http://www.indexologyblog.com/2018/06/15/women-may-nurse-this-old-stock-market-bull/