For those of you at FEI who didn't get the chance to hear
Craig Dubitsky, the founder and CEO of Hello Products, speak, I'm sorry because
you sure missed out. Not only did he start by handing out products from his
company (let's be real, everyone loves a good freebie), but his engaging dialogue,
personality, and approach to innovating everyday products kept his audience
smiling and glued to their seats well after our time was up. Even after the slotted time passed, several stayed to chat with Craig. I'll stress
that it was lunch time and a late ' 1:00pm ' lunch at that. Now that tells you
something.
So what was it that made for such an engaging experience?
Maybe it was when he pulled a tube of fluoride-free
toothpaste out of his bag and swallowed a giant mouthful of it halfway through
his talk or maybe it was because he is simply a brilliant story teller, but
from where I was sitting, it was because Craig brought human emotion to innovation
education ' the same kind of human emotion he stressed should be used in designing
innovative products. Craig talked to us like he was a friend; he brought passion; he brought soul, and it was
contagious.
In Craig's ventures, he focuses on delighting the customer, which starts with identifying cracks or holes in the products or services we
interface with daily. From Craig's viewpoint, 'there are holes in everything.'
For example, exit signs ' they are red. What do you do when you see red?
Stop. But would you ever want to stop if you were running out of a building on
fire? Or the zipper on a pair of pants, which he aptly pointed out 'has teeth and
goes toward your parts.' Or Coke Life ' a 'pukey green' color can of Coke. Craig
notices these 'design cracks' all around him and in every category, which, as
he put it, means 'most things really suck.' But for innovators, this means there's
'a lot of blue sky' out there.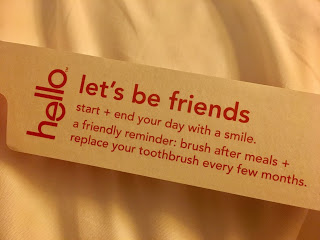 Craig capitalized on that 'blue sky' when he founded Hello
Products, a 'friendly' oral care company. Struck by a category that was
dominated by aggression and terms such as killing, destroying, and eliminating,
Craig saw an opportunity to connect with consumers on an emotional level. Oral care as it existed wasn't friendly; it didn't
feel genuine ' Craig sought to change that by 'making personal care personal
again' through thoughtful design focused on human connection. And it worked. In
no time Hello Products became the #2 natural oral care brand ' for an
11-person, 2-dog company competing against behemoth brands like Crest and
Listerine, that is an incredible feat.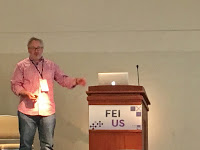 Beyond wanting to run out to buy a tube of Hello toothpaste,
I walked away from Craig's speech inspired that Craig and his team could take
something that I wouldn't think twice about and completely disrupt an established
category. He is breathing life into the ordinary. He is reminding us that
everything can be made better and designed more beautifully. He is reminding us
to be curious and ask questions. But more than that, he is reminding us of the
human and the soul in business - it is evident in his products and it is what kept
us in our seats today.
Inspired by Craig's ability to capitalize on personal
connections and human emotion to spark real disruption, I encourage those on
any innovation adventure to (1) take a look at Craig and his Hello Products team and story, and (2) take a step back from the data, technology, money, and
sci-fi like advances that permeate innovation for a moment and think about how you can put soul into a company, product, or service ' it might just be the missing link that ties it all together and brings you to the table with the behemoths. 
If you have similar stories about capitalizing on emotional connections to build innovation, I would love to hear them. 
Aaron Keller
, 
Kitty Hart
, and I write for the FEI event blog and we will be at the conference all week talking about 
The Physics of Brand
, design, and the stories that inspire us.
Please reach out if you have a story to share.
Research and Strategy Associate