We are thrilled to unveil the full program for the 7th annual Front End of Innovation EMEA event taking place 4-6 March 2013, at the Scandic in Copenhagen, Denmark.
Here's the top 10 reasons to joins us:
1. No Repeat Performances. The FEI EMEA main conference features 100% new speakers. No repurposed content.

2. Keynote Provocateurs. The best FEI keynotes yet deliver expertise through storytelling.
' George Buckley, Executive Chairman of the Board, retired President & CEO, 3M
' Christer Windelov-Lidzelius, Director, The Kaos Pilots ' International School of New Business Design & Social Innovation
' Jean-Philippe Deschampes, Professor of Technology & Innovation Management, IMD Business School
' Mads Nipper, Chief Marketing Officer, LEGO
' Jean-Michel Cossery, Chief Marketing Officer, GE Healthcare
' Jason Foster, Founder & Chief Re-User, Replenish
' Vince Voron, Head of Desgn, Coca-Cola North America
' Christina Bason, Chief Innovation Officer, Mind-Labs
' See the full list of speakers
3. 6 Conferences in One: Benefit from the main conference plus
' 2 full-day Summits - the Future Trends Summit and the new Customer Driven Innovation Summit;
' OR the Half-Day Workshop on Sparking Strategic Innovation;
' OR the Half-Day Copenhagen TrenzWalk: A Revolutionary Approach to Predict the Future.

4. Make Meaningful Connections. Last year we had over 300 participants, of which 80% coming from the client side, making the connections and story-sharing that much more valuable.

5. Dissolve Boundaries between Speakers and Attendees. Choose from 7 different learning formats that encourage interactivity: FIRESTARTERS, CHAMPIONS, SANDBOX, COINS, GREENROOM, CLASSROOM and REAL STORIES.

6. Completely NEW Content Areas for 2013. Including Customer Driven Innovation, Innovation Execution, Reverse Innovation, Innovation Spaces, and Thriving in Emerging Markets.

7. 30 Real-World Case Studies: Break-out speakers worthy of the main stage:
' Andrey Evtenko, Consumer Insight Specialist, Nestle Research Centre, Nestle
' Ulrich Bentz, Director, Department Head Innovation & Entrepreurship Incubator, Global Business Development & Strategy, Merck Serono
' Andreas Erbe, Design Thinker and Co-Creator, Swisscom
' Kirsten Kuehl, Head of Developer and Community Innovation, Nokia
' Graham Cross, Director, Supplier Innovation and Commercial Alliance, Unilever
' Marcos Troyjo, Co-Founder, Director, BRICLab
' Download the brochure to see full list of speakers and sneak previews of their stories.

8. Special Alumni Curriculum. Been to FEI EMEA before? The 2013 event features bonus activities just for our past attendees.

9. All New Connect Meaningfully Through a Challenge Activity- Four team-based challenges put you and your peers to work on-site to create solutions to your biggest obstacles to making innovation happen. The top teams (as voted by your fellow attendees) compete on stage to identify the 'winning' idea.

10. Brand New Location. You requested for years and we are making it happen in 2013. The 7th Annual FEI EMEA will be in Copenhagen, Denmark. Hej K'benhavn!

We look forward to seeing you in Copenhagen!
Register before Friday, 9 November 2012 and save '400!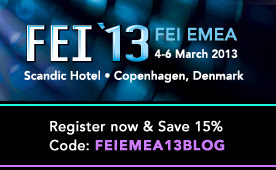 Registration Information:
Online: http://bit.ly/QWFSc9
Email: register@iirusa.com
Phone: 1.941.554.3500