Savvy architects, designers, and developers are discovering the importance of nature in new construction and remodels. 
What is Regenerative Design?
The new generation of designers are inspired by ecology, applying systems thinking to create structures and communities. At its heart is the belief that people and the planet come first. Every phase of the design process is being transformed as a result of this game-changing approach.
Biomimicry is one aspect of regenerative design. It means what it sounds like. Considering elements found in nature, the building industry is "bringing the outside inside" and crafting earth-friendly, healthy, and sustainable buildings and cities.
The principles behind regenerative design, and how it compares to more traditional design theory can be summarized in this chart from the USGBC.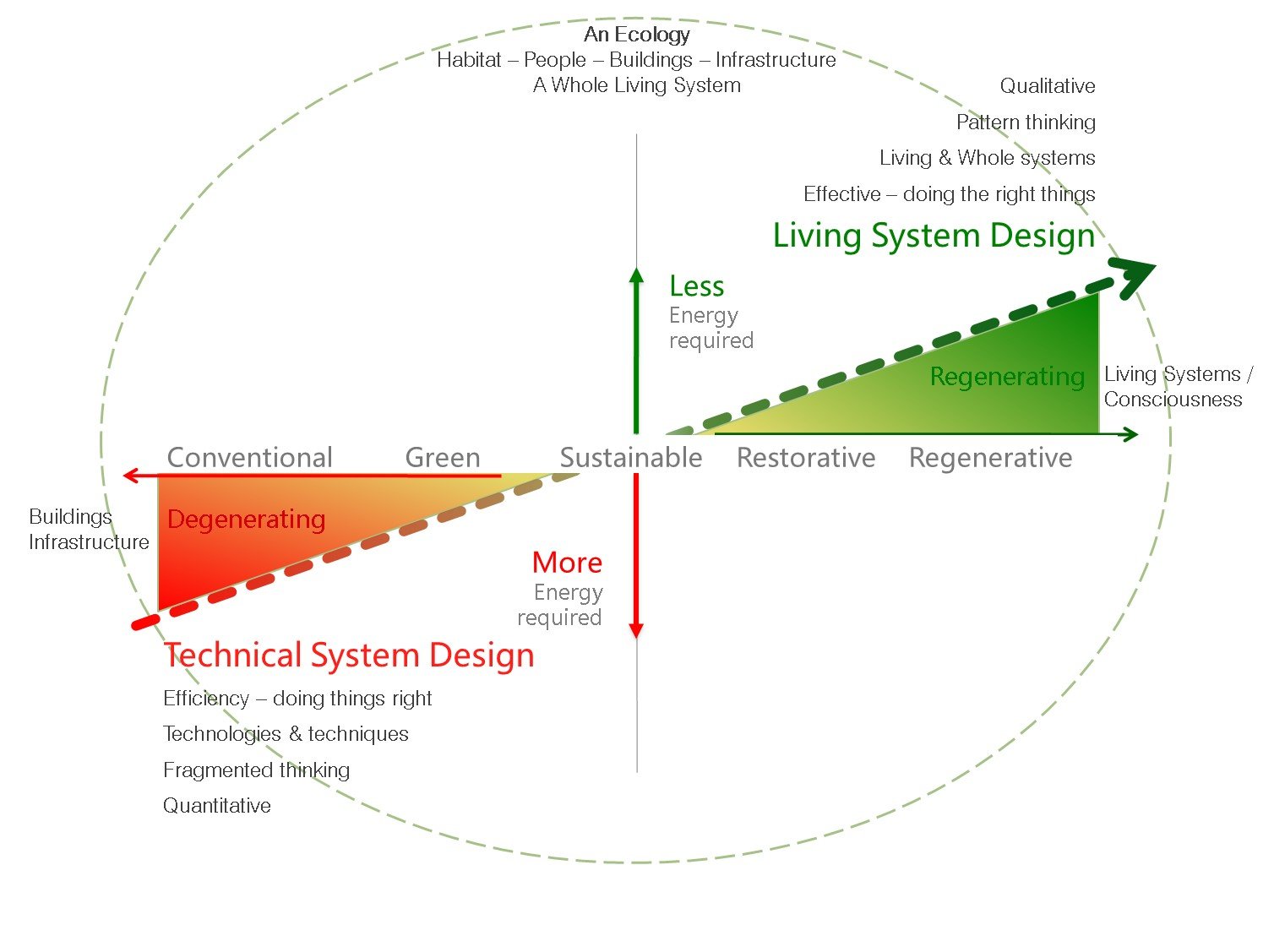 Why Regenerative Design is a Game-Changer
We know that today's workers place a high value on sustainability and health. People are moving to and investing in spaces and communities that deliver on these values. In addition, every business today is committing to measures that reduce waste and improve energy-efficiency. The benefits of regenerative design include:

Involvement of humans in decision-making.

Designers and developers are taking into consideration how people use their spaces and how they can help them evolve and grow. Whether you're designing an office complex, a retail space, or a residential community, this feedback ensures that you're truly "building to suit."

We have heard a lot about "the great resignation" and how many valuable contributors do not want to return to their workplaces.

Although regenerative design cannot alter company culture, it can result in spaces that are more pleasant, healthier, and more conducive to collaboration and productivity.

Regenerative design, by its definition, takes into account the ecosystem outside the building itself.

Rainwater collection, electricity generation, native vegetation and habitat enrichment can all play a role in regenerative design. These solutions result in energy efficiency, environmental benefits, and often cost savings.
Architects and planners who learn about and adapt to regenerative design principles are not only building a more inclusive and planet-friendly way to think about their businesses, they ultimately benefit from consideration for next-generation design projects. 

More communities, municipal decision-makers, and developers will choose design firms who embrace these principles. 
The Proof is in the Case Studies
You have a unique opportunity to learn how the principles of regenerative design have been put into practice on a range of projects.
Join us on a complimentary webinar (which may offer AIA and GBCI credits) to get a behind-the-scenes look at some projects that applied regenerative design and biomimicry.