According to a recent study by Informa Connect Life Sciences, 29% of pharma industry professionals predict gene therapies are the therapeutic area that will see the fastest growth in the next 10 years, with a further 13% predicting cell therapies. Based on the results of an April 2020 study of 432 life sciences professionals from the pharma, biotech, medical device and regulatory industries around the world, the responses confirm the excitement surrounding the future possibilities of gene therapies.
With gene therapies out on their own, cell therapies are joined by biologics and immunotherapies with 13% of the responses, with vaccines (9%), medical devices (6%), and antibody (7%), oligonucleotide (3%) and microbiome (3%) therapeutics making up the numbers.
When comparing between regions, there is largely a consensus between those working in North America and Europe - with gene therapies coming out on top for every global region. However, there are a few notable exceptions. Just 9% of European respondents believe cell therapies will see the fastest growth, versus 19% of North Americans, and conversely, 13% of Europeans see vaccines as the most exciting therapeutic area, compared to just 3% of North Americans.
Respondents expect this boom in gene therapies to help drive a revolution in oncology treatment over the coming decade,  with 27% predicting that the biggest advances in oncology will be gene therapies, followed by immunotherapies (25%) and cell therapies (21%).
In which of the following therapeutic areas do you think treatment will most improve in the next 10 years?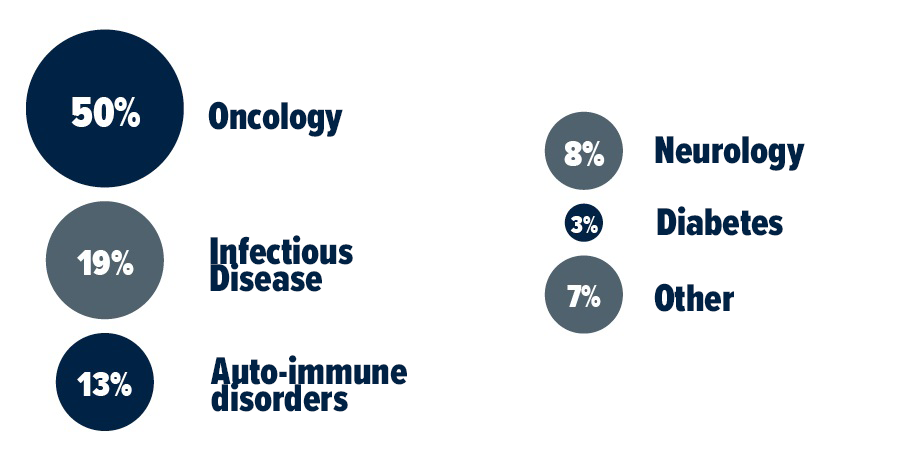 Oncology is the area that respondents are most excited about by far, with 50% predicting it will be the area in which treatment will most improve in the coming decade. With huge investment and numerous promising therapeutics being developed and approved, this will surprise few.
Download the full study - titled 'Looking to 2030 Report: The Future of the Global Life Sciences and Pharma Industry' - here.