In a July 30th Ad Age opinion piece, JoAnn Sciarrano writes about brand attachment – the emotional connection between a person and a brand as a means to ensure that brand associations and preference are deeply rooted and more difficult to change.  She suggests a list of 8 survey questions that can be added to a brand tracking study to monitor attachments to your brand and to competitor brands.​
At GutCheck, we agree with the importance of emotions as a key to behavior.  We use methods that take our clients beneath surface cognition to understand heart + mind. We too, sometimes use survey questions to measure implicit and/or explicit factors that drive purchase or usage behaviors.  But we also unlock a deeper understanding of emotions and brand engagement from unsolicited, organic comments made publicly online in blogs, forum, reviews, and other posts. By applying hybrid Natural Language Processing algorithms along with human-created business rules that increase accuracy, we identify specific emotions conveyed in the language used.​
Detecting these emotions gives us a deeper, more nuanced understanding of brand engagement than commonly used measures of sentiment.  In fact, sentiment is a very poor measure of emotion.  In our experience across a variety of categories and product types, 70%-80% of sentiment derived using the most common text analytics tools contains NO emotion whatsoever.  Of course, this can vary by brand but there's no way to know without disentangling emotions from cognitive judgments.  ​
To illustrate the ways in which traditional measures of sentiment can provide misleading information about brand attachment, we show positive and negative sentiment for two competing brands that offer products in the home improvement space.  The results below were derived from product reviews for a single product line, so don't reflect the entirety of brand engagement, but do allow us to illustrate what lies beneath.
Figure 1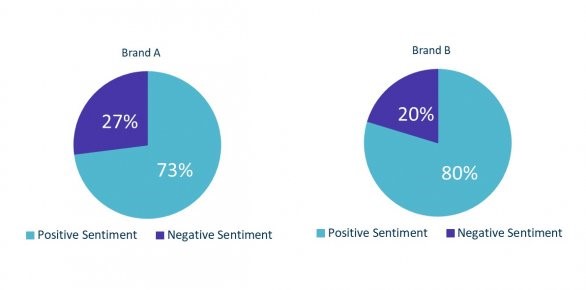 ​Based on the sentiment results in Figure 1, an insights professional might conclude that Brand B is doing better than Brand A with its product users because Brand B has higher positive sentiment. (Note: Difference is statistically significant.)​
But once we dig beneath the surface of sentiment to detect specific emotions, we find the pattern in Figure 2.
Figure 2
​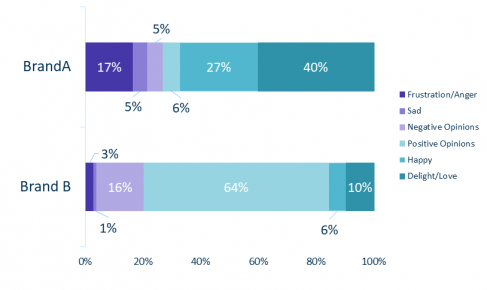 Now we see that Brand A has higher positive emotional engagement whereas the positive conversation about Brand B is dominated by cognitive statements of opinion rather than emotion.  The majority of the conversation about Brand A is emotion-laden while the bulk of the conversation about Brand B is cognitive only.  ​
Given this pattern, it perhaps will not surprise you to learn that Brand A is a mature, well-known brand sold in stores and online while Brand B is a direct-to-consumer digital only brand that has existed for just a few years.  But note too that Brand A has a significantly higher proportion of emotional disengagement (i.e., high frustration/anger and a total of 22% of the conversation expressing negative emotions versus a total of only 4% for Brand B.)​
And this takes us to a second major advantage of unearthing the emotional layer and disentangling emotional reactions from cognitive judgments in conversations.  By drilling down into the emotionally laden comments we can further identify unmet or unarticulated needs that can identify actions that each brand can take to acquire or retain customers.  For example, further analysis into the emotion-laden conversations can draw out actions that at Brand A can take to turn happiness into delight or that Brand B can take to entice those frustrated or angry to switch to Brand B.​
Emotions, especially those like frustration, anger, happiness, delight, and love are signals of whether our expectations of a brand or product or service are being met. We can get frustrated or angry when we expect a product or brand to meet our needs, but it does not.  Or we react with love or delight when our needs are met and a brand, product helps make our life better.  And these emotions are drivers of behaviors like repeat purchase or usage and willingness to recommend to others.​
As these illustrations make clear, GutCheck supports the reminder in Scarriano's Ad Age piece that emotional attachments to brand are important, but we add some additional reminders and recommendations:​
A rich amount of information about emotions can be unlocked from unsolicited, organic conversation​
Using sentiment alone can be misleading because it often masks the degree of emotional attachment​
Emotions signal whether our experience matches our expectations, so by digging into conversations that express different emotions, we can identify unmet or under-met needs to feed into our innovation and marketing efforts and achieve growth.​
About the Author: Renee Smith is the Chief Research Officer at GutCheck. Renee has over 25 years of experience conducting research into why people do what they do – first as a journalist, then as an academic, and for the last 15 years as a market research professional. Most recently, Renee worked on innovation and re-inventing research solutions as Chief Research Officer at Kantar.