The final day of a conference is always bittersweet. Returning to our "real" business lives may require catching up on hundreds of emails and a massive load of laundry, but the lessons we learn and relationships we've built can have an impact that lasts for years to come.
Said David Boyle, TMRE Chairman and Founder of Audience Strategies, the value of TMRE's Day 3 speakers was a perfect blend of "Ideas and serendipity, kindness and smarts." 
He went on to emphasize the urgency of acting on the insights we've gained this week. The world is moving rapidly and consumers are making faster decisions. The companies who have high quality and immediate data will ultimately thrive.
So, how do we move smarter and faster?
Catherine "Rina" Bliss, Professor, Author, Sociologist, Rutgers University gave us insights into how to boost our brains, applying the latest in DNA science.  Nootropics, smart drugs, wearables and implants and even gene editing are emerging as ways to improve cognition and performance.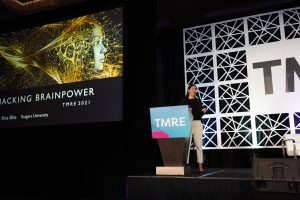 But Bliss also stressed the importance of adopting a growth mindset and treating all moments as potential opportunities for learning . 
She was then joined by Edwin Wong, SVP Insights & Innovation, Vox Media for a dialogue and questions from the audience.
"We can all empower ourselves to improve, enhance, and boost in science-backed ways that don't require a lab," Bliss asserted
Building on that concept, Scott Shute, recent Head of Mindfulness & Compassion Programs at LinkedIn and Author of The Full Body Yes gave an impassioned talk about "Changing Work From the Inside Out." He shared his own story about learning to integrate his commitment to meditation and mindfulness with his corporate mission. 
The pandemic has taken its toll on many employees' mindsets and 56 percent are now actively seeking new jobs. A whopping one in nine people have considered suicide at some point in the past thirty days.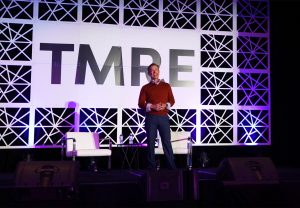 "We all have the capacity for compassion," he said. "An awareness of others, a mindset of wishing the best for others, and the courage to take action" are all essential in shaping the culture of the future of work.
Brigette Wolf, Global Head of SnackFutures, MDLZ, then sat with Shute for a frank chat.
A book signing (with 200 free copies) drew a huge line at the exhibit hall, along with a hearty Southern brunch. The final inspirational breakout sessions followed.
Amanda Powers Alvarez, TMRE Executive Director, says, "After 20 months, gathering such an engaged and brilliant group of Insights professionals, influencers, and brands was truly gratifying and encouraging! As we all fly and drive back to our homes, let's keep the spirit and insights of TMRE with us."
She continues, "We can use data and new technologies in creative and compelling ways to better serve our customers, engage and retain the best team members, and build products, services, and cultures that create long-term growth."
Seize the moments -- small and big -- today and always.
About the Author: Nancy A Shenker is the Founder of theONswitch marketing and nunu ventures (a content strategy and storytelling company). A former marketing executive at Citibank and MasterCard, she consults to a variety of industries about scaling through branded content and a strategic blend of digital and conventional media. A graduate of the University of Michigan and NYU's Graduate Publishing program, she is a published author and writes for the Rolling Stone Culture Council and the Forbes Agency Council.