There's still time to register to attend FEI 2012: The Front End of Innovation Conference in Orlando, FL, Tuesday through Thursday, next week (walk-ins are welcome) but if you can't join us, we will be covering the event live here and via Twitter.
Live coverage begins Tuesday, May 15th
Follow the official hashtag #FEI12 for live on-site blogging and tweeting to catch anything you might have missed!
Also follow us on Twitter: @FEI_Innovation and join the conversation by tagging your tweets with #FEI12. You also might want to check in on Foursquare and see who's arrived. You can also visit us here at FrontEndofInnovationBlog.com daily for brief recaps and takeaways from some of our sessions.
Photos will be posted every day to Facebook, Flickr and video footage will be available later on at YouTube. You can also add your own photos to our group pool. For one-stop-shop live coverage, visit www.FrontEndofInnovation.com.
Before you get there, download the FEI Connect app to make the most of your time at the next week. Registered attendees can view who will be in attendance, request meetings with other members, create a personal event schedule, and manage the entire network directly from your web-enabled device or smartphone.
We're also holding a #FEI12 Tweet-up at the The Peabody Orlando Mallard's Bar on the lobby level on Tuesday at 7:00 PM.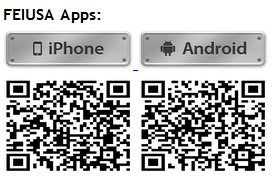 FEI Connect
Tips to keep in mind
We would like to create an informal atmosphere at the conference conducive to learning and networking- business casual dress is welcome. The main guideline is for you to wear what you feel most comfortable in.
You can check the weather forecast for Orlando here.
Play. Connect. Challenge. Share.
In the past year, there has been a deluge of  location-based social networking apps and we invite you to try your hand at the some of the hottest ambient social networking apps (which use the GPS from your smartphone in combination with your social profiles (Facebook, Twitter, LinkedIn, etc.) to connect you with friends and others with mutual connections and interests who are nearby and at our event) and see which ones enhance your experience next week.
Here a few:
Highlight - Uses your Facebook profile to match you up with nearby friends who share your interests.
Sonar -  Also finds nearby users based on their check-ins in (or geotags) via Facebook, Twitter and Foursquare, but fills out user profiles with data that includes LinkedIn info as well.
CardMunch - Allows you to scan business cards into your phone and connects you directly via LinkedIn.
Bump - Exchange data by bumping phones together with any Bump user
Glancee - Just acquired by Facebook
Banjo - Crawls various social platforms and pings you when you're friends are nearby
Circle  - Locates nearby Facebook friends
Valerie M. Russo is a Senior Social Media Strategist at IIR USA with a technology, anthropology, marketing and publishing business acumen.  She will be attending the 6th annual Front End of Innovation EMEA in Zurich, Switzerland on February 27-29, 2012, and covering the event live via Twitter and the FEI Blog. She is a published poet and also maintains a literary blog. She may be reached at vrusso@iirusa.com. Follow her @Literanista.