Emerging technologies such as AI, next generation sequencing and display systems are changing the way antibodies are being engineered at a rapid rate, but there are still plenty of challenges that need to be overcome. We recently (Aug 2019) conducted a survey of industry professionals on how they are working with these emerging technologies today. 211 professionals responded, representing pharma and biotech (52%), academia (28%), CDMOs, and CROs (9%), and service providers and consultancies (6%) from North America (46%), Europe (34%) and Asia (14%). Here we take a deep dive into the data around the implementation of technology in antibody engineering and therapeutics. Download the full report here.
The importance of emerging technologies within antibody engineering and therapeutics is a given, as Dan Stanton, Editor of BioProcess Insider, explains in his introduction:
'Over 100 MAbs have been approved by the FDA and, while not all encompassing, clinicaltrials.gov lists over 4,500 monoclonal antibodies in clinical trials. But while these molecules are well-characterized and abundant, there remain gaps in all aspects of their discovery and development that emerging technologies are looking to plug.'
There is a vast range of these technologies that are being used in the industry today, but four emerged as the most common that respondents are currently using in antibody engineering.

Almost half (47%) of respondents said they are currently using next generation sequencing, followed closely by single cell analysis (38%), alternative display technologies (33%) and AI/machine learning (23%). Interestingly, more than a quarter of respondents (28%) are not using any of these technologies, perhaps showing that technology is not as advanced in all areas of the industry as is often thought.
Investing in technology
The broad range of technologies being implemented reflects the impact the industry wants these technologies to have. Respondents were asked which challenge they think emerging technologies will have the biggest positive impact on, with new targets/discovery approaches by far the most common response (53%).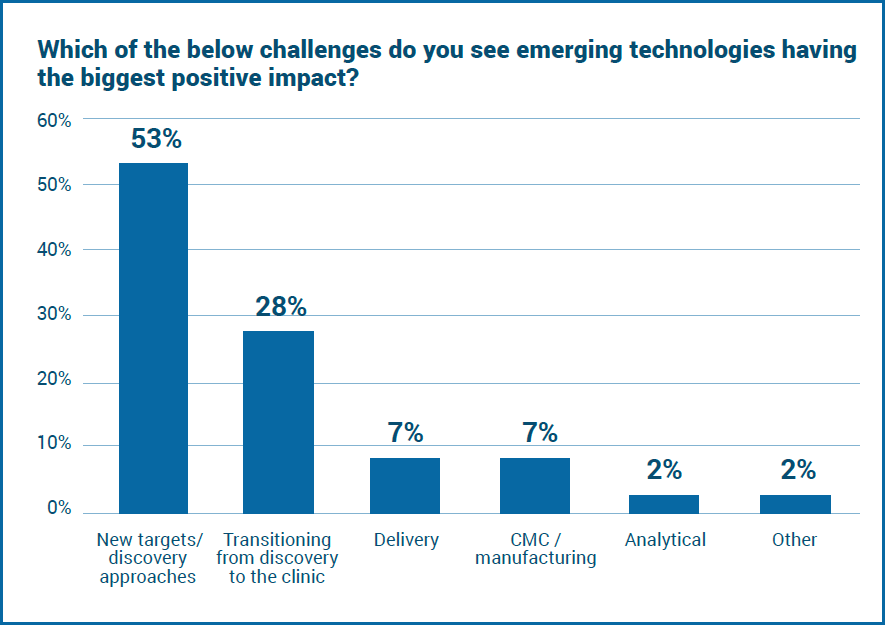 Dan Stanton highlights: 'The discovery stage needs better and more accurate technology. "Currently, our understanding of targets and their biology is still very poor," a survey respondent said. "As a result biotherapeutics are still designed and developed in a surprisingly naive way. We could and can do better."
As such, it is no surprise that when asked at what stage is it most critical to think about investing in technology, 63% stated 'Discovery/target identification.' A fifth said preclinical is where they would put their money, while only 3% believe there is a need to invest in new technologies once a molecule is in the clinic. Manufacturing and commercialization were only cited by 6% of the respondents.'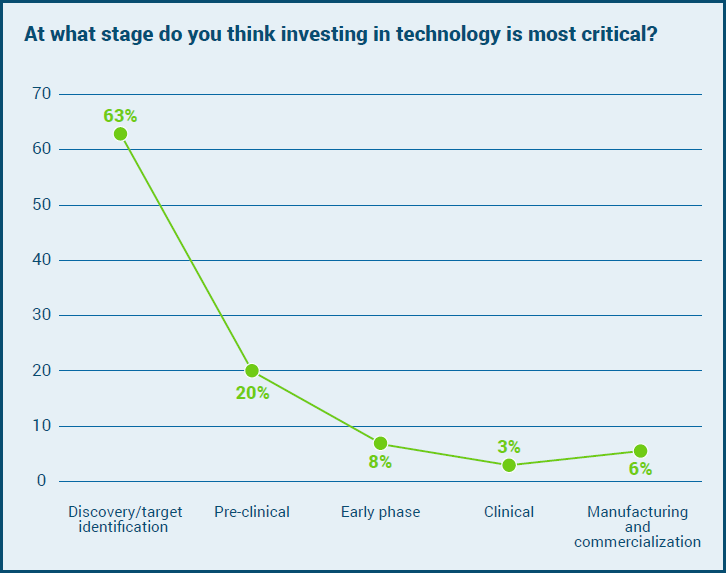 Gaps in the technology
Whatever the industry, whenever new technologies are implemented, there are always challenges and gaps in what can be achieved. We asked respondents what they think are the biggest gaps with current technologies within an antibody engineering focus and the responses were hugely varied:
"A major limitation is high throughput production/screening of engineered antibodies"
"Ability to predict in vivo PK/pharmacology and manufacturability.
"Antigen QC and Validation."
"Being able to screen the breadth of a repertoire - what are we missing?"
"Currently, our understanding of targets and their biology is still very poor. As a result biotherapeutics are still designed and developed in a surprisingly naive way. We could and can do better."
"Deep sequencing of an entire synthetic or human IgG repertoire library. It's still not possible to sequence every member of a 1e12 library."
"How to find Ab solutions against GPCRs."
"Identification of the right targets."
"Identifying the correct target and showing efficacy. A good assay will not make up for a bad antibody."
"Most companies focus on already validated targets rather than performing basic research to identify novel targets."
"Personalised targeting."
"Testing variants with models that reflect true in vivo mechanisms.
"Time to delivery. All those are heavy techniques that do not translate easily in diagnostic and research antibodies."
"Translating discovery into CMC production."