As anyone who has searched for an apartment knows, choosing
one is a big decision that involves time spent searching and re-searching an
overwhelming amount of options. As I just went through this stressful process
is one of the biggest cities in the world, New York City, I understand that apartment
hunters want as much information as they can get to help them locate their
ideal place. Luckily, today's technology gives them more ways than ever to find
it. In fact, here are
five
disruptive tech trends
shaping the way renters find apartments in the digital
age.
Deeper Research
With more information available at their fingertips than ever
before, renters are looking closer at apartments before making a decision. 
Renters consult many sources to get a complete picture of the apartments they
are considering and compare options to find the best fit. In fact, by the time
they visit one in person, many already know about everything about the
apartment. This trend will cause only apartments marketed across different
media to stand out.
Social Media
Social sites like Facebook and Twitter are powerful sources
of information. Renter friends' referrals online carry more influence than any
other single factor when it comes to making a decision.
Tech Crunch
recently
reported that people use Twitter to share referrals as often as email, and Facebook
is used to share referrals as much as Twitter and email combined. Turns out, apartments
that get people talking online will easily find interested renters.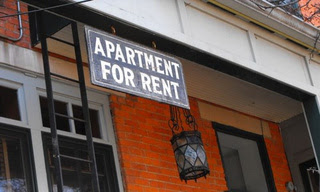 Online Ratings
From Amazon to Yelp, reviews and ratings on all types of
products have become part of the online shopping experience and are becoming a
huge force in the offline world too. Authentic reviews help renters verify the
information they've found and commit to their choice; renters will actually
take longer to commit to apartments that don't have online reviews.
Video
Renters are interested in video information about a location
because it is relevant to the quality of life. Reading that an apartment is a
sunny and friendly place to live doesn't carry as much weight as seeing a video
that confirms it. In the future, videos may become as common as photographs for
apartments listed online.
Mobile
Though most apartment hunters still browse the Web on a
desktop, their phones let them access information anytime, anywhere. Mobile
information accessed during the later stages of a search helps renters make a
decision more quickly. Soon, apartments with mobile optimized websites will be
able to quickly convince renters that they are a good fit.