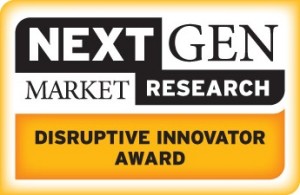 NGMR 2015 Award
Finalists Revealed
For a roster of who's pushing the envelope in insights
today, the just-released list of 2015 award finalists posted on the 
Next Gen Market Research (NGMR) blog
is a wise place to start!
Now in its sixth year, the NGMR Award recognizes companies
and individuals that have demonstrated outstanding leadership as change agents
and/or made significant contributions'technological, methodological or
otherwise'toward driving research industry progress in one of three categories: Thought Leadership, Innovative Research
Deployment, and Individual Achievement.
Candidates for the award were nominated by
peers in the industry and vetted by a panel of respected industry veterans
(listed below).
The list of finalists constitutes something of an
industry-level barometer for innovation. Take a look...
Thought Leadership
CMI Research
Hall & Partners
MFour Mobile Research
KnowledgeHound
iModerate
Gracenote, Inc. ' Tribune Media
Insites Consulting
QRS Research Solutions
Orbitz Worldwide
DVJ Insights
Innovative Research Deployment
yPrescribe
Research Through Gaming
BET Networks
Antedote
InsightFarm
HYVE Innovation Research
Consumer Activation Studio
iMerge Analytics
Qpod
Individual Achievement
Betty Adamou
Oliver Hayward
Christopher Monahan
Carol Cunningham
Kristi Zuhlke
Lucas Hulsebos
Jen Drolet
Anne Lacey
Kelley Styring
Stacey Symonds
Richard K Sussman
Tom DeRuyck
NGMR Award Judges:
Kristin
Luck, President Kristin Luck Consulting
Stan
Knoops Global Head of Insights IFF
Mike Gadd President of
Gadd Research Inc
Duncan
Stuart Director ' Kudos Organisational Dynamics Ltd
Jan Fager FMR
Counsel Swedish Marketing Federation
Gordon
Morris Vice President at Ipsos
Tom H. C.
Anderson CEO OdinText Inc.
Congratulations to the finalists!
About Next Gen
Market Research (NGMR)
Next Gen Market Research (NGMR) is an independent, non-profit professional
networking group for market research practitioners who are interested in
exploring innovative, emerging market research techniques and technologies.
Originally founded as a discussion forum on the LinkedIn network in September
2007, NGMR's membership now exceeds 23,000 market researchers worldwide
(clients and suppliers) and is the most active online community in the field.
For further information, please visit the NGMR group on Linkedin
http://www.linkedin.com/e/gis/31804
or
the NGMR blog at 
www.tomhcanderson.com
 or find out about this year's awards at
http://nextgenmr.com
.