In advance of this year's BEI: Back End of Innovation
conference, we wanted to start a larger dialog about the execution of
innovation programs. In a joint effort with conference chair Julie
Anixter, Chief Innovation Officer, MAGA DESIGN GROUP and Executive
Editor, INNOVATION EXCELLENCE we're kicking off the conversation by putting a series of questions to some of our exciting BEI speakers.
This week we asked featured Innovation Book Club author and Professor of Strategy & Entrepreneurship Ron Adner 'based on your own personal experience, what is the single most
important piece of advice that you would give to people who are
beginning to implement an innovation project, program or strategy?'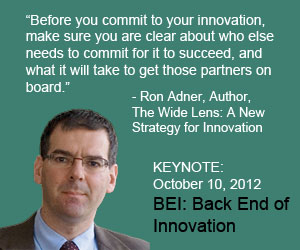 Adner's answer: 
Before you commit to your innovation, make sure you are clear about who else needs to commit for it to succeed, and what it will take to get those partners on board. If critical partners fail to deliver their parts of the puzzle, your own brilliant execution won't matter. If you can expand your focus beyond your customers and rivals, and build a clear strategy to manage the partnership ecosystem you need to build around your innovation, you will multiply your odds of success.
Adner will join us to present a keynote address entitled "Beyond Innovation" at BEI: Back End of Innovation taking place October 9-11, 2012, in Boston, Mass. In this session he will explore the fact that, more and more, innovations don't stand alone. Instead they depend on an ecosystem of partners for
their value to materialize. This means that your strategy must expand beyond your customers, your
rivals and your execution. Now it must include ' from the very start ' the partners on which your
success depends. Success in these ecosystems requires using a new approach ' a wider lens ' for
guiding and managing innovation.
How are you examining your innovation ecosystem?
To join this session, register as a reader of this blog & save 15% off the standard registration link, use code BEI12BLOG.
Register:
Online: http://bit.ly/Mtylno
Email: register@iirusa.com
Phone: 888.670.8200
Michelle LeBlanc is a Social Media Strategist at IIR USA with a
specialization in marketing. She tweets about innovation under the @BEI_innovation moniker, and everything else at @Leblancly.