In advance of this year's BEI: Back End of Innovation conference, we wanted to start a larger dialog about the execution of innovation programs. In a joint effort with conference chair Julie Anixter, Chief Innovation Officer, MAGA DESIGN GROUP and Executive Editor, INNOVATION EXCELLENCE we're kicking off the conversation by putting a series of questions to some of our exciting BEI speakers.
This week we asked Vice Admiral (Ret.) Joseph W. Dyer, iRobot Corporation 'based on your own personal experience, what is the single most important piece of advice that you would give to people who are beginning to implement an innovation project, program or strategy?'
Dyer's response? "Develop a tolerance for ambiguity."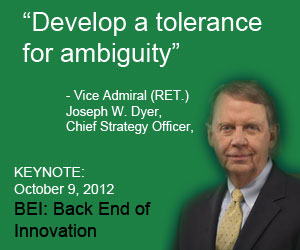 Joseph W. Dyer will join us to present a keynote address entitled "The People Side of Innovation: A Toolbox" at BEI: Back End of Innovation on October 9, 2012, in Boston, Mass.
In this session he "will put tools in your innovation tool box." He speaks to how to overcome resistance, how to focus and align teams, and how to accelerate your career success. 'Be a steward of the whole and not just an owner of the part.' Down the brochure to learn more about BEI: Back End of Innovation.
To join this session, register as a reader of this blog & save 15% off the standard registration link, use code BEI12BLOG.
Register:
Online: http://bit.ly/MlPbVF
Email: register@iirusa.com
Phone: 888.670.8200