As we began to plan our 8th annual Net Zero Conference, which will be hosted September 13 – 16, 2021, the event production team at Verdical Group kept circling around the same conversation: in 2021, are net zero buildings still enough?
More and more stringent building codes and policies are being implemented across the world, moving the sustainability needle forward. The concept of "net zero" (producing as much energy or water as is consumed, or offsetting as many emissions as are produced), long discussed in the building industry, has expanded massively into new industries – reaching as far as fashion and agriculture, even. As it becomes less likely that we will limit warming to 2°C to avoid the most catastrophic impacts of climate change, ideas about net positive buildings and products (producing or offsetting more than consumed), about resilience in the face of natural disasters and decarbonization to address existing emissions, seem more relevant to the conversation than they ever have been.
Each of these developments drove us to expand the Net Zero Conference beyond our traditional focus areas of buildings, energy, water, waste, and transit to include technology, personal care, materials, fashion, and agriculture. One way we're doing so is by launching our new Climate+Change platform on the first day of the event, September 13. Climate+Change is a resource to help you navigate stories of amazing people tackling the climate crisis by providing a centralized hub for ESG news and updates. We're celebrating the launch with a day of educational sessions, featured content, and keynotes – including Marcius Extavour of XPRIZE and Ashley Orgain of Seventh Generation – from outside of the building industry.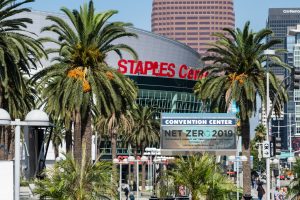 As noted above, the Net Zero 2021 Conference (NZ21) will be hosted on September 13 – 16, with both in person and virtual elements available to attendees. On the 13th – 15th, all the keynotes and educational portions of the event will take place completely virtually, allowing us to spread the word to attendees from 52 countries and 45 U.S. states (if last year is any indicator!). Our cutting-edge educational sessions – brought to you by more than 130 speakers from companies like Google, San Francisco Airport, USGBC, ARUP, and Kilroy Realty – are designed to help your company stay ahead of the curve. Stay tuned for more updates on our keynotes, each of whom are pioneers in advancing sustainability within their industries. Case studies are key in the net zero conversation, and this year we're highlighting techniques that have been successful for peers in solving the issues many teams are facing. Attendees can mix-and-match their schedules so that they are attending the education sessions that are most relevant to their line of work, while also having the opportunity to branch out and find inspiration in other sectors.
Then, on the 16th, we will be hosting a limited-capacity outdoor Expo Hall at the Terrace at L.A. LIVE in Los Angeles, CA. Attendees will have the opportunity to network and hear from leading exhibitors. This year, we have an incredible slate of manufacturers, architects, engineers, building owners, nonprofits, and other organizations that are on the ground making net zero projects a reality. It will be a great place to discover new products, potential partners, and customers that could lead to new business.
Finally, on the evening of the 16th, attendees will have the option to join us at the Terrace for the annual Trailblazer Awards Gala. The Trailblazer Awards celebrate leaders who are building a net zero future through their work in the climate, carbon, energy, water, waste, transit and policy sectors. Past winners include Denis Hayes of the Bullitt Foundation, Janine Benyus of the Biomimicry Institute, Rick Fedrizzi of IWBI, Jason McLennan of ILFI, Steve Hilton of the Conrad Hilton Foundation, and more. We will have cocktails and heavy passed hors d'oeuvres at this semi-formal ceremony overlooking the Downtown Los Angeles skyline.
In the words of Event Chair Drew Shula, "There has never been a more important time to come together and inspire a net zero future for everyone. Get on track with your personal development and business development goals, network safely at outdoor in-person events, support the events industry, and discover new tools that will make a difference at the Net Zero Conference."
Interested in attending NZ21? Visit our website to learn more, and register here using code NZCC15 for 15% off all ticket types. Not sure which ticket type is right for you? Here are some helpful graphics to guide you.

About Verdical Group: Established in 2012, Verdical Group is a leading sustainability consulting firm focused on decarbonizing the built environment and inspiring a net zero future. Our team of multidisciplinary experts offers engineering services (like Commissioning, energy modeling, and LCAs); sustainability strategy; project management for certifications like LEED, WELL, Living Building Challenge, and others; and sustainable event production. They are the founders and producers of the annual Net Zero Conference.