As part of this year's Biotech Week Boston, stakeholders from across biopharma and biotech gathered for An Evening of Diversity and Inclusion. Industry thought leaders took part in a panel discussion centering on the importance of Diversity and Inclusion (D&I) initiatives in the biotech industry and addressing the challenges of changing perspectives.
It emphasized that diversity is not simply something that is nice to have in an organization - it is crucial to sustaining the economy of life sciences and medicine. The talk was rich with personal experiences and practical ideas for driving change within organizations and partnerships.
Representation in biotech
Nadeem Sarwar, President at the Eisai Center for Genetics Guided Dementia Discovery (G2D2) started off with a personal anecdote on how representation in leadership can impact a person working in biotech from their first day. "When I was a kid at an internship of a large global pharma company, their parking lot was organized by hierarchy. So the more senior you were, the closer you parked to the entrance. As I walked into work on my first day, two things looked very obvious to me. The first was that the cars got fancier and fancier. The second was [that] the drivers got whiter, and maler, and balder as I approached the entranceway. Before I'd even entered the workplace, I had a very clear idea on what this company will look like."
He then described his visit to a newly-designed site of another biopharma company which had glass offices for executive management separated from the rest of the employees. "And of course you could see that inside these glass offices, the people inside were the same, aging, balding white men that I recognized from my [first] day of internship," he added. "Despite this organization trying to strive for transparency, the literal window into their organization was emphasizing they hadn't really done much to inspire their workforce."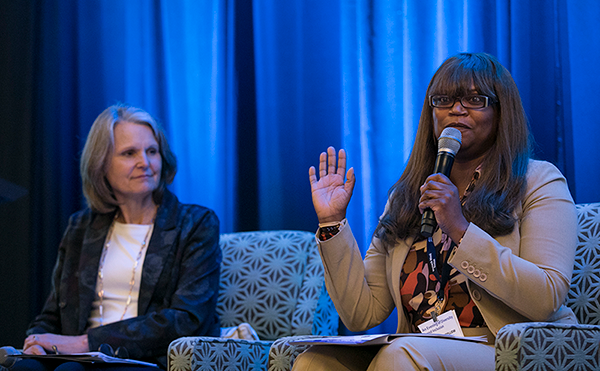 The focus then turned to the impact of representation on the patient. Edie Stringfellow, Director of Diversity and Inclusion at MassBio, shared that her brother is currently battling sickle cell anemia. "We're also dealing with the mental aspect of what he deals with when he has to go to the hospitals," she said. "We need more people from a diverse background in our clinical trials... in our hospitals. It also means we need to be more reflective to the patient in our biotech firms."
Supporting this, Joanne Duncan, President of the Membership and Business Operations Division at Biotechnology Innovation Organization (BIO) said "our patients are diverse and we need to make sure we're providing the support to that population. We can't do it alone, we need to do it within partnerships. Together, we can make a difference."
Tracking D&I success
As Duncan explained, BIO has launched a campaign, The Right Mix Matters, which provides online tools for accelerating diverse representation in biotech company boards, C-suites, and other leadership positions. As part of the campaign, it has partnered with Women in Bio to create the Bio Boardlist, a directory of diverse candidates for boards. The candidate profiles can be searched and endorsed on The Right Mix Matters website.
The campaign comes a result of BIO's D&I initiatives for workplace development. As a Washington-based organization representing all biosciences on a national level, its goal is to drive the initiatives across all 50 states. "We're putting a survey together that is part of this campaign... to continue to monitor and track our metrics," said Duncan. "The beauty is when we get asked to come to Capitol Hill and sit down with the congressman or congresswoman, and they ask us, "what are you doing as an industry, you biotech people?", we're able to point to something [to show] what we're doing."
Stringfellow reflected on her role at MassBio in which she collaborates with member organizations on implementing their D&I initiatives. She detailed how regular success measurement of such initiatives can ensure real change in biotech organizations. "You will see D&I initiative success rates change overnight when you treat D&I as any other business item, [such as] sales or marketing. Human capital, human intelligence and human work should be treated just the same as any other R&D pipeline."
RELATED ARTICLE: Diversity and inclusion offer visibility for the underrepresented in Life Sciences

Leading a change for the future
The panel explored how they see biotech changing by the year 2050. Sarwar highlighted that D&I will be a key component in engaging future generations of biotech professionals. "Thirty years from now, the person who's going to cure cancer or prevent heart disease or eradicate diabetes is currently thinking [about] what they should study. Why should they study something relevant to drug discovery right now? How do we ensure we inspire the next generation of medicine makers to choose to be medicine makers and not politicians or lawyers?"
As an example, he explained that G2D2 run a selection of training courses targeting young scientists from as early as middle school. These include Girls Who Cure, a summer course for high school girls, and internships for underprivileged college students as part of Massachusetts-based Project ONRAMP.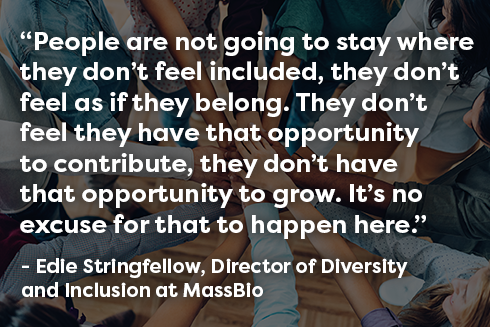 Duncan remarked at how biotech was a great place to start in driving D&I initiatives across STEM. "What an industry to take [The Right Mix Matters] through the country and around the globe! We need a global community to help continue to solve the problems that our industry is facing, the challenges and opportunities for cures," she said. "In 2050, [the biotech industry] will be a leader in changing diversity in all aspects, ahead of all the other techs, because we are innovators."
Stringfellow passionately noted that in the heat of talent wars, staff retention and workforce sustainability are currently at stake in life sciences, particularly for Massachusetts. "People are not going to stay where they don't feel included, they don't feel as if they belong. They don't feel they have that opportunity to contribute, they don't have that opportunity to grow. It's no excuse for that to happen here," she said.
"If you look at how much opportunity biotech provides an economy, with jobs in biotech, we can close some of those economic gaps; we can close some of those health gaps because you will have better health insurance. There's so many things we can do that affects other areas."
RELATED ARTICLE: Strategies and case studies on diversity from leading life sciences organizations - WHITEPAPER