Are you looking for deeper understanding of your customers wants, needs, and values? Are you looking to act on those and create innovative products? You are in luck! You will get a deeper understanding of what drives consumer behavior with new innovation research technologies to connect with consumers in a meaningful way at Consumer Insights Canada this September.
Plus, an added bonus, one pass two event, join us under the same roof at the FEI Toronto, which brings together the best-of-the best in innovation, r&d, product development, commercialization, marketing and strategy from leading Fortune 1000 companies to be enlightened and inspired.  Register for either event and have access to the other! Double the content, double the sessions, double the speakers, double the insights, double the value - Don't miss out, register today!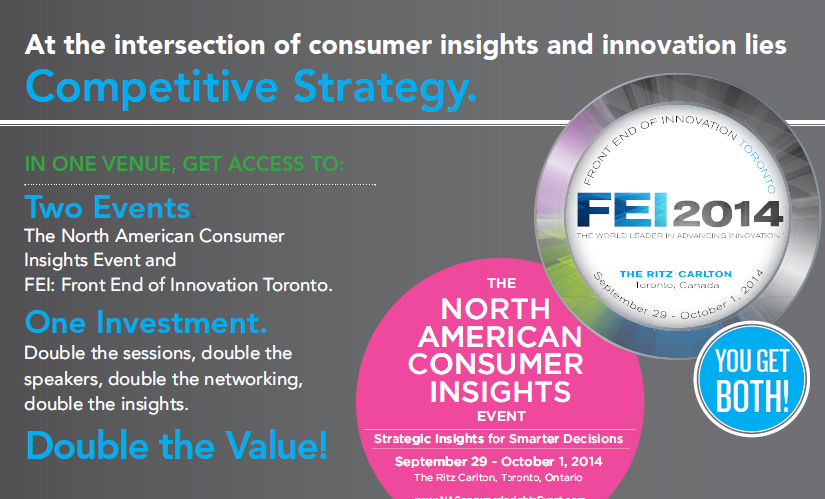 Consumer Insights Canada 
September 29-October 1, 2014
The Ritz Carlton, Toronto, Ontario, Canada
The team behind the World's Best Insights Event - The Market Research Event, and Shopper Insights in Action introduce The Consumer Insights Canada Event. Bringing the caliber of actionable content, inspiration and peer-to-peer networking you have come to expect to Canada. This is a 3-day experience focused on the power of insights in motivating smarter decision making.
FEI Toronto
September 29 ' October 1
The Ritz Carlton, Toronto, Ontario, Canada
FEI is a global event brand that has become the annual meeting place of the most seasoned innovators across the globe. This year alone, over 1,100 of your innovation, product development, trends and R&D colleagues have already attended one of the FEI portfolio of events in Boston, Munich, or Venice. That's why we are so excited to extend the FEI experience to Toronto this Fall- a city that exudes all the elements essential to the FEI brand- creativity, ingenuity, diversity, and passion.
We hope to see you this fall in Toronto!