Verdical Group is a leading sustainability consulting firm focused on decarbonizing the built environment and inspiring a net zero future. We celebrated our 9th birthday just last month – and what a year it has been!
We'll get into that, but first, let's give you some back story. We were founded in 2012 as a direct response to the building industry contributing 40% of global annual carbon emissions. Our first headquarters was in a Pasadena, CA garage. Our Founder, Drew Shula – now a LEED Fellow, Living Future hero, and our CEO – was a trained architect, a somewhat underwhelmed employee itching to work on more sustainability projects, and a new dad deeply concerned about the impact the climate crisis would have on his children.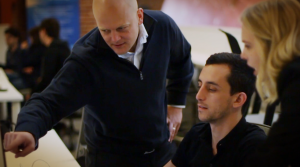 Our offices have since expanded out of Drew's garage (luckily for employees like myself) to three offices across the state – our home base at the Los Angeles Cleantech Incubator in Downtown Los Angeles and two satellite offices Pasadena and – most recently – Oakland, CA. This grew out of both a need to house our growing team and an influx of projects from across the state and country.
Our services have also expanded -- our team of multidisciplinary experts offers engineering services (like Commissioning, energy modeling, and life cycle assessments (LCAs); sustainability strategy; project management for certifications like LEED, WELL, Living Building Challenge, and others; and sustainable event production. We are the founders and producers of the annual Net Zero Conference, our flagship effort to walk the walk by educating the sustainability community on best practices for net zero, decarbonization, and resilience. The 8th annual event will be held this year on September 13 – 16, 2021, with both in-person and virtual offerings available to attendees.
Recently, as it has become less likely that humans will limit warming to 2°C to avoid the most catastrophic impacts of climate change, we've shifted our focus to decarbonization. Our LCAs can help clients track embodied carbon emissions, while our energy models reduce operational carbon emissions. Two great examples of projects that are ahead of the curve here are the Los Angeles Southwest College Student Union, for which we provided an LCA, energy and daylight modeling, and LEED project management to client HGA Architects, and our own home base at the previously noted Los Angeles Cleantech Incubator La Kretz Innovation Campus, for which we completed an energy model targeting net zero performance.
So, it would be safe to say we've grown rapidly since our founding. But we've always held true to our values – just in the last year, we recertified as a B Corporation, earning our highest score ever and one of the highest in our industry (123.7); rang in our 9th year as a 1% for the Planet Member Company, donating 1% of our total annual revenue, not just profit, to environmental nonprofit organizations; and changed our corporate entity from an LLC to a Benefit Corporation, legally binding us to consider people and the planet in addition to profit.
As our Founder & CEO Drew Shula shares, "Verdical Group is committed to using our platform as an active voice for positive social and environmental change. We use our corporate communication channels to educate, advocate, and amplify critically important issues like antiracism, equity, human rights, democracy and voting, the climate crisis, environmentalism, renewable energy, and decarbonization. We're pragmatists and know the world is far from perfect, but we're also eternal optimists. We see challenges like the climate crisis and human inequality and know vast improvements are possible."
Want to work with us? We'd love to connect! Send us a note at hello@verdicalgroup.com to learn more about how we can collaborate.